2021 Top Metal Companies
Leading glass and metal companies innovate products and services in the face of an unpredictable economy and supply chain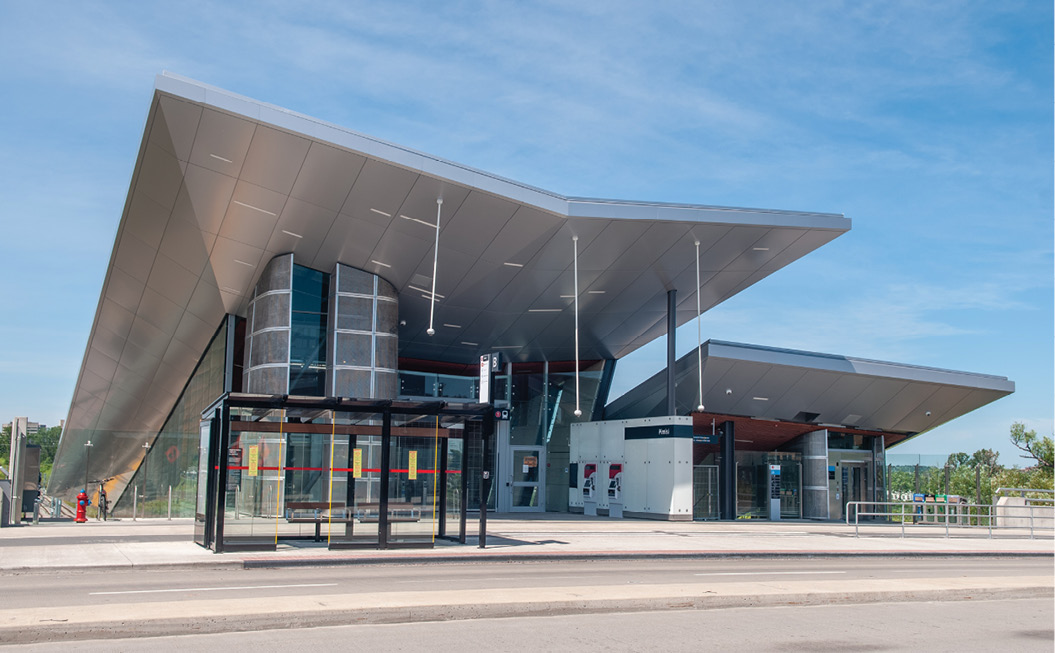 Above: Ottawa LRT stations, Ottawa, Canada. Top Metal Company Flynn Group of Companies supplied metal systems.
Like the rest of the building industry, Top Metal Companies are weathering the unpredictability of the Next Normal. Though over 80 percent of responding companies reported higher sales for 2021 based on survey results collected in September, leading companies also shared experiences of ongoing struggles with the current business environment, largely due to sustained instability from COVID-19.
Given the unpredictability of the pandemic, circumstances could certainly have changed when this is published. As of this writing, architectural metal companies report that everything is in short supply: labor, materials and time to complete projects.
"All of our facilities have current openings for production workers. All of our customers are complaining that they are unable to properly staff their projects," says Doug Penn, vice president architectural products group, Trulite Glass & Aluminum Solutions.
In addition to the exacerbated issue of the already-existing labor shortage, rising raw material costs are also changing how companies do business. "The increase in the cost of building products, including aluminum, has resulted in many projects being put on hold as the owners hope for lower prices in the future," says Penn.
"As the issues continue with rising cost and material and labor shortages it is causing companies to be more selective on the projects they are bidding and selecting," says Steve McColloch, commercial division/louver and grill division manager, WinTech. "We have been in a good place for the majority of 2021; however, as this trend continues, it is putting a strain on some of our current customer base."
Unpredictable lead times, due to cascading supply chain blocks, are also affecting project schedules. "Inconsistent project schedules are due to other trades not completing their schedules on time, which in turn is often due to supply chain labor shortages. This results in spot schedule openings that leads to tighter lead times," says Andrew Russo, vice president, Glass and Metal Craft. 
The following market report is based on survey results provided by leading metal companies.
Top Metal Market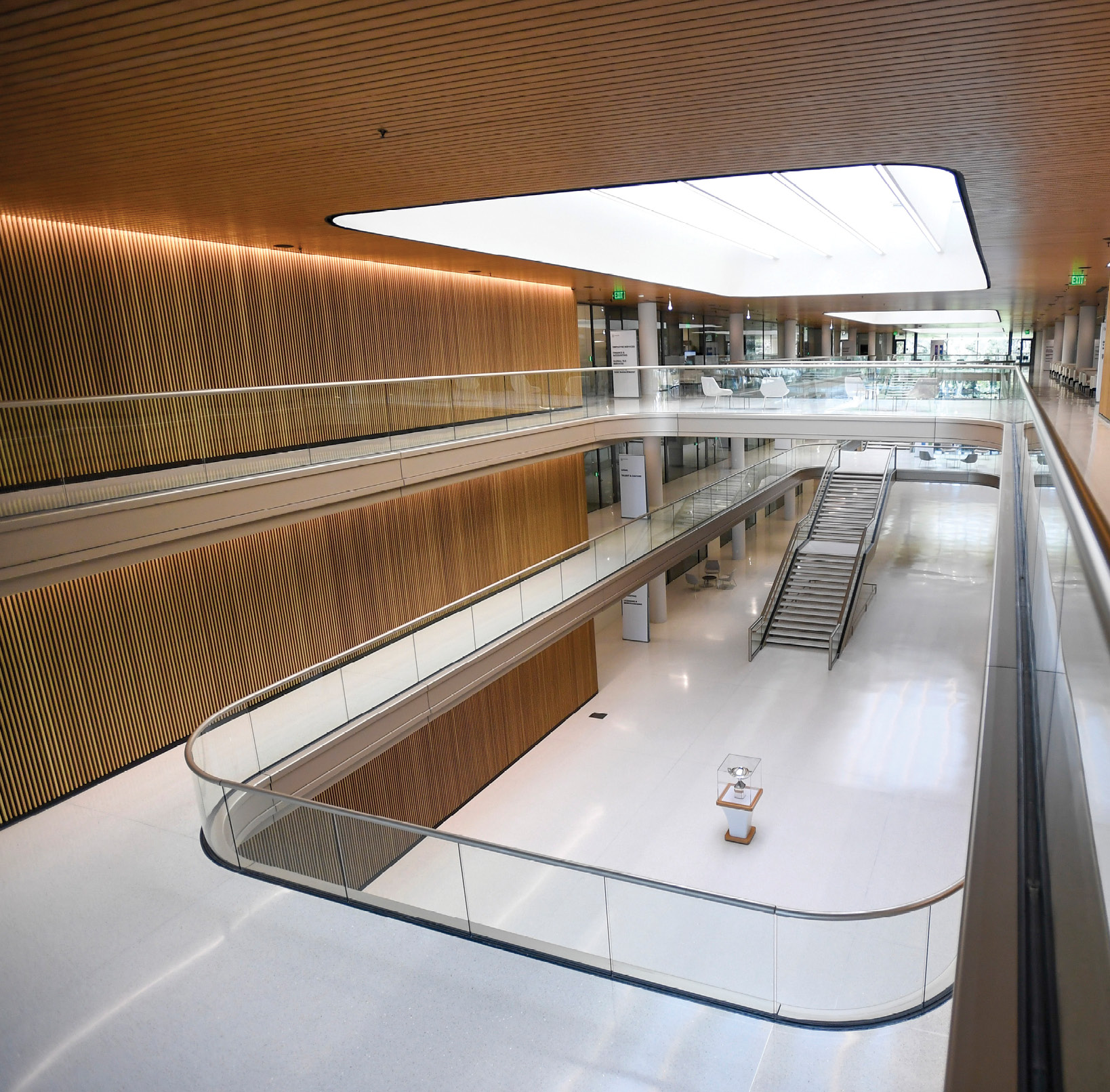 Above: PGA Tour, Global Home, Ponte Vedra Beach, Florida. The interior includes several Trex products, including both straight and curved glass railing. Photo by PGA Tour.
Challenges
Bracing for the future
2021 & 2022 Major market headwinds affecting productivity

Survey respondents could select multiple answers.

100% Supply chain issues
90% Raw material cost/availability
81% Labor shortages
52% COVID-related work stoppages or slowdowns    
38% Transportation    
29% Tariffs
Last year's report found Top Metal Companies facing unstable market conditions, as businesses adjusted to life and work toward the end of the first year of the pandemic. Now, approaching almost two years of COVID-19, industry leaders predict prolonged fallout as the pandemic continues to rock global business. 
"We continue to see the COVID Delta [variant] create apprehension in the market, and there is not an end in sight to turn around the labor shortages we have seen over the past few years," says Josh Wignall, director of commercial marketing, Quaker Windows & Doors.
"The challenges regarding the labor shortage that existed prior to COVID-19 have only become exacerbated by evolving societal conditions," says Steve Schohan, marketing and communications manager, YKK AP America. "We do see that these will continue on into 2022, as the pandemic continues to affect the U.S."
2021 Customer challenges

Material price increases
Supply chain shortages
Tight lead times
Worker shortages
Part of the reason for these tempered predictions is the more recent, and troubling, issues with supply chain. While only a little over half of survey respondents in 2020's report named supply chain issues as a major disruption, fully 100 percent of this year's respondents marked it as the major market headwind to contend with in 2021 and 2022. 
"Some of the raw material has seen historical [price] increases which was a surprise to most clients and fabricators," says Malvina Major, business development manager at RPM Rollformed Metal Products. "For us, this meant managing the purchasing, and leveraging our relationship with suppliers so our pipeline was predictable. This also meant repricing at the time orders were placed."
"In our 45 years of business, we have never seen our supply chain in such bad shape," says Joshua Leets, plant engineer, Cross Aluminum Products. "As our supply chain gets further behind, all we see are the exponential growth of lead times, and price increases. We have exhausted all short-term solutions. Now is the time to brace for the future and hope that our suppliers have the strength and willpower to dig themselves out of the mess they are currently in."
Supply chains superseded labor shortages as a dominant issue, but lack of workforce remains a challenge facing companies, integral as it is to making supply chains work. 
"Labor shortages are by far the most serious struggle, and I believe a main contributor to supply chain and transportation issues," says Mary Avery, vice president of marketing, Tubelite Inc.
"The critical shortage of truck drivers has resulted in longer lead times for material," says Doug Penn, vice president architectural products group, Trulite Glass & Aluminum Solutions. 
Product facts
48%
Introduced new product lines in 2021
52%
Introduced high-performance or sustainable products in 2021
77%
Plan to introduce new product lines in 2022
Product Trends
Offsetting costs and streamlining
2021 Most in-demand products 

Survey respondents could select multiple answers.

48% Curtain wall
48% Entrance systems
48% Thermally broken systems
39% Window wall    
35% Railings    
39% Commercial windows
35% Storefront
30% Metal panel systems    
26% Unitized/prefabricated systems    
17% Sun-control systems
17% Other (Vinyl windows, windscreens, IG spacers, garage screening)
As metal fabricators and suppliers face pandemic-related challenges in 2021, they reported the same of their customers. "Our customers were hit with long lead times and price increases in every sector of our industry—glass, metal products, panels, labor. The list goes on," says Joshua Leets, plant engineer, Cross Aluminum Products. 
2021 New product lines introduced

Thermally enhanced curtain wall systems
New storefront and entrance systems
Window wall systems
Historical windows
Prefabricated systems
Glass railings
Windscreens
Bi-folding and sliding glass doors
Panic devices
Wood grain and metal ore finishes
Metal companies described several tactics they used to provide solutions to customer challenges, through products and services. Leading companies reported prefabrication as a way to reduce lead times and mitigate workforce shortages.
"To address the shortage of [in-house] fabricators, we are fabricating and assembling more storefront projects for our customers," says Doug Penn, vice president architectural products group, Trulite Glass & Aluminum Solutions. 
"We have ... continued to focus on the development of shop-glazed and unitized products, which has allowed contractors to offset any increase in metal costs by allowing the use of less expensive shop labor," says Steve Schohan, marketing and communications manager, YKK AP America Inc.
2022 New product lines planned

Unitized systems
Thermally efficient/broken systems
Panel systems
Storefront systems
Entrance systems
Though only 26 percent of respondents named prefabricated systems as in-demand for 2021, unitized and prefab systems were named as a product area of growth in 2022. 
Prefabrication may be part of a larger trend of vertical integration, bringing processes in-house to avoid delays and tighten lead times. "By producing our own custom hardware, we have been able to react more quickly and turn product around faster than solutions procured from overseas, avoiding delays and resulting in a lower total cost," says Andrew Russo, vice president, Glass and Metal Craft.
2022 Product areas/trends with the most potential for growth

Unitized systems
Thermally-efficient/broken systems
Acoustically-rated systems
U.S.-sourced products
Respondents from leading companies also say that planning far ahead is key.
RPM Rollformed Metal Products uses software to streamline the stocking process. "We worked with our ERP system to identify clients' purchasing patterns," says Malvina Major, business development manager. "This data allowed us enough foresight to adjust our buying pattern and be more proactive in predicting the raw material requirements and optimize any stocking programs."
Clover Architectural Products works to secure raw material early in the project schedule. "We have been trying to be proactive and getting material released very early in the job, sometimes before drawings are even done," says Tom O'Malley, partner.
Sourcing within the U.S. has also become a necessary way to reduce delays. "Lead times on metals are extremely tight, with the largest metal hardware producers sourcing product from overseas, including China and Europe, and the demand for locally made metal products has skyrocketed," says Russo.
Communication between company and supplier remains vital. Nathan Seaman, national sales manager, Architectural Grilles and Sunshades, says that it's important to talk about timelines with clients at the start of a project, "so we can plan accordingly in advance and be as transparent as possible about potential delays."
The List
Like last year, this year's industry ranking represents the largest employers and leading companies in the architectural metals space. Companies are ranked in order of number of total employees, and include metal fabricators, extruders, and companies that fabricate both glass and metal.