2022 Top Glass Fabricators Report
Leading fabricator sales rebound, but supply chain conditions remain rocky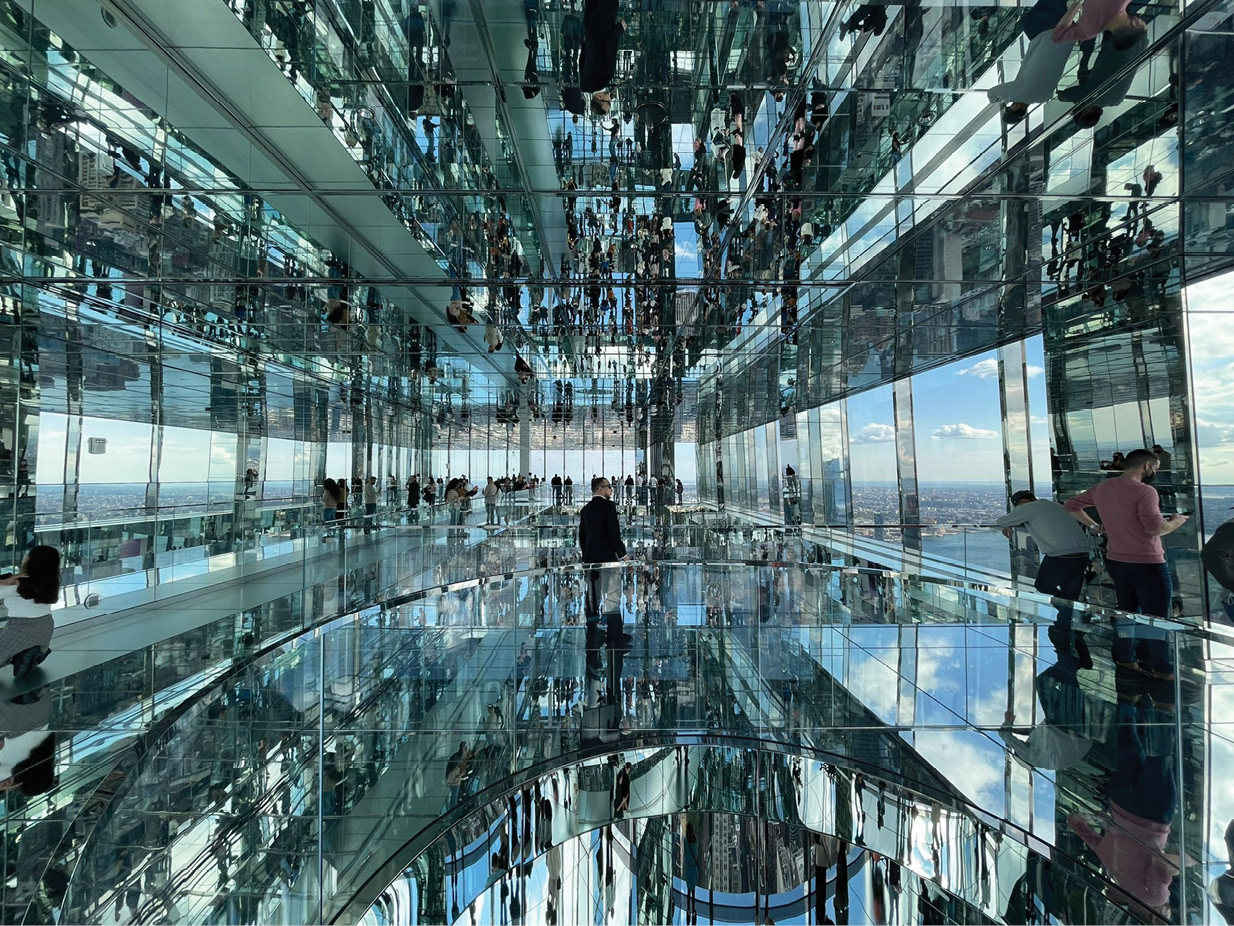 Above: Observation Deck, interior, of One Vanderbilt in New York City. Cristacurva supplied fabricated glass to the new skyscraper. 
Glass fabricators are staying the course, all while dealing with persistent, uncertain market conditions and production challenges. 
Results from this year's Top Glass Fabricators survey reveal more clearly than ever that fabricating during the pandemic, while dealing with supply chain snarls, is fighting a battle on many fronts, every day. "From supply chain issues to maintaining a healthy company morale, we are making real-time decisions to do what is best for our people and the bottom line," says Curtis McClamrock, chief revenue officer, creative/marketing director, HMI.
Reporting companies' massive rebound in sales—63 percent reported higher sales in 2021, compared to a very small 26 percent in 2020—is heartening. But it also coincides with an industry doing more with less, possibly more so than ever before as almost all companies report dealing with shortages of people and supplies. 
Another symptom of the pandemic has been industry consolidation, the most high-profile being the closing of Consolidated Glass Holdings, and the acquisition of its member companies by other fabricators and glass industry businesses. The company officially declared bankruptcy in August 2021.
Despite the upsets, some companies see reasons for optimism, at least in continued market demand. "2020 was impacted more, due to shutdowns, closures and project delays," says Adam Shearer, president, Imagic Glass. "Last year had less of these issues. We anticipate that 2022 will continue to show growth."
Download the Fabricator Database
The World of Glass Map presents the locations of top fabricator plants, and offers a sortable database with company and location details for each plant, including website, address, phone and joint venture information.
This document was updated in March 2022 and is available in the National Glass Assoc. store. Free to NGA members.
Scroll through this year's Top Glass Fabricators Report or jump to these sections.
The Top Glass Fabricators industry ranking includes leading fabricators who supply the North American market.
 

Market data about fabricator sales and regional growth.
 

Automation and capital investment trends.
 

Leading fabricators' product mix and development plans.
 

Major industry challenges.
 
Sales + Market
Above: While the Southeast was viewed as the strongest U.S. geographic region in 2021, fabricators predict the Northeast will do better in 2022.
Rebounding sales
Global sources of raw glass for fabricators

North America    95%

Europe    24%  

Asia    18%

Other    5%

South America    3%
2021 fabricator facts
63%
Report higher sales over 2020
95%
Purchased raw glass from North America
41%
New product lines in 2021
Gross sales data for 2021, supplied by reporting Top Glass Fabricators, reflect patterns more similar to 2019's posting. This is unsurprising, given that 2020 required many companies to fully shut down, at least for a period. Sixty-three percent of companies reported higher sales in 2021, compared to 26 percent in 2020. Perhaps more importantly, only 11 percent of companies reported lower sales this year, compared to 29 percent last year.
Getting glass remains a challenge for many fabricators. Based on reporting, fabricators are buying glass from roughly the same places as last year, with 95 percent getting raw glass from North America. Compared to last year's results, fabricators appear to be sourcing glass less from abroad, most likely due to supply chain and logistics issues.
Looking at regional markets, last year's prediction that the Southeast would see the most growth came true, according to survey respondents, as 61 percent said the region had been the strongest in 2021. Looking forward, fabricators identified building growth shifting back to the Northeast, though the Southeast looks to remain strong, according to fabricator predictions.
Products + Innovation
Expanding glass
Companies fabricating these glass types 

Tempered 95%    
Laminated 82%    
Decorative 82%    
Bird-friendly 70%    
Insulating 68%    
High performance 63%    
Jumbo 58%    
Protective 50%    
Curved        20%    
Dynamic        17%    
VIG        7%    
2021 Design trends   

More jumbo glass 71%    
Bird-friendly 59%    
Energy-efficient glass 53%    
Security glass/impact systems 47%    
Decorative glass 35%    
Division 10 interiors 21%    
Dynamic glass (switchable) 18%    
Anti-viral/anti-bacterial coatings 12%    
Transparent PV 3%    
Laminated glass 3%    
Companies continue to innovate products; about 41 percent said they launched new lines in 2021, practically the same number as in 2020.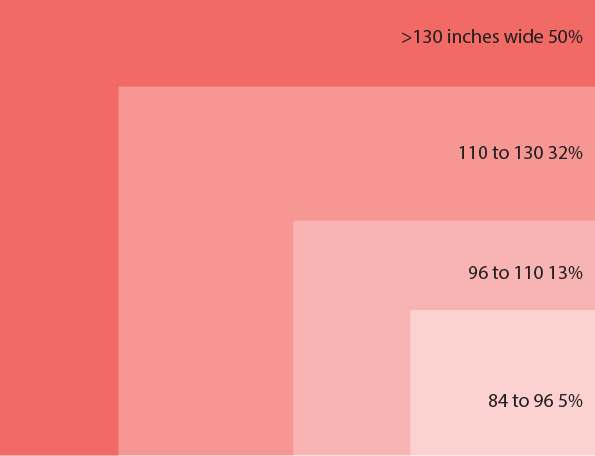 Jumbo will continue to lead the way in terms of specialty glass, as 71 percent of fabricators noted it as a strong trend in 2021, up from only 45 percent in 2020. Fifty-eight percent of companies say they fabricate jumbo glass, compared to 64 percent last year. The discrepancy may be due to the fact that jumbo does not yet have a standard size. When asked to choose a size range they thought to be "jumbo," half of respondents said glass that is more than 130 inches wide.
The bird-friendly glass market also continues to expand. Seventy percent of fabricators say they made this specialty glass in 2021, compared to only 42 percent last year, and 59 percent noted it as a major design trend for 2021. Moreover, more fabricators report fabricating bird-friendly glass than even insulating glass.
Automation + Investment
Creating capacity
Types of added capacity 2021               

Capital equipment 81%    
New product lines 41% 
Locations 16%    
Other (relocation, staff overtime) 6%    
Acquisitions 3%    
Investment and expansion put on hold 3%    
None 3%    

Expansion and investment plans for 2022                

Invest in capital equipment  71%    
Launch new product lines 50%    
Add locations 24%    
Make acquisitions 12%    
None 6%    
Expansion 6%    
Investment and expansion put on hold 3%    
2021 fabricator facts
68%
Automated some part of manufacturing process
79%
Used more software for plant optimization
89%
Added production capacity

A majority, 68 percent, of responding fabricators said they automated some part of their manufacturing in 2021. A majority also say they will automate processes in 2022, and a significant majority, 79 percent, say that they are using more software for plant optimization.
Fabricator testimonials suggest that the main driver for automation is the sustained labor shortage, combined with a return to more normal production volumes. "Given the anticipation of future staffing shortages we will continue to look to automation to assist with keeping up with demand," says Annette Panning, director of marketing and product management, Viracon.
Leading fabricators seem to have used this year to invest in their business, as 89 percent report adding production capacity in 2021, compared to 68 percent the previous year. In terms of what they added, fabricators did what they said they would in last year's report, and invested in capital equipment. Investing in equipment remains the top priority again for 2022.
Glenny Glass is one example of a company that added a range of equipment to their floor. "Glenny is automating any manufacturing process possible," says Braxton Smith, president. "We recently added auto logo-ing, auto seaming at the furnace infeeds, installed a vertical CNC milling, drilling and profile edging machine. We are looking at in-line QC inspection scanners to detect quality defects early in the fabrication process, which will reduce internal rejects."
Supply Chain + Labor
Finding transportation
Biggest pain point in terms of supply chain        

Logistics/trucking 52%
Procuring raw glass 24%
Getting hardware 18%
Getting spacers 6%
2021 fabricator facts
24%
Added shifts during 2021
15%
Reduced shifts during 2021
            

Regrettably, fabricators continue to face an array of challenges, especially as supply chain issues become increasingly complex. Respondents identified logistics and transportation as the biggest hurdle in 2021, forcing fabricators to improvise. "In-bound trucking has been limited causing [Glaz-Tech Industries] to invest in OTR freight hauling trucks and trailers to bring in glass from manufacturers," says Alex Miramontez, vice president and chief financial officer for Glaz-Tech.
While getting raw glass remains a challenge, as Ryan Walker, branch manager for Southern Wholesale Glass, points out, delays on any component involved in production all disrupt processes and lead times. "All areas of the supply chain are equally impactful," he says. "It doesn't matter if we can get glass, but not spacers and vice versa. Things that people don't consider have been difficult to get, but they are necessary for the process—cork or synthetic tabs, or the labels that we put on our glass, for example."
Companies continue to struggle to find labor, based on respondents' testimonials. Some fabricators report raising wages, or paying overtime, to keep up with demand with a still-small labor pool. "We've had to increase pay to keep pace with the local fast food and big box stores on even basic labor, as well as the government incentives that are being paid out," says Andrew Russo, vice president sales and engineering services, Glass and Metal Craft.
The List
The leading fabricators showcased on this list are ranked by sales category, and then alphabetically within each category. Eligible companies are those that fabricate tempered, insulating, laminated and/or decorative glass, as well as specialty glasses. Gross sales ranking is based on companies' contributed 2021 sales information.
Some companies did not contribute sales and updated company information—in that case, information reflects data from the 2021 report.
It is only with the cooperation of the industry that Glass Magazine can compile an accurate report. If you feel your company belongs on the list, contact Norah Dick, associate editor of Glass Magazine, at ndick@glass.org. 
Over 1 billion    

Oldcastle BuildingEnvelope
     Sales information not confirmed by the company.
 

300-600 million    

Trulite Glass & Aluminum Solutions
 

100-300 million  

Hartung Glass Industries
     Sales information not confirmed by the company.

50-100 million    

General Glass International | GGI

Glasswerks
     Sales information not confirmed by the company.

30-50 million  

Garibaldi Glass Industries Inc.

10-30 million    

Solar Seal & Solar Seal Architectural

Southern Wholesale Glass

Under 10 million  
The 2022 Top Glass Fabricators Report
A more detailed list and the full Top Glass Fabricators Report is available in the March issue of Glass Magazine.