All that Glass Can Do | Beyond energy & thermal performance
Security, large sizes, curved assemblies, decorative glasses and more
All that Glass Can Do, Glass and Metals 601, is the final installment of Glass Magazine's six-part series "All About Glass and Metal: A Guide to Glazing for Architects and Specifiers." The complete series provides an in-depth look at specification and design for glass and glazing. It begins with "Glass and Metals 101: An Introductory Guide to Glazing for Architects and Specifiers" and in subsequent sections covers topics ranging from specifications to interior glass, protective glazing, glass and the energy codes and more. To access the complete series, visit glass.org/store.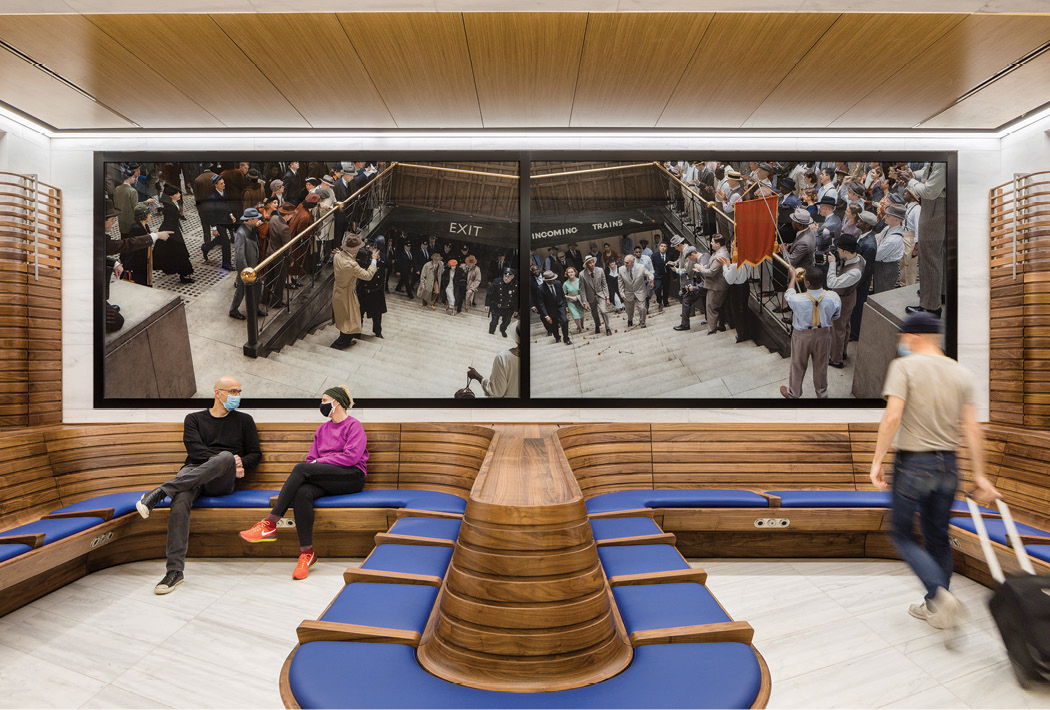 Above: The new Moynihan Train Hall, located in New York City's Penn Station, features a series of photographs from Stan Douglas, digitally printed on glass, depicting moments in history from Penn Station. The images were recreated on glass using ceramic frit paint, digitally jetted onto the surface of OptiWhite, extra-clear, low-iron float glass. The artwork is spread across nine oversized glass panels, installed in four niches: each niche measures 6 feet 1 5/8 inches high by 22 feet 2 ½ inches wide, and ½-inch deep. GGI fabricated the glass using its Alice direct-to-glass printing. Photo courtesy of Public Art Fund.
This part of All That Glass Can Do looks beyond energy and thermal performance to the other wide-ranging capabilities of glass, such as security glass, large sizes, curved assemblies, decorative glasses and more. 


Glass' strength, durability, flexibility and transparency allow it to tackle a seemingly endless list of building applications. "Glass is used for hundreds of applications," says Urmilla Sowell, technical and advocacy director for the National Glass Association. "It's used in museums, zoo enclosures, glass igloos, swimming pools in high-rises, for stained glass and more."


The wide-ranging glass applications discussed in this section often serve multiple functions and incorporate the high-performance attributes discussed in the other parts of All that Glass Can Do. 
Strength and flexibility
"Glass is extremely strong," says Sophie Pennetier, associate director of Enclos. "In compression, the strength of glass is of the same order of magnitude [as] that of steel," she says. 
The material's inherent strength allows designers to incorporate glass into increasingly ambitious structural applications. Consider glass floors and stairs, or floor-to-ceiling walls that don't require additional structural supports. These design elements, made popular in Apple stores around the world, are finding their way into more and more projects, according to the façade experts.  
Some specific glass types and applications are made possible due to glass' strength and flexibility.
Large sizes
"The glass panels fabricated now are up to 3.6 meters in width and 20 meters in length. That's 11 ½ feet by 65 feet. And it can be laminated, hot bent, cold bent and more," says Pennetier. While glass companies are able to manufacture and fabricate larger and larger sizes, project teams must also consider logistics. "You have to be able to lift it and ship it to the site. Our typical containers used here go  up to 40 meters. It can be done, but you have to find ways to divide these costs," she says. 
Curved
Curved units can be insulated, laminated, low-E-coated, in large-size format and more. In its curved shape, glass becomes even stronger, describes Kai-Uwe Bergmann, partner at BIG. "We think about things in tension and compression. … Flat panels work wonderfully in compression, but don't do well in tension. By curving the glass, we make it more resilient in tension," he says. 
Ultra-thin
Researchers are seeking ways of leveraging ultra-thin glass in architectural applications, which could present exciting opportunities for structure and performance in the future, describes Pennetier. The glass, commonly used in electronics and semi-conductors, brings a strong and extremely lightweight material option to the building industry. "Overall, you're looking at the lower use of materials and less weight. You could curve with less energy. You could consider applications such as double skins. That's where I see potential for ultra-thin glass materials," she says. 
Safety and security
Glass and glazing protects building occupants from everything from weather threats to fires. Attention in recent years has been directed at the industry's solutions for school security, for example, intruder-resistant entrances and systems.   
Security
The industry can produce security glass for various levels of glazing penetration resistance. The levels, in ascending order: basic, enhanced, ballistic protection, forced entry, enhanced forced entry, multiple forced entry assault and blast mitigation. In terms of product makeup, security glass is often laminated, sometimes with multiple layers of glass or polycarbonate. Films can also be applied to strengthen glass. 
Impact-rated
For decades, the glass industry has produced systems to meet even the most stringent wind-load and impact codes, such as those in the high-velocity hurricane zone regions. Glass companies are pushing the envelope to develop hurricane-rated systems that meet architect and owner demands for larger sizes and more minimal framing. 
Fire-rated
Today's fire-rated glass and glazing systems are rated for 20-minute to 2-hour protection in walls, doors, windows and even butt-glazed assemblies. Leading suppliers are developing solutions for interior and exterior applications that match non-fire-rated systems, while protecting against the spread of fire and providing ways for occupants to exit safely in event of a fire. A popular application driving innovation in the sector: fire-rated glass floors, according to suppliers. The systems allow daylighting to pass through while protecting against spread of fire between floors. 
Occupant health
Part one of All that Glass Can Do discussed the impact of daylighting on occupant comfort, health and performance. However, buildings must provide more than access to daylighting to ensure a healthy indoor environment. Building design also addresses potential toxins or pollutants in the air, acoustical concerns and, of great importance now in the time of COVID-19, potential pathogens. 
"The built environment significantly affects human health," says Kayla Natividad, architectural technical services engineer, NSG Pilkington. "The exposure to toxins and pollutants, the air quality, water quality, noise pollution, all have significant effects on chronic health. Now we also have introductions of pathogens."
Some product and design considerations foster healthy built environments.
Ventilation
Commercial building designs have focused on airtightness. However, "This could have adverse effects on indoor air quality," says Natividad. "If you have ever been in a building and your sinuses start to act up, you have itchiness in your eyes … this may have been related to indoor air quality." 
Health Product Declarations require that building material suppliers disclose the potentially harmful contents of their products. Natividad notes that the U.S. Green Building Council "recognizes glass as an inherently non-emitting product. Coated glass products can have a net positive impact on indoor air quality," she says. 
The pandemic has accelerated calls for better building ventilation. "We want more fresh air, we want more air circulation, we want more daylighting and UV rays to help in this pandemic moment," says BIG's Bergmann. 
Protective coatings
Glassmakers have developed a range of sophisticated glass coating solutions for healthier environments. These include hydrophobic and oleophobic―repelling water and oil, respectively―solutions, and anti-viral and anti-bacterial coatings. "We have options available that help with cleaning and disinfecting, and manufacturers have responded by developing products that reduce surface transmission of bacteria and viruses," Natividad describes. 
High performance projects
Decor and technology 
"Glass is able to create more than just a view out," says Bergmann. "You can use it to create moods, atmospheres. Glass affects a space in a phenomenological sort of way—think about how it makes you feel." 
Architects and artists look to glass to create beautiful, durable spaces in and out of buildings, and glass fabricators provide near endless options for them to do so. Glass can be digitally printed, etched, silk screened, laminated with decorative interlayers and more. 
Additionally, the industry is beginning to incorporate new technologies into glass and windows. Some emerging technologies:
Photo-realistic designs
Glass fabricators can achieve resolution quality upwards of 2880 DPI thanks to advancements in printer technology. Designers can print nearly any design in photo-realistic quality on glass with the promise of durability and longevity. 
Magnetic marker boards
Glass marker boards are a niche, but increasingly popular, application. The laminated, safety glass boards serve as a writable wall cladding. Many glass suppliers offer magnetic marker boards, which are available in custom colors.  
Switchable, interactive glass
Architectural glass companies are also developing switchable and even interactive smart glass products. Switchable products can provide privacy, turning from clear to opaque at the flip of a switch. The application is becoming more common in changing rooms and restrooms. Companies are also pushing to add interactivity to their switchable products for applications such as multimedia walls.