Best Decorative Glass Application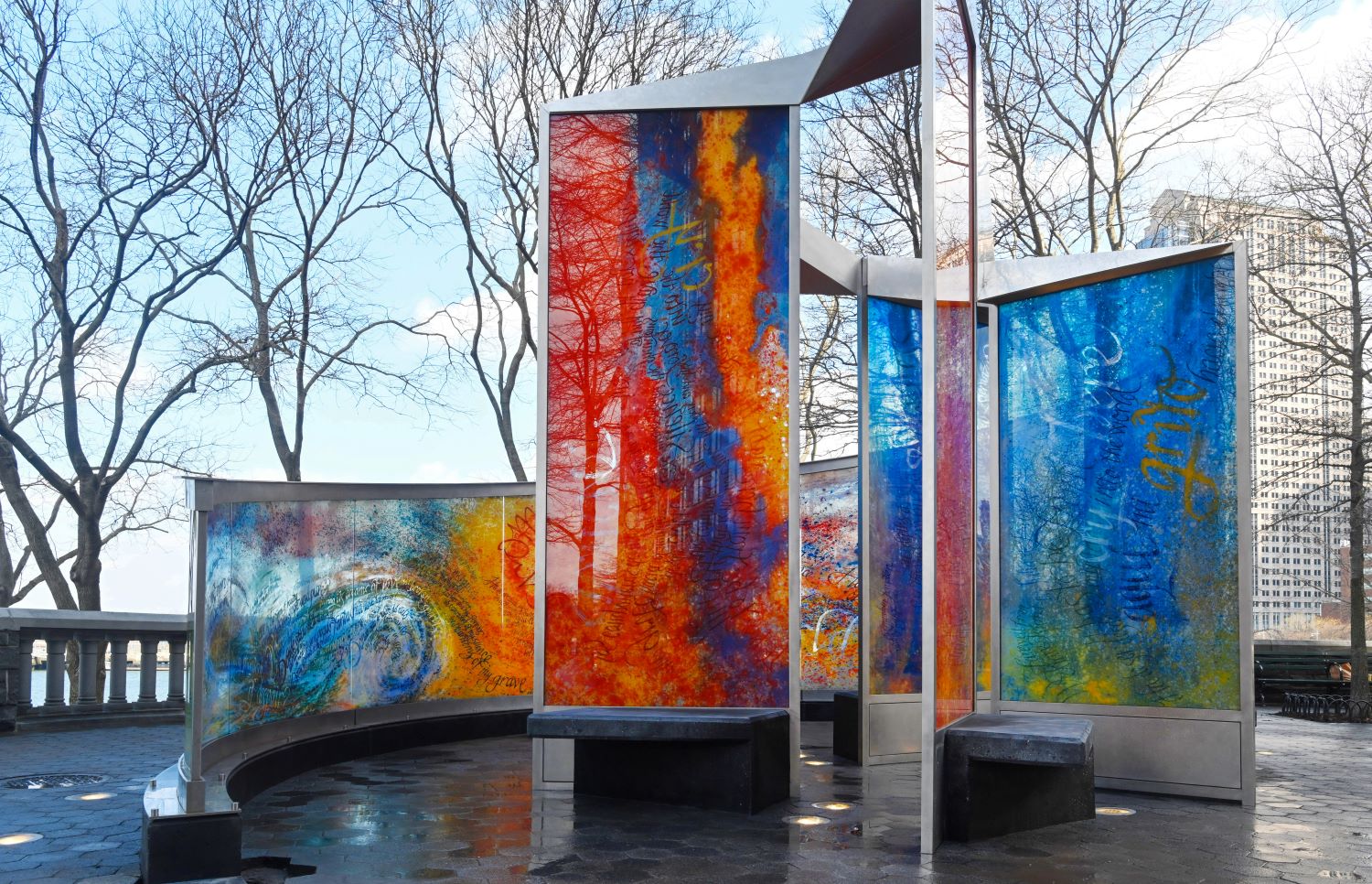 Hurricane Maria Memorial | New York City
Nominating company: Pulp Studio
Unique spiral shape
Painted decorative glass
Bent, tempered and laminated glass
15½-foot art installation
Winning Team

Glass manufacturer, fabricator: Pulp Studio
Installers: AM Architectural Metal & Glass, Eckersly O'Callahan
Artist: Antonio Martorell
Architect: Segundo Cardona
The ascending glass spiral of the new Hurricane Maria Memorial in New York City symbolizes the devastating hurricane which struck Puerto Rico in 2017, while simultaneously representing protection against those destructive forces. Built to honor the victims of the disaster, the memorial is titled "My Cry into the World," echoing a line from Julia de Burgos' poem, "Farewell from Welfare Island." Lines from the poem by Burgos, who was Puerto Rican and lived in New York, are inscribed on the glass panels of the memorial.
The memorial is meant to be observed from within the structure, says Bernard Lax, founder and CEO of Pulp Studio. Glass panels, painted by Puerto Rico-based artist Antonio Martorell, depict the turmoil of the hurricane that severely damaged the island. Pulp Studio fabricated the glass panels using the outfit's D2G process for ceramic application, and then bent, tempered and laminated the pieces.
Reaching a height of nearly 15½ feet, the installation is topped with a star emblematic of the Puerto Rican flag. Its alignment with the axis of nearby Chambers Street enhances sun exposure on the glass spiral, "projecting beams of sunlight onto viewers," Lax says.
"What a beautiful way to memorialize a historical tragedy in an iconic structure. I also appreciate the message, and how the glass spiral aims to be a symbol of resiliency for the Puerto Rican community." —Glass Magazine Awards judge, Syndi Sim, vice president, marketing and business development, Diamon-Fusion International
 

"Eye-catching design that raised emotions matching the project." —Glass Magazine Awards judge, Mary Avery, vice president of marketing, Tubelite
 

"The colorfulness, innovation and the design of this memorial are beautiful." —Glass Magazine Awards judge Tammy Schroeder, marketing manager, Linetec