Heavy Glass Doors
Top considerations for safe and secure design and installation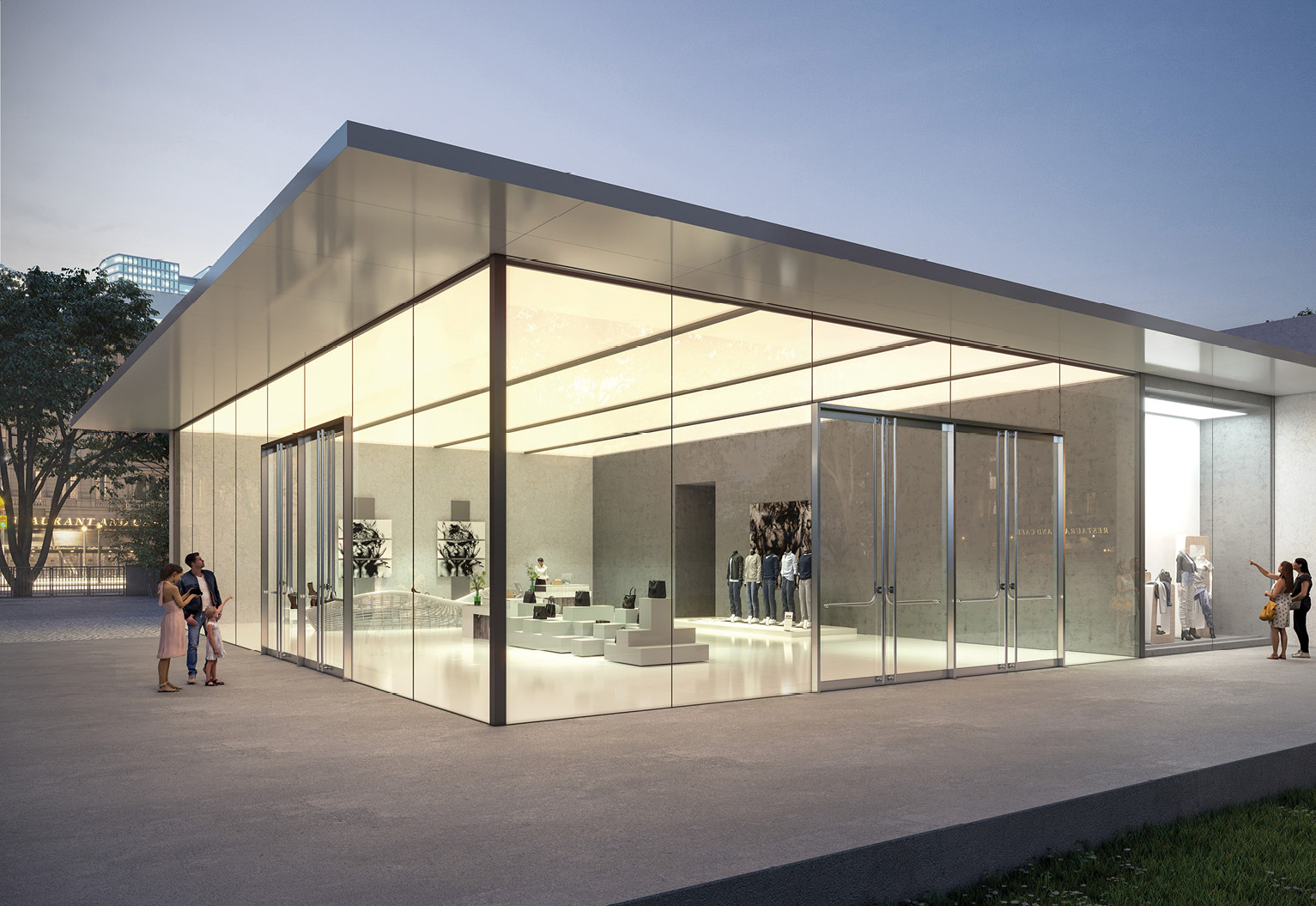 Above: Photo Courtesy of CRL | ©Naho Kubota
Editor's note

This article is excerpted and adapted from the National Glass Association's updated version of the Heavy Glass Door Design Manual, published in 2021.
All-glass entrances featuring heavy glass have become increasingly popular with architects and interior designers. The systems incorporate heavy glass, metal rails, small metal patch fittings and sometimes structural silicone, and they can be used as an exterior entrance for a monumental building or a simple interior mall storefront. Heavy glass with polished edges provides sleek-looking entrance doors that make an elegant statement for the building or shop owner, and the open and modern aesthetic makes the entrances a focal point for pedestrians.
Glass makeup
Heavy glass is generally defined as fully tempered glass equal to or greater than 3/8 inch in thickness, or tempered laminated glass constructed with two or more lites of glass equal to or greater than 1/2 inch thick. All heavy glass doors, since they are manufactured using fully tempered glass, are intended to meet the safety glazing requirements of ANSI Z97.1 unlimited class and CPSC 16 CFR 1201 Category II.
Safety
Correct selection of push-pull and operating hardware is an essential element in safe design.
Door swing arcs should be limited by the closer hardware or doorstops to prevent one door from swinging into the path of another door. Where pairs of doors are required, 6-foot-wide openings with a pair of 3-foot-wide doors are recommended, as narrower openings tend to impede the flow of pedestrian traffic. Design sidelites so they will not be mistaken for clear openings that invite pedestrian traffic to walk into the glass. Visual patterns, decorative railings or plantings will help prevent this type of problem. If the entrance doors are recessed from the face of the building, it will prevent the door from swinging into pedestrian traffic and also protect exterior doors from crosswinds.
Weather
When designing storefront or entrance systems, the effects of wind, rain, and cold or hot weather should be considered. Severely cold climate areas usually require vestibules with both exterior and interior doors. Heavy glass doors are not typically weathertight, so they are most frequently used as interior vestibule doors, shop-front entrances in interior shopping malls, and interior office applications.
Pedestrian traffic
The entrances to a building or business give one of the first and last impressions of the building to the pedestrian traffic entering and exiting. The configuration of the entrance doors relative to surrounding conditions is a vital factor. The flow of traffic from the sidewalk, mall corridor or parking area will determine the number of entrances required. Doors must be located so as not to swing into the path of pedestrian traffic.
Butt glazing
For glass entrances containing butt-glazed glass panels, the height of the opening (and not the width) will determine the glass thickness required. Butt-joint glazing should not be confused with structural silicone glazing. Both have the same exterior appearance, but structural silicone glazing has interior vertical mullions to which the glass adheres with structural silicone sealant.
Individual glass lites attached to the structure at the top and bottom only (head and sill) are considered typical butt-joint glazing. If, in addition to the top and bottom support, one vertical edge is structurally supported, the glass is supported on three sides. If all four edges are structurally supported, the lite has four-sided support. Butt-jointing one glass panel to another glass panel when both are in the same plane does not structurally support the glass.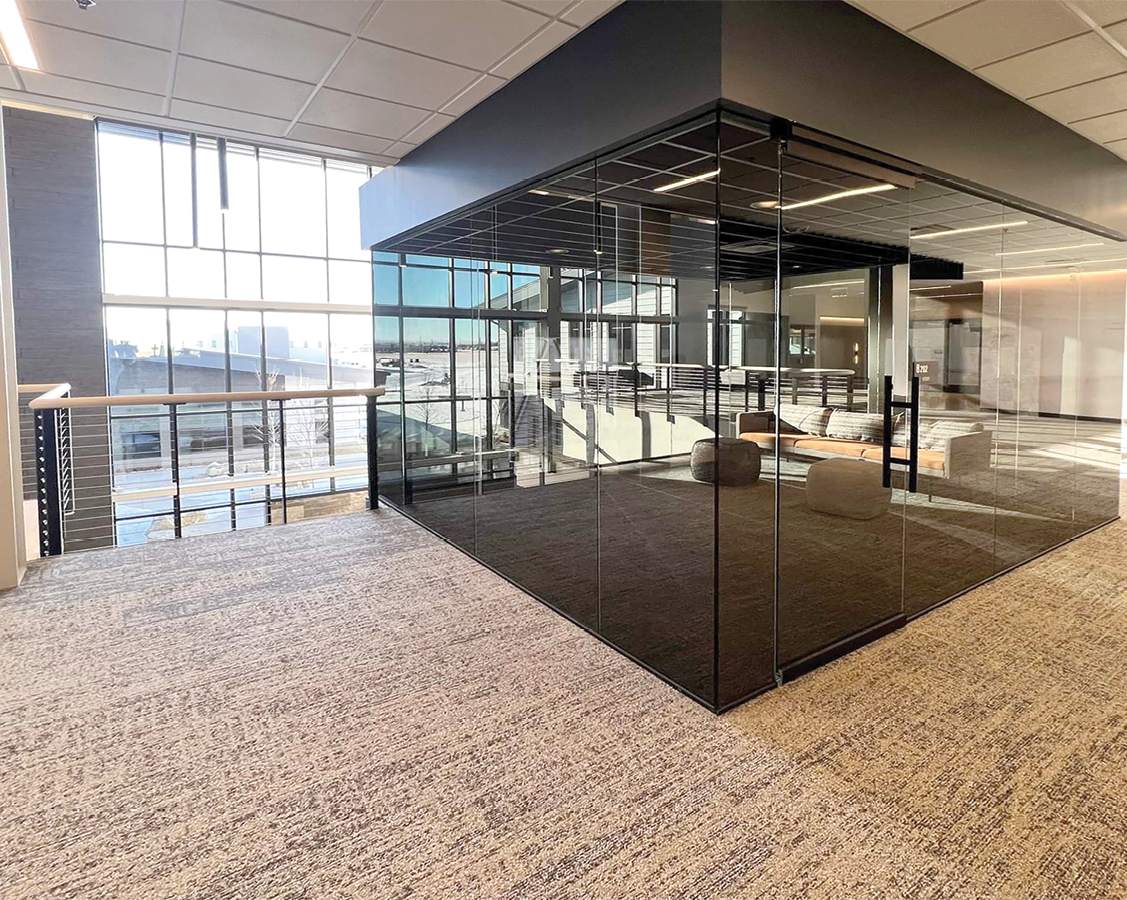 Security
Varying levels of security can be achieved using standard rail and patch locks as well as more sophisticated systems that include electric bolts, shear/magnetic locks and panic devices. Traffic volumes, floor slab thickness, egress requirements and ADA considerations will determine closing device location and selection. Several glass door types can be adapted to incorporate automatic and power-assisted operators to meet ADA requirements.
Seismic considerations
Heavy glass doors and entrances can be installed in seismic regions. The design professional must specify the various loads anticipated during a seismic event. Because heavy glass is often butt-glazed, the joint width between panels should be designed to avoid glass-to-glass contact due to the anticipated sway of the building or opening frame. The perimeter glazing channel should also be designed to provide sufficient edge clearance to avoid glass-to-frame contact due to building sway.
Interior applications
Heavy glass doors are becoming increasingly popular for interior applications. Although wind load is not a consideration, other types of structural loading may limit the size of interior doors. Interior fully tempered glass sidelite panels are not always sealed. Traffic volume for interior applications needs to be considered the same as with exterior applications. Interior doors are often locked in both the open and closed position, eliminating the need for closers.
Door size
Door sizes need to be limited due to glass flexibility and hardware limitations. Closers and pivots have weight limitations. Doors that are too wide are difficult to control in windy conditions and may exceed hardware limits. Larger doors may be used when locked open or infrequently used.
Full rails, top and bottom, are recommended for larger door sizes.
Installation
No entrance, however perfect in design and manufacture, will function properly unless it is installed correctly. The opening must be plumb and square, with the pivots aligned and firmly secured to solid supporting construction with adequate provision for anticipated movements due to seismic or thermal effects. Installers should reference the manufacturer's specifications for detailed installation instructions. If a satisfactory installation is to be realized, the installer must become thoroughly familiar with all these specifications and requirements. 
NGA Technical Volunteers

Volunteers from the following NGA member companies contributed time and resources to update and publish the second edition of the Heavy Glass Door Design Manual.

Oldcastle BuildingEnvelope (John Colapietro, chair)
Dormakaba (Ron Biberdorf, vice chair)
C.R. Laurence
Frameless Hardware Company
McGrory Glass
Synergy Glass & Door
Trulite Glass & Aluminum
Editor's note

This article is excerpted and adapted from the National Glass Association's updated version of the Heavy Glass Door Design Manual, published in 2021.