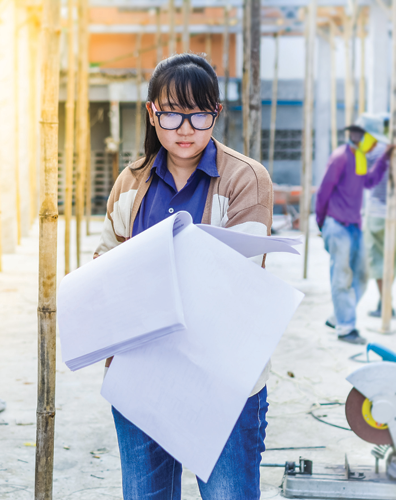 Economic news in the United States has been positive throughout 2016, including within the construction industry. However, many within the industry, including those in glass and glazing, continue to face one major challenge that could hinder recovery: a worker shortage.
In a CMD webinar, "Construction 2016: How Sustainable is the Economic Recovery?," presented earlier this year, Kermit Baker, chief economist for the American Institute of Architects, says one particular challenge to filling open positions is the industry's continued inability to attract women. He says the construction industry "is hostile to women, and we obviously have to change that if we're going to rebuild the workforce." (For statistics about women and minorities in the industry, see "Trends and Analysis: Underrepresented Groups Offer Opportunity to Combat Labor Shortage".)
Recruitment tips and more resources
Partner with local youth career organizations.
Partner with National Association of Women in Construction, Women Contractors Association, and other national organizations.
Organize a company internship program.
Attend job fairs and partner with area universities and technical schools.
Communicate with local union reps, specifically about underrepresented talent.
Host meet and greets with a local general contractor construction organization.
In the past 50 years, participation rates of working-age women have increased from 32 percent to more than 60 percent, according to the Bureau of Labor Statistics, bls.gov. However, female workers are significantly lacking within the overall construction industry. In its Household Data Annual Averages report, the BLS says women make up only 2.7 percent of construction employees, and 21.4 percent of glass industry employees.
In the April/May 2014 issue of Image Magazine, a publication of the National Association of Women in Construction, authors Katharine Wiggans and Ninette Turay-Lewis conclude that women could be the largest untapped pool of qualified construction industry workers, stating, "The bottom line is that businesses must transform recruitment and hiring programs in order to attract more working-age women to meet their workforce needs."
Many glass industry companies have taken strides address this issue and increase participation of women in all types of roles at their businesses.
Tim Woolworth, senior vice president of Egan Co./InterClad, says the company uses word of mouth and works with its local union representatives to recruit talent, especially from underrepresented groups, including women.
"[Hiring women] would help offset the labor shortage and we have experienced this on recent projects," says Woolworth. "Some of these recent past projects have field labor utilization goals requiring a certain percentage of the field crew be … female. These goals have raised awareness for the unions and ourselves that have helped put a focus on new female recruits."
Not only does hiring more women within the glass industry help with combating the labor shortage, it also helps to create a more diverse workplace, which can have a positive impact on industry businesses, sources say. Benefits include: fresh perspective, quality talent and building a reputation of being great places to work.
Below are tactics and tips for recruiting and retaining women in the construction and glass industries, from those in the field.
1. Grassroots promotion
Many companies and personnel within the glass, glazing and metals industries have become more involved in local schools, job fairs and company-hosted educational events to promote careers in the industry. More grassroots promotion of the glass industry is needed to attract top-quality personnel of all types, especially women, sources say.
"In general, and not just for women, the glass industry can do more to promote itself in colleges and universities as a career option," says Sharon Heagney, vice president of engineering/project management, Safti First. "There are many aspects [of the] glass industry that can appeal to all students—across genders and majors."
Many industries, including IT and finance, have invested in early childhood education and mentoring to encourage girls to get involved. Diana San Diego, vice president of marketing, Safti First, says the construction and glass industries could follow suit. "[There should be] programs that … encourage more women to be engineers, architects, construction and project managers, or even work in the trades if they choose to," she says.
2. Workplace environment
Once in the industry, women, just like their male counterparts, view a positive workplace environment highly when determining whether to stay with a company.
Connie M. Leipard, 2016-2017 president of the NAWIC says that the construction industry in general should "recognize that women in the industry want to succeed just as much as their male peers. Women desire opportunities for advancement and knowing that their contribution matters to senior management," she says.
On a more practical level, Leipard points out the need for workplace clothing that fits properly. "Employers need to recognize the fact that women need safety gear and work clothes that fit women, not small men," she says. "This is a big deal to women in the field." San Diego says Bill O'Keeffe, CEO of Safti First, sets a positive tone throughout the company, in part with competitive benefits and compensation. "To me, a work environment where employees feel appreciated fosters collaboration, creative thinking and yes, even loyalty," she says.
Deb Linquist, senior project manager for Egan/InterClad, also sees InterClad's workplace environment as a reason she has stayed in her current position, as it has provided the "environment to grow in the direction that suits me," she says.
3. Work-life balance
"Flexibility for both women and men when it comes to taking care of their families is an attractive quality for any company," says San Diego. "Not having to sacrifice one for the other will encourage employees to not only stay, but inspire them to give their best work to the company."
Heagney has experienced this benefit first-hand, while at Safti First. "In the last three years, I've become a wife and mother. I am grateful that the company has been flexible and allowed me to balance work and family; I didn't feel that I would have to give up one for the other," she says.
4. Mentoring and networking
According to the NAWIC, women tend to undervalue their contribution to the workplace. "Networking with other women in the industry, receiving support and encouragement from them will empower women to ask for the opportunity to advance their career," says Leipard.
Linquist built relationships over her tenure in the industry to clear workplace hurdles. "It was not always easy being a woman in the industry, especially as I was working my way into the position of project management," she says. "However, after 30 years, I have met and worked with wonderful people who were willing to give me the opportunity and coach me."
Leipard encourages construction industry companies to provide mentoring opportunities, from both men and women. "Employers who promote company-sponsored mentoring, leadership and skill development will be successful in hiring women to their workforce. Encouraging and supporting women to build successful relationships within the company will go a long way to retain women."