World of Glass 2021 Report
Primary glass market faces continued supply challenges, while manufacturers push for better performance, improved efficiency
As with all other glass industry sectors, primary manufacturing faced significant supply chain issues in 2021. Supply chain hurdles spurred major acquisition decisions and reinvestments that reshaped the North American market. These challenges and changes take place in an already complex landscape, which is seeing not just a new trend, but a new chapter in the glass industry as companies focus increasingly on creating materials for greener and greener building. While this year's report will focus on the North American market, worldwide trends mirror the region's challenges of tight glass supply and expanding innovation. For more detail on glassmakers abroad, follow Glass Magazine's float glass news.
Download the World of Glass Database
The World of Glass Map presents the locations of float glass plants around the world. The sortable database includes listings for dozens of float glass manufacturers operating more than 230 plant locations with more than 450 float glass lines. The list includes company and location details for each plant, including website, address, phone and joint venture information.
This document was updated in February 2022 and is available in the National Glass Assoc. store. Free to NGA members.
2020-2021 Expansions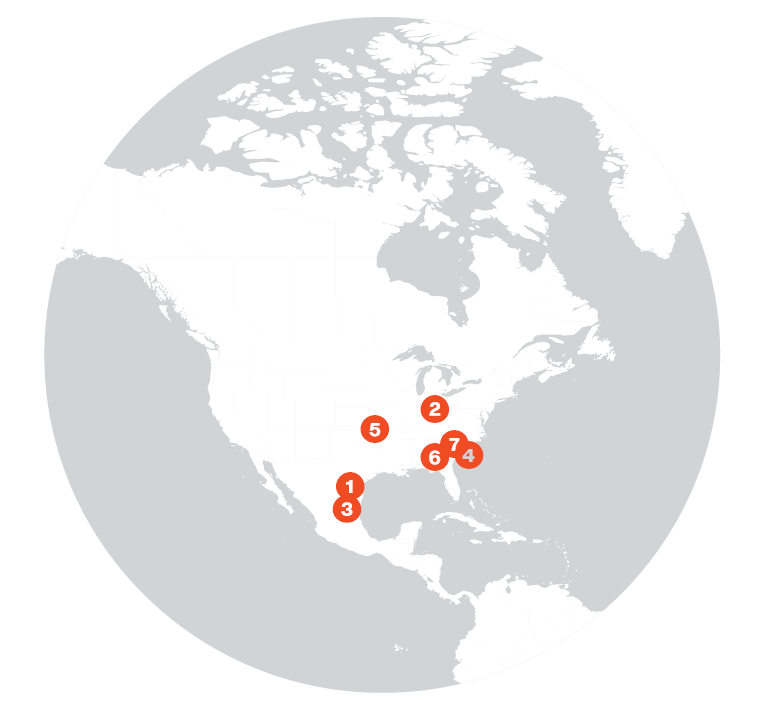 2020-2021 North American Expansions

1. Saint-Gobain: Saltillo, Mexico | new float line
2. NSG/Pilkington: Luckey, Ohio | new float plant
3. Vitro Architectural Glass: Garcia, Mexico | new float line
4. NSG/Pilkington: Laurinburg, NC | furnace rebuild

AGC North America acquisition by Cardinal Industries:
5. Spring Hill, KS | float glass
6. Greenland/Church Hill, TN | float glass
7. Abingdon, VA | coated glass
Float Glass trends
Strong demand tightens strained glass supply 
While it's unclear exactly how the fallout of COVID-19 and its related challenges of supply chain snarls and labor supply will resolve in the next few years, it is likely that demand for glass will remain high in 2022, and supply will remain tight, in North America and abroad. "If you look at the market, we're growing at 3 percent per year," says Stephen Weidner, head of architectural glass, North America, and solar products, NSG/Pilkington. "Three percent growth per year means [we would need] one new float per year just to absorb organic growth. We're not seeing that number of new floats being built commensurate with market growth, not in any part of the world."
Canadian Premium Sand, which announced intentions to enter the float glass market in March 2021, also pointed to the high demand for glass as a major reason behind the decision. "Today there is not a single float glass manufacturing facility in Canada," said Glenn Leroux, president and CEO of Canadian Premium Sand. "Current dynamics in North America show a manufacturing supply deficit demonstrating the requirement for up to four additional float glass facilities by 2025 for North America to be self-sufficient."
Such forecasts also prompted Cardinal Glass Industries' 2021 acquisition of the AGC Glass North American float business. In the official acquisition announcement, Cardinal officials cited tight glass supply as a need for expansion. "Our capital investment plan for these operations will allow us to sustain even higher volumes in a very tight North American glass market," said Roger O'Shaughnessy, CEO of Cardinal Glass Industries, in the official release.
Weidner also cautions that float glass supply will likely remain tight due to the pent-up demand from the automotive sector, which has faced its own production delays. "[The automotive sector] consumes 25-30 percent of float demand―that demand will remain strong for the next couple of years," he says.
Some production expansion is happening in North America, though it's unclear if it will allow the region to keep up with architectural glass demand, as much of the investment targets the solar and automotive sectors.
Notable expansions

In 2020, NSG/Pilkington completed its first float line in nearly 40 years in Luckey, Ohio, which will produce float glass for the solar market. 
Saint-Gobain added a float production line in Saltillo, Mexico, in 2020 to supply windshields and laminated roofs for electric vehicles. 
In 2021, Vitro also announced that a new float line will be added to its facility in Garcia, Mexico, located near Monterrey. 
And Canadian Premium Sand's new Manitoba plant is in planning phases, but after a recent decision, the company will focus on solar patterned glass instead of traditional float glass for architectural applications.
Solar products lead green innovations 
Whether or not glass supply changes, the trend toward "green" glass continues to ramp up.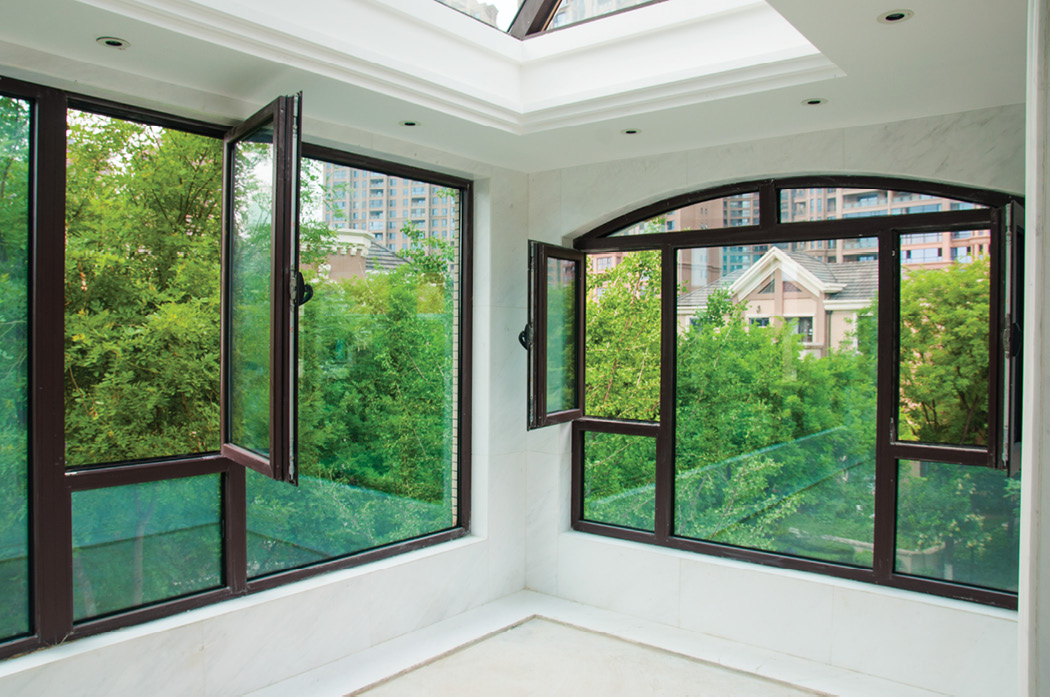 "We expect to see CO2-free initiatives, building codes, alternative energy requirements, and other incentives to continue to drive adoption of these new [green] products," says Martin Bracamonte, vice president of marketing and innovation at Vitro. "I think we've reached a tipping point and expect to see building owners demand more performance from their buildings and less environmental impact."
One major green innovation is glass for solar applications, which several North American companies are investing in heavily. Canadian Premium Sand announced that its planned facility will pivot from architectural glass to focus on solar patterned glass. The main reason is the attractiveness of the market to a North American company. "The really big reason [for the shift] was the size of the solar panel market," says CPS's Leroux. "There isn't a single manufacturer in North America, including Mexico, that makes rolled patterned glass. And every bit of [the current supply] is coming from China or another Pacific Rim country."
NSG Group is also investing heavily in the solar market. Its Luckey, Ohio, plant officially went online in 2020, and is producing flat glass for its partner, First Solar, located in nearby Lake Township, Ohio. 
In addition to producing the raw glass for the solar market, leading companies are also investing in end-use solar products. 
Vitro introduced Solarvolt in 2021, a type of building integrated photovoltaic that allows the building itself to generate CO2-free power. The product is a customized glass-glass solar lite, or a solar panel with solar cells arranged between two glass lites. 
NSG Group announced a partnership with Ubiquitous Energy, a manufacturer of transparent solar energy products. The company installed its own BIPV window at its Northwood, Ohio, facility at the beginning of 2021. In addition to generating power, the installation also collects technical data to analyze how best to distribute that power in the facility. 
Manufacturers continue to develop their energy-efficiency and solar control glass products. For example, last year saw Guardian Glass release SunGuard Amber control glass. The amber/bronze tint of the product follows aesthetic trends, say officials, while also blocking 54 percent of heat and allowing 44 percent of sunlight to enter. 
Additionally, Vitro Architectural Glass announced it would be partnering with LandVac to supply the North American market with vacuum insulating glass, which Bracamonte sees as having two major applications: "First, to replace existing 6-millimeter monolithic glazing in older, existing buildings―producing a vast energy-saving benefit―and second, using a VIG unit as the interior lite in a conventional insulating glass unit," says Bracamonte. "The latter, what we call a 'hybrid' unit, combines two low-emissivity coatings and can produce excellent SHGC as well as R-values in excess of R-16."
Manufacturing employs green methods
Green and sustainable manufacturing methods are also becoming the norm, according to manufacturers.
Canadian Premium Sands emphasized sustainable manufacturing processes for its new plant, from its very first announcement. This will partly be possible due to the energy environment of the plant's location, as Manitoba's electrical grid is 97 percent renewable energy, says Leroux. He says the proposed plant's embodied carbon footprint will likely be 30 percent lower than that of Chinese manufacturers in the same market segment.
NSG/Pilkington has also invested heavily in green manufacturing, including adding a number of solar arrays on its North American plants. Most recently, it was in the process of completing an array on its Rossford, Ohio, facility. NSG Group also partnered with Convergent Energy + Power to implement a battery storage solution at its laminating facility in Collingwood, Ontario, Canada. The system's software allows the plant to reduce electricity usage during the most carbon-intensive grid peaks.
Across the Atlantic, NSG/Pilkington officials announced the company had successfully manufactured float glass using hydrogen power. The world-first trial took place at the company's facility in St Helens, in the U.K. A second trial, using a blend of hydrogen power and natural gas, was held at the same facility, and involved running the furnace for five days.
Additionally, Guardian's Dewitt, Iowa, plant earned the U.S. Environmental Protection Agency's Energy Star certification in spring 2021. The certification is awarded based on the plant's ability to perform in the top 25 percent of similar facilities in the U.S. for the energy-efficiency performance levels set by the EPA. Leadership said that the plant improved performance by managing energy strategically and making cost-effective improvements to the facility. 
Large glass trend continues
In addition to the demands for more efficient and sustainable glass products are continued calls for larger and larger sizes. Manufacturers are meeting demand by offering jumbo coating capabilities.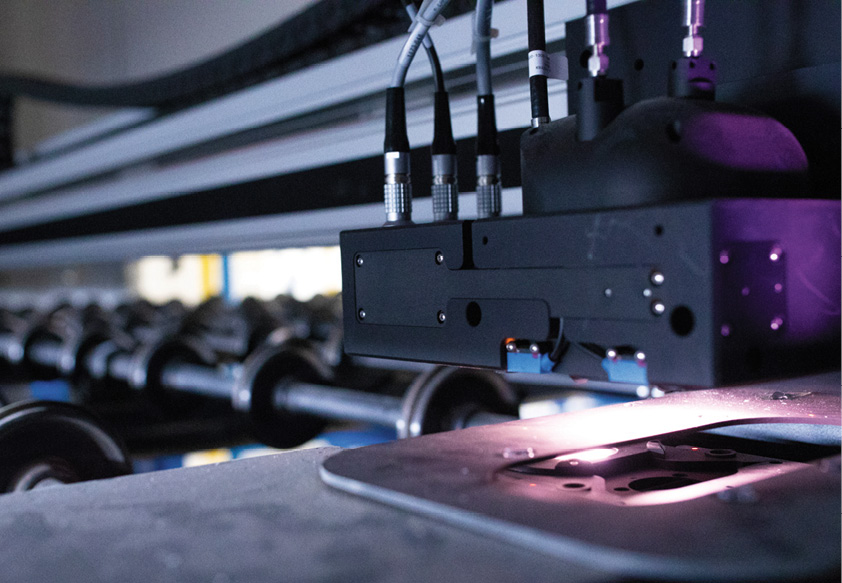 Guardian Glass added super jumbo coating capability at its Carleton, Michigan, plant last year, meaning it can process 130-by-240-inch sizes. "Guardian sees the need for high performance, low-[emissivity] jumbo and super jumbo glass continuing to grow," says Chris Dolan, commercial segment and technical services director, Guardian Glass North America. 
Vitro Architectural Glass also released Titan glass this past year, a jumbo-size flat glass, a step which Bracamonte says was driven by customer demand. "It all starts with architects, who want larger glass openings unobstructed with mullions," says Bracamonte. "When we introduced [the MSVD coater at our Wichita, Falls, Texas, plant], we thought that was large enough. However, in the time since then, demands for even larger coated glass continued to grow, so we did too." 
2021 Glass Project News
Download the World of Glass Database
The World of Glass Map presents the locations of float glass plants around the world. The sortable database includes listings for dozens of float glass manufacturers operating more than 230 plant locations with more than 450 float glass lines. The list includes company and location details for each plant, including website, address, phone and joint venture information.
This document was updated in February 2022 and is available in the National Glass Assoc. store. Free to NGA members.