Applying Color to Glass: Ceramic Frit
Learning about glass decoration technologies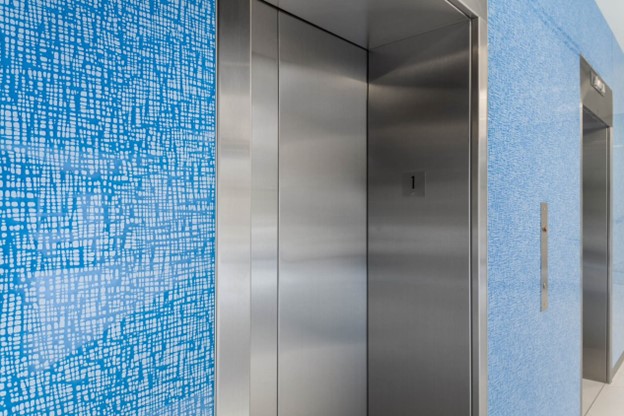 For wall cladding, spandrel glazing and more, ceramic frit and silicone coatings are two ways to apply color onto glass. Offering a broad array of colors, high-quality ingredients, and low volatile organic compounds (VOCs), both ceramic frit and silicone coatings are go-to glass decoration technologies.
To assist architects and building owners in determining which approach is better suited for a given application, a good understanding of the two options is helpful.
What is ceramic frit?
Suited for both exterior and interior applications, ceramic frit is made from finely-ground glass mixed with colored pigments. Flood-coat applications are applied using a roll coater or curtain coating process. For more high-end decorative options, digital ink jet technology can be utilized for direct-to-glass printing.
In either case, the coating is applied and then heat-treated onto a glass surface to create a partial cure. When the coated glass is ready for final processing, the partially cured ceramic frit is then baked into the glass through a tempering or heat-strengthening process. Fritted glass is typically used on the No. 2 surface of monolithic glass, or the No. 4 surface of an insulating glass unit or laminated glass configuration. Surface No.1 options are also available which is ideal for bird protection glass.
What are the advantages of ceramic frit?
When digitally applied, the ceramic frit can be adjusted to produce varying levels of opacity or as overlapping designs, depending on the fabricator's production capabilities and level of expertise. High-resolution imagery can be applied, and varying fades and gradients can be created as well.
The silk screen printing process is exclusive to ceramic frit paint and best suited when only a single color is required with a large quantity of repetitive patterns such as lines, dots or holes. 
The digital ink jet technology avoids the cost and warehousing of silk-screen printing and is a more cost-effective strategy for producing lower volume orders, designs with little or no repetition, and custom artwork as all designs are stored digitally, making reordering much easier.
Ceramic frit coated glass is exceptionally durable and scratch proof and offers glare-free shading.
Applications for ceramic frit painted glass include:
Spandrel

Wall cladding

Glass doors

Partitions

Handrails

Back splashes

Shower enclosures

Shower walls

Furniture

Glass marker boards