Applying Color to Glass: Silicone Coatings
How do ceramic frit and silicone coatings compare?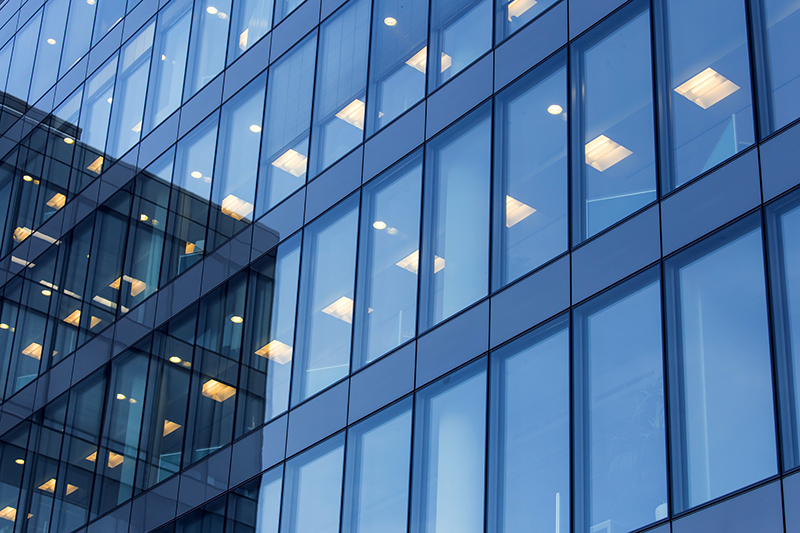 Last week, we discussed the design flexibility of using ceramic frit to apply color to glass. This week, we will look at the versatility of silicone coatings, and how they compare and contrast to ceramic frit.
What are silicone coatings?
Suited for both exterior and interior applications, glass opacification is achieved when a silicone water-based elastomer liquid is combined with colored pigments and applied to the glass substrate.
Flood-coat applications are applied by
roll coating

,

or

curtain coating.
What are the advantages of silicone coatings?
Since the coating does not require heat-treatment to cure, it can be applied to annealed, heat-strengthened, or tempered glass, after the tempering or heat-strengthening processes. Silicone coated glass is typically used on the No.2 surface of monolithic glass, or the No.4 surface of an insulating glass unit.
In addition to regular glass, silicone coatings can also be applied to tinted and pre-approved hard-coat low-emissivity reflective surfaces. Since the silicone coating has a tack-free rubber like finish and doesn't require heat-treatment to cure, it does not alter the strength of glass, and provides fallout resistance for 6-millimeter monolithic tempered applications when applied at 13-millimeter wet film thickness (WFT). In the rare occurrence a minor scratch happens, it can be quickly touched up onsite, prior to installation.
Applications for silicone coated glass include cavity-backed:
Spandrel

Wall cladding

Back splashes

Shower walls

Glass marker boards
Ceramic Frit and Silicone Coatings: How do they compare?
Both ceramic frit and silicone offer a very extensive color palette, exact color matching, batch consistency, and they are both well suited for flood-coat spandrel and wall cladding applications. Ceramic frit has added benefits when applied with state-of-the-art digital printing technology, or by screen-printing, as it can be used for interior and exterior applications, and is ideal for decorative applications –including public art displays and installations where light transmission is desired through the decorated glass.
Ceramic frit and silicone options are both lead free with low VOCs in liquid form, and zero VOCs when cured, but silicone coatings are water-based, which means they are more environmentally friendly. Furthermore, heavy-metal-free pigment usage, transparency documentation, and Red List Free ingredients, silicone coatings qualify as "green," which are all advantages for sustainably-focused building projects.
Spandrel glass units must be tempered, or heat strengthened, silicone coatings can be used for both, but ceramic frit can only be tempered. For interior wall cladding applications, silicone has the advantage that it can be applied to annealed glass, whereas ceramic frit again must be tempered.
In the event of 6mm tempered glass breakage, the silicone coating, when applied at 13 mil wet film thickness (WFT), keeps the broken glass pieces intact, thereby naturally providing glass fallout resistance. To create this same level of protection for ceramic frit, an additional film must be applied to the back of the fritted glass.
Silicone coated glass must be fully cavity-backed and installed in applications that provide no access for human interaction post installation. If specific levels of solvent and/or water soak resistance are required for interior applications, silicone coatings should be perimeter-sealed for projects like wet backsplashes, shower walls, and writable surfaces.
Ceramic frit can be exposed to human interaction post installation, and has higher solvent and water soak resistance, meaning there is increased design freedom for project applications like glass partitions, railings, shower enclosures, marker boards, and furniture.
What are their applications?
Opaque spandrel glass
A common application for ceramic frit and silicone paint coatings is a fully opaque spandrel glass for glass facades. Spandrel is non-vision glazing that is typically incorporated into an insulating glass unit and used to conceal areas between floors, or in vertical perimeter areas, where mechanical, electrical, structural systems, components, columns, floors, or ceiling lines are located. It is both functional and aesthetic since the spandrel glass must complement the building envelope.
Other exterior applications
Wall claddings, curtain wall and storefronts are other applications for these color-rendering technologies. For example, designers might specify a creative mosaic of opaque colors in a building's glass façade to achieve an architect's vision.
Decorative applications
For decorative applications, ceramic frit can be used to infuse an image, logo, or brand message onto the glass façade or wall cladding and may include vision applications such as glass wall partitions, windows, doors, skylights, and glass railings where light passes through.