Updated Guide to the Glass & Glazing Requirements
Sixth Edition References Codes & Standards in Effect as of June 2021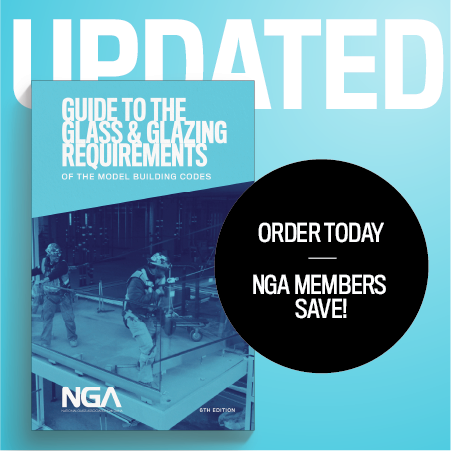 NGA released an updated version of its long-standing resource, the Guide to the Glass & Glazing Requirements of the Model Building Codes.
The Guide, first published in 1996, is intended to be a concise reference to understanding the model building codes specific to glazing products and applications. It explains the codes and standards bodies that influence how glass products are installed in a variety of locations, including vertical, sloped, fire-rated, railing and door applications. It also outlines the code provisions for labeling and load requirements, as well as for renovation and conservation.
This resource is relevant to all segments of the supply chain and can be used both in office and in the field. It provides an outline of how to navigate the model building codes and can address many often-asked questions when it comes to selecting proper glazing for the application.
Now Available for Purchase
The Guide is available in both downloadable and print formats and can be purchased in the NGA Store at glass.org. Prices for NGA members are $64.95 downloadable/$69.95 print and prices for non-members are $134.95 downloadable/$139.95 print.