Vitrum 2021 Opens in Milan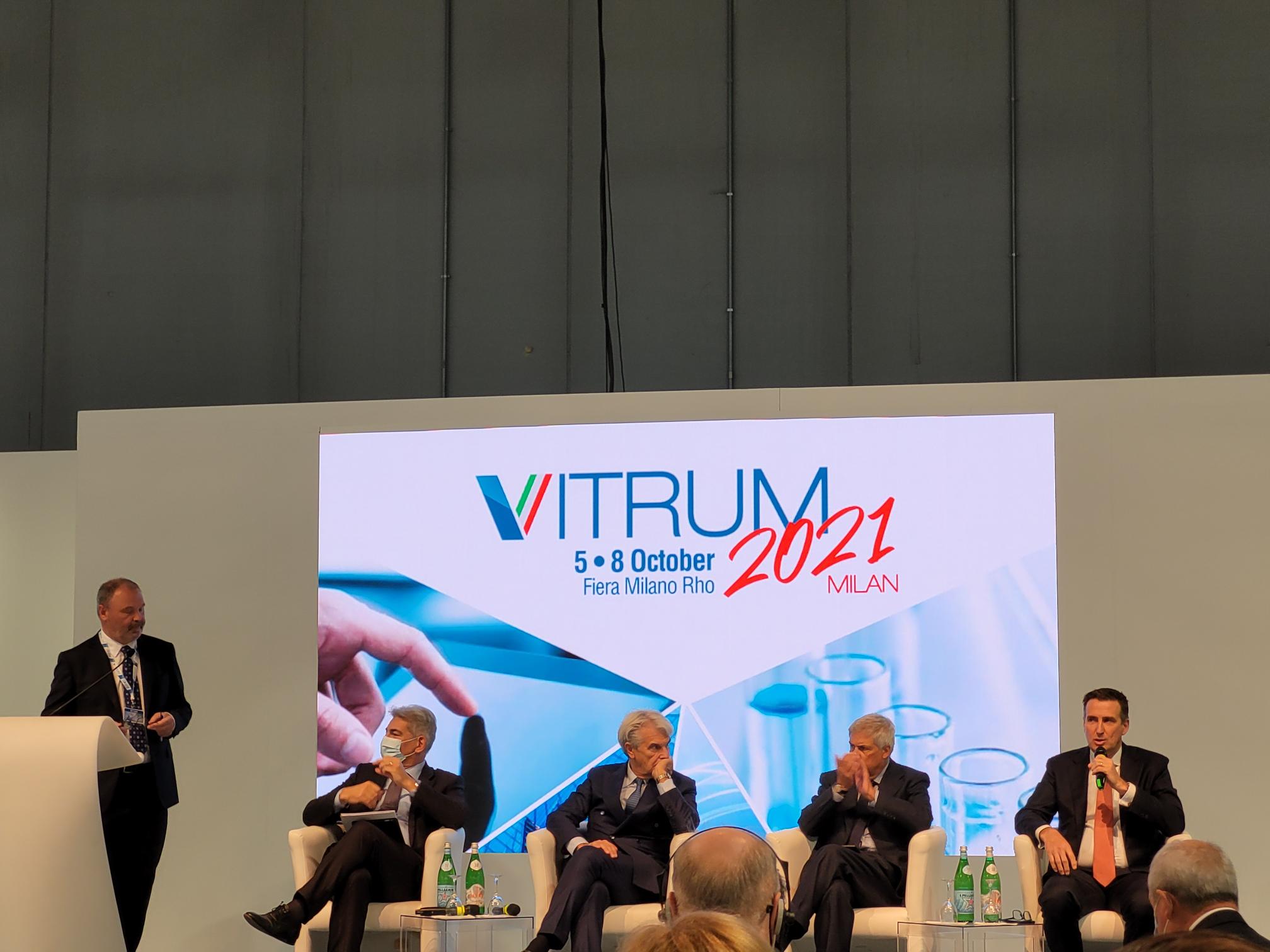 Vitrum 2021 kicked off today at Fiera Milano Rho in Milan, Italy. The show, organized by GIMAV, the Association of Italian manufacturers and suppliers of machinery, equipment and special products for glass processing, will host about 120 exhibitors and runs Oct. 5-8.
On Oct. 5, Vitrum and GIMAV leaders hosted an opening press conference, where they noted the impact of bringing people back together, face to face. "Live events, trade fairs, are very important to the economy," according to Dino Zandonella Necca, Vitrum president, and president and CEO of ADI Srl.
Future of glass
Panelists during the opening session also discussed the future of the glass industry. According to speakers, issues of carbon neutrality, environmental concerns, climate change and dwindling raw materials will force companies to evolve. "We must change. Like the industrial revolution 50 years ago, we need to change to be successful. Those who don't change will not stay in business," says Raffaele Cattaneo, Lombardy Region Councilor for the Environment and Climate.
As the industry faces these daunting challenges in the coming decades, glass recycling will become increasingly critical. The lack of raw materials is pushing the industry to recycle and recover glass, says Cattaneo. 
International Year of Glass
Vitrum 2021 will also host a meeting of the Community of Glass Associations, with representatives from glass associations around the world, including the National Glass Association, representing the United States.
Atop the agenda for the COGA will be the 2022 International Year of Glass. In May, the United Nations General Assembly officially declared 2022 as the International Year of Glass. The International Commission on Glass, the COGA, and ICOM-Glass had submitted the application for glass to be recognized. The Assembly then adopted the draft resolution without a vote, deciding to proclaim 2022 as the International Year of Glass. The Assembly invited all relevant stakeholders to observe the International Year through activities aimed at raising awareness of and directing policy attention to the importance of glass in daily life.
During Vitrum, the COGA will continue planning the 2022 International Year of Glass through activities and initiatives across the world.