Architecture firm billings take a sharp downward turn in October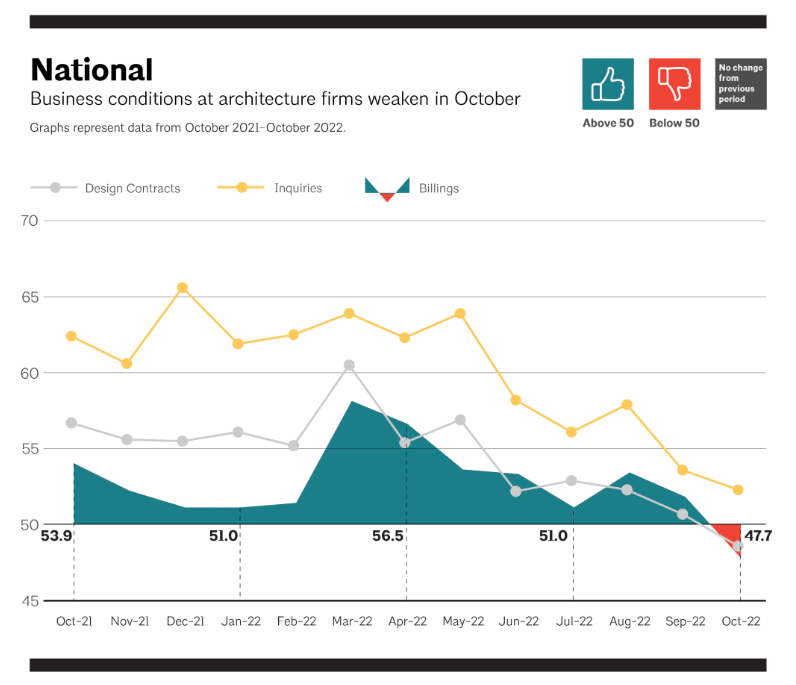 SUMMARY
The Architecture Billings Index score for October was 47.7, dropping four points from the September score of 51.7.
The new Project Inquiries index was 52.3, gaining from last month.
The Design Contracts index dropped to 48.6.
Scores above 50 indicate increased demand for design services.
Billings at architecture firms softened considerably in October after 20 months of positive growth with an ABI score of 47.7, as firms reported the first decline in billings since January 2021, according to a release from the American Institute of Architects. Any number below 50 indicates a decline in design firm billings.
"Economic headwinds have been mounting, and finally led to weakening demand for new projects," says AIA Chief Economist Kermit Baker.
While one month of weak business conditions is not enough to indicate an emerging trend, it is worth keeping a close eye on firm billings in the coming months. The falloff was countered by a bit of positive news, with inquiries into new projects continuing to grow at a modest pace in October with a score of 52.3, the value of new design contracts similarly declined in October as fewer new projects entered the pipeline, posting just 48.6.
Despite the weakening demand for design services, Baker notes, "Firm backlogs are healthy and will hopefully provide healthy levels of design activity against fewer new projects entering the pipeline should this weakness persist."
SLIGHT GROWTH OR DOWNTURNS ACROSS THE COUNTRY
Business conditions were fairly consistent across the country in October, as firms in all four regions saw either slight growth or a slight downturn. (Due to the fact that regional and sector data are reported as three-month moving averages, they may show more variability, and may not average out to the national billings number exactly.) In addition, firms in the South may have been impacted by Hurricane Ian and may also see an impact from Hurricane Nicole as well.
Conditions were more mixed by firm specialization this month, with firms with multifamily residential and commercial/industrial specializations seeing more significant declines in billings in October, following a gradual softening during the third quarter. Firms with an institutional specialization, on the other hand, saw fairly strong growth, which is typical for this point in the business cycle.
Multifamily residential and commercial/industrial projects are usual first to rebound following a recession, and then as they start to slow, institutional projects pick up steam.
A SLOWDOWN ACROSS THE ECONOMY
Also, it's not just architecture. The economy has slowed down across the board. Due to a modest deceleration in inflation, the U.S. Federal Reserve may make a smaller increase to interest rates at its December meeting than the 0.75 point increases it made at its most recent meetings.
However, with inflation still well above the target of two percent, it is likely to continue raising rates until at least mid-2023.