Highlights from NGA Glass Conference: Long Beach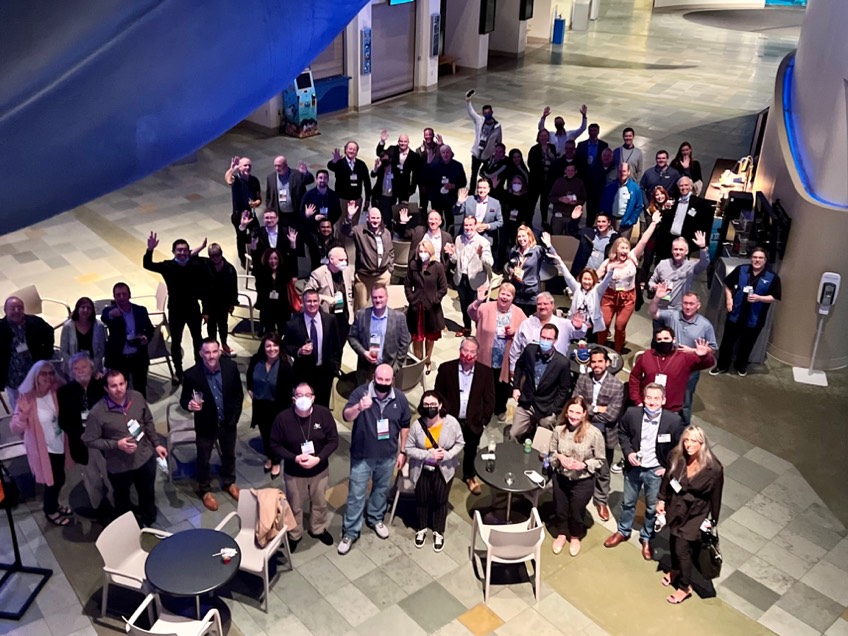 The NGA Glass Conference: Long Beach kicked off on Jan. 24, with more than 100 glass industry leaders coming together in-person at the Renaissance Long Beach or joining virtually. The event, which runs through Jan. 26, includes updates from NGA's Fabricating Committee, Forming Committee and Advocacy Committee, alongside educational sessions addressing leading headwinds facing the industry, the psychological impacts of daylighting, glass recycling and more.
The event's program includes up to six hours of AIA LU | Elective credits for architects, joining virtually.
Here are 4 top highlights from day one of the conference.
1. Supply, material costs, labor challenges
Katy Devlin, associate publisher and editor in chief of Glass Magazine, presented "10 Industry Metrics You Should be Watching" to help glass industry companies plan for 2022. Based on economic projections, the industry should prepare for supply chain, material cost and labor challenges to continue into 2022, she said.
"Supply chain is perhaps the biggest pain point for glass industry companies right now," she said. "COVID caused the global supply chain to experience a pretty severe whiplash. … The global economy took an unprecedented pause. And as we emerged from Spring 2020, demand skyrocketed to pre-pandemic levels. Unfortunately, those plants that stopped working couldn't keep up."
Industry companies are also facing higher construction material costs—up more than 25 percent year-over-year—and ongoing labor shortages. However, projections for gradual improvements in the supply chain and for growth in construction spending offer reason for optimism.
2. New technical publications
During the Fabrication Committee meeting, task group leaders offered updates on numerous ongoing and completed activities. During 2021, NGA released three new and five updated Glass Technical Papers, two new design guides, and one new and one updated manual. New or updated GTPs include:
New School Security Glazing GTP

New Introduction to Hybrid VIG Fabrication GTP

New Flat Glass Environmental Transparency Documents GTP      

Updated The Reusability and Recyclability of Mirror Products GTP

Updated Installation Techniques Designed to Prolong the Life of Flat Glass Mirrors GTP

Updated Recyclability of Architectural Glass Products GTP

Updated Considerations When Installing Interior-Mounted Back-Painted Glass GTP

Updated Design Considerations for Laminated Glazing Applications GTP
Visit NGA's Store to access all GTPs and other technical resources.
3. Aquarium of the Pacific: Case Study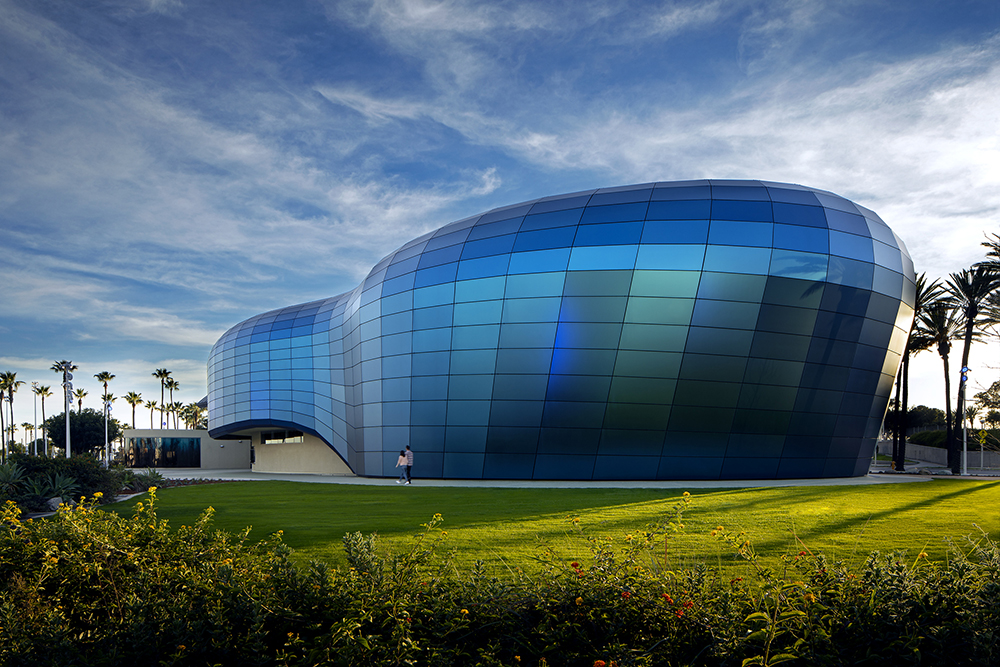 The day's education closed with a case study panel discussion of the Aquarium of the Pacific, located near the conference hotel in Long Beach. The project, completed in 2018, features an innovative blue glass rain screen façade made of triple-laminated glass panels. The 18,000-square-foot façade wraps the building, creating a dynamically colored whale-like shape and appearance.
The case study panel discussion featured representatives from the project's glass team: Charles Alexander of Walker Glass, which supplied an acid-etch patterned glass for surface No. 1 of the panels; Kirk Johnson of Pulp Studio, which was the fabricator; Vaughn Schauss of Kuraray, which supplied its SentryGlas ionoplast interlayer; and Trent Zinn of Woodbridge Glass, which served as the glazing subcontractor for the project.
The conference welcome reception was held at the Aquarium of the Pacific, providing an opportunity for attendees to see the façade up close and tour the aquarium.
4.  Glass cutting demo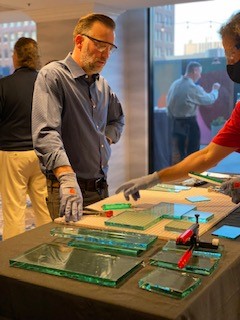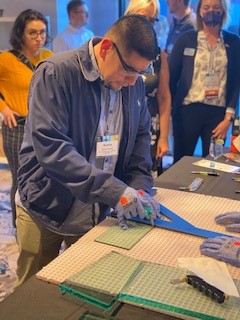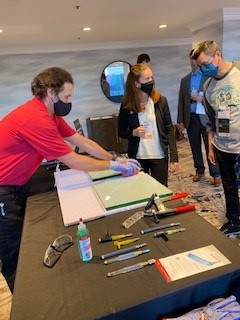 During the New Professionals Beer Break, attendees participated in a glass cutting demonstration with Steve Shupper of Glass Accessories International. Shupper demonstrated the use of various cutting tools on various thicknesses of glass, and attendees took turns cutting glass.