Gamco Provides Fenestration for New Hotel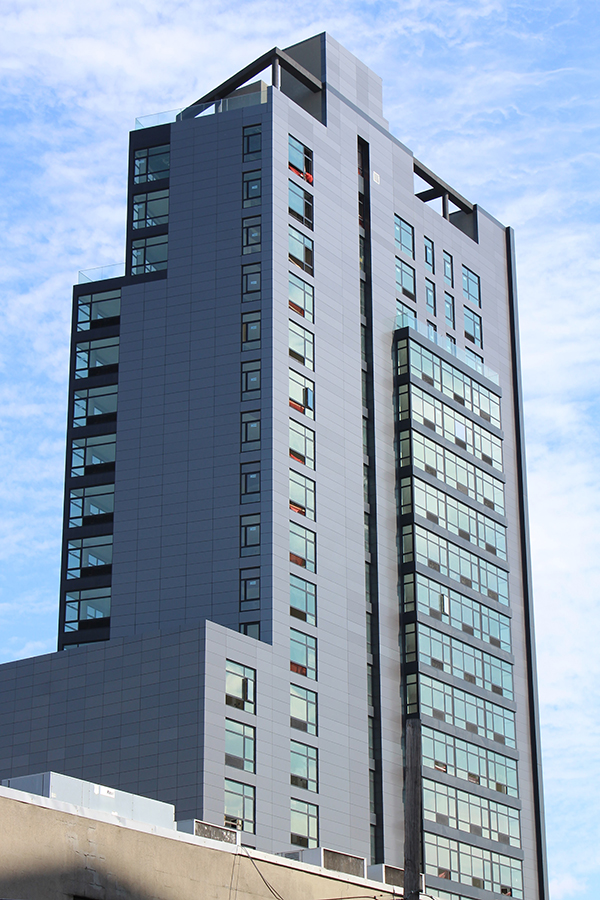 Gamco Corp.'s product line of glass, window, door and metal products is on full display at a new Long Island City, New York, high-rise hotel nearing completion. For the 20-story hotel located at 52-09 31st Place, Long Island City, adjacent to the Long Island Expressway, Gamco supplied a total of over 19,000 square feet of glazed commercial windows, curtain wall, storefront, balcony doors, commercial entrance doors and metal louvers. At 210 feet tall, the new building is readily visible from vehicles transiting the I-495 LIE, near the Queens Midtown Tunnel to Manhattan.
"The Long Island City hotel project illustrates Gamco's complete product line and demonstrates to architects, builders and developers our ability to be the single source supplier for all their fenestration needs," says Melora Chang, vice president, Gamco.
What GAMCO provided
Used extensively on the building's north, south and west façade were Gamco's W250C fixed and casement commercial windows. Arranged in combined units, the installation of the 15,473 square feet of windows was facilitated using Gamco head and sill receptor systems. The W250C is a strong, dependable window with a 2-½-inch thermally broken frame profile and a 1-inch glazing pocket; the casement style also features 4-bar hinges and multi-point locks.
Gamco used AGC Energy Select 28 low-e dual-pane insulated glass units for the windows.  AGC's Energy Select 28 is a low-e glass product offering maximum performance and designed to meet stringent energy codes while providing a neutral, blue visual aesthetic. The IGUs were field glazed in the window frames at the job site.
Facilitating individual guest room HVAC needs, Gamco supplied over 1,500 square feet of window-integrated aluminum PTAC louvers. Sourced by Gamco, the model AEL-42 louvers were manufactured by Reliable of Geneva, Alabama. As with the IGUs, the louvers were field glazed at the job site in the window frames.
Gamco also supplied 13 BD325 aluminum outswing balcony doors to provide access to the 10th- and 18th-floor roof terrace spaces. The Gamco BD325 balcony door features a 3-¼-inch frame profile, ⅛-inch wall thickness aluminum extrusions, and polyamide strut thermal break. Further enhancing the door's performance is a multi-point locking system and a 1-inch glazing pocket for IGUs.
For the ground floor entrances and retail spaces, a variety of Gamco's other aluminum fenestration products were specified. On the building's north main entrance side, 1,440 square feet of Gamco's CW250P thermally enhanced curtain wall system is being installed. The 2-½-inch by 5-½-inch back member curtain wall framing features a structural polyamide thermal-break pressure bar, which improves energy efficiency.
Rounding out the building's ground floor glass façade components were 475 square feet of Gamco's FG 451-T thermally broken storefront framing, as well as two double and two single D350 medium stile commercial entrance doors. The FG 451-T has a 2-inch by 4-½-inch frame cross-section and accepts 1-inch IGUs. The medium stile D350 doors for the project feature 3-½-inch top and side rails and optional 10-inch bottom rails.
More about the project
Project partners for the 52-09 31st Place building include general contractor Triborough Construction Services of Flushing, New York; ARC Architecture and Design Studio of Forest Hills, New York; and fenestration installer RL Aluminum Panel and Glass, of Whitestone, New York. The hotel owner is Queens Plaza South LLC of Syosset, New York, and the developer is DLC Development Corporation, of Flushing, New York.
The new 133,800-square-foot, 201-room hotel is planned to be part of the Holiday Inn Express chain. Near the SilverCup Studios East complex, the upper floors of the hotel will have unobstructed views of Manhattan. The hotel also offers a top-floor rooftop deck, gym, off-street parking, and conference and dining facilities. Ground floor retail space is also planned.