Roto North America Partners with Transition Academy on Internships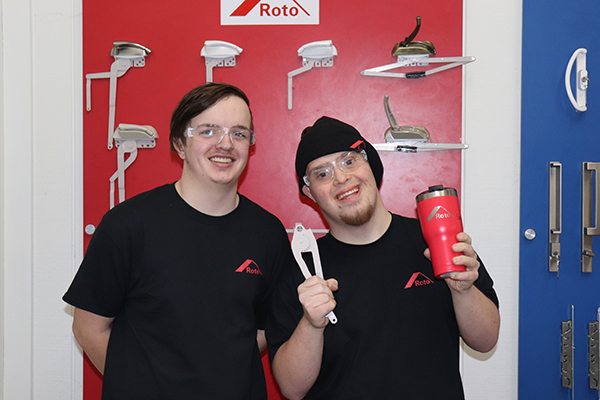 Roto Frank of America Inc. partnered with the Transition Academy to provide local internships to students with intellectual and developmental differences.
About the academy
The Transition Academy community program helps young adults experience hands-on training in various positions and job sites to prepare them for a brighter future. Sam and Zac are the first students to begin this journey with Roto and have begun their work in assembly.
What the students love
Sam loves working at Roto and especially enjoys the people and fast pace of his work. He feels it is a good experience for him and it's helping him learn what is expected of him as an employee. Sam expressed that he will miss the people at Roto when his internship ends and that he wants to work towards getting a job at Roto some day.
Zac enjoys the hard work and is glad that his work keeps him busy. This experience has helped him realize that he likes hands-on jobs and could see himself working at Roto in the future as well.
Roto is involved in this community initiative to help young adults like Zac and Sam in the Chester, Deep River, and Essex, Connecticut, area. The company has already had two students from the Transition Academy begin their three to four week internships under the supervision of its production manager and Roto hopes to have many more.