SAF Introduces Vertical and Horizontal Sunshade Fins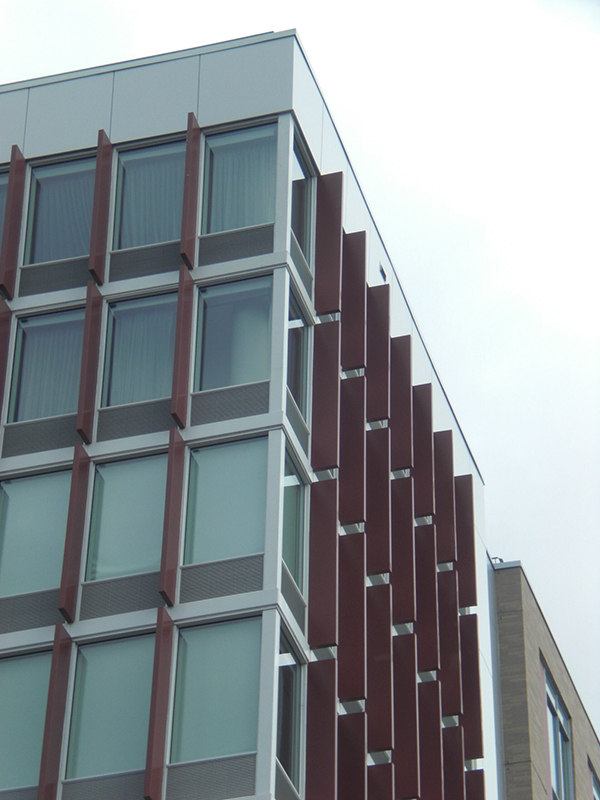 SAF, a global metals distributor, fabricator and finisher, introduced new vertical and horizontal sunshade fins, now available for customers designing commercial buildings. The new sunshade fins are designed for installation on exterior walls, primarily over windows or glazed openings, designed to deliver benefits ranging from energy savings to occupant comfort.
Product info
SAF sunshade fins can be anodized, powder-coated or painted to meet a customer's needs and can be fabricated up to 20 feet in length. Fins can be made from sheet metal or extruded shapes. SAF offers a variety of in-stock sunshade fin extrusions for rush orders that need to be shipped quickly. In addition, the organization offers custom extruded fin shapes for specialty architectural needs.
What SAF says
"Sunshade fins can truly bring a structure to life, adding texture and movement to an otherwise standard exterior wall. However, their performance benefits can have an even greater impact across a building's life span," says SAF CEO Penn McClatchey. "We encourage architects and design professionals to come to us with unique ideas for sunshade fin applications, and our team of metalworking experts will custom fabricate them to meet a project's specific needs."
Sunshade benefits
SAF sunshade fins, created with either aluminum or steel, are designed to mitigate solar heat gain by intercepting sunlight before it reaches the window, significantly minimizing the amount of solar radiation permitted to enter. By preventing excessive heat gain, the fins provide a host of benefits, including reduced demand on the air conditioning system, overall energy savings and improved occupant comfort.
The new sunshade fins also provide glare control. SAF custom fabricates its sunshade fins to fit any desired aesthetic or performance function. Fins can be fabricated to varying shapes and sizes and installed in a specified orientation on the building to optimize daylight, allowing it to properly diffuse throughout an interior space. From an energy-efficiency perspective, sunshade fins are designed to reduce reliance on artificial lighting during daytime hours, decreasing energy consumption and lowering utility bills for owners.