Vitro Celebrates Pittsburgh Groundbreaking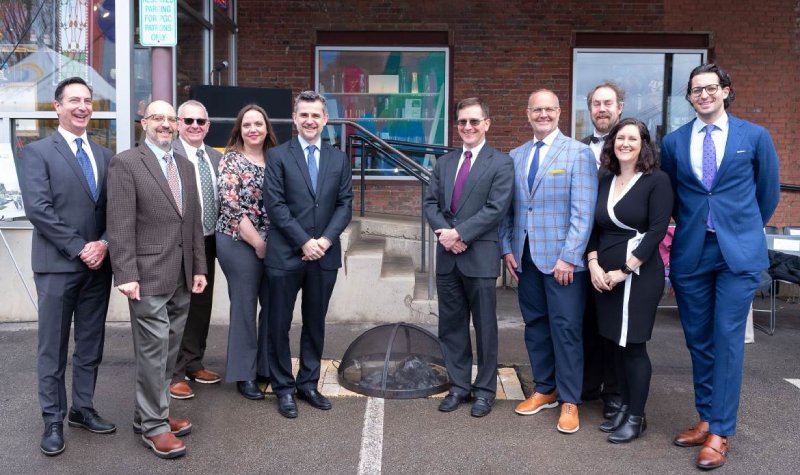 Vitro Architectural Glass is donating glass for both the interior and exterior renovations of the Pittsburgh Glass Center, a nonprofit, public-access education center which will also include research and development center. Vitro representatives attended the PGC groundbreaking ceremony and hot pour event on March 23 in Pennsylvania.
This historic renovation project marks yet another milestone in the long history of glass in Pennsylvania and, once completed, will have a significant impact on the Pittsburgh community and surrounding region, say officials.
Vitro's PGC donation
Produced entirely in Pennsylvania, Vitro's donation includes Solarban 72 Starphire glass for light transmission and solar control performance. Additionally, this is the first Pittsburgh-area project to include one of Vitro's newest products, VacuMax vacuum insulating glass. Additional partners on this project include glass fabricator United Plate Glass and glazier Southwest Aluminum & Glass Co., both located in Western Pennsylvania.
Vitro's response
"Vitro is proud to have earned its reputation as an environmentally progressive glassmaker and a leader in sustainability in the building products sector," says Ricardo Maiz, president, Vitro. "Our research and development center in Pittsburgh is the leading driver of innovation at Vitro, and, of the 300-plus patents to the credit of that research lab, most are related to reducing the environmental impact of buildings and producing glass more sustainably."
Maiz adds, "We continue to reimagine the future of architectural glass and we're very pleased to be doing so right here in western Pennsylvania. Our vision is to raise the industry standard and provide architects and building owners high-performing, sustainable and attractive glass technologies for the buildings of tomorrow."