Award-Winning Austin High-Rise Delivers Amazing Views and High Performance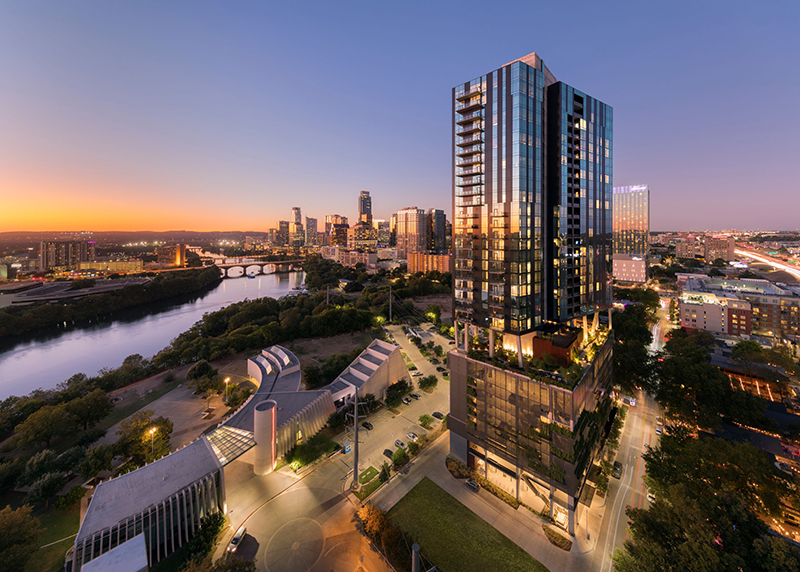 Supported by tall concrete columns that emerge from a nine-story parking block, Austin's new 34-story 70 Rainey houses 164 condos featuring floor-to-ceiling Solarban R100 glass from Vitro Architectural Glass. 
Located in one of the country's fastest growing and most vibrant urban districts, the luxury units sit above a 30,000 square-foot amenity deck showcasing lush greenery, two pools, a gym, dog park, fire pit and a yoga deck.
In selecting the right glass for the apartment block, which shifts 14 degrees above the amenity deck, the architect performed an extensive search.
"Glazing selection on tall buildings is one of the most complicated design decisions we face today in needing to navigate both energy codes, aesthetics and environmental performance," says Joshua Coleman, AIA, LEED AP, principal/design, Page Southerland Page, Austin. "After our wide search looking at all products on the market, we arrived at Solarban R100 glass based on its ability to perform incredibly well in Texas' strong sun conditions without inducing glare or other negative urban effects."
While the team was concerned about solar heat gain and looked closely at several combinations of window-to-wall-ratio, glazing types and geometry to best mitigate these negative effects, Coleman explained that too much opacity would have sacrificed views, so it was imperative the glazing be clear and have very high performance.
"Solarban R100 glass provides one of the best solar heat gain coefficients on the market without aesthetic tradeoffs, such as being overly reflective, too dark or tinted," Coleman says.
Solarban R100 glass conveys an appearance similar to clear glass in both color and reflectance whether viewed from the interior or exterior of a building. When combined in a 1-inch insulating glass unit with clear glass, it has a solar heat gain coefficient of 0.23 and visible light transmittance of 43 percent.
Consequently, the architects were able to specify large 5 ft. by 9 ft. glazed panels with some variations in size and proportion. By angling the primary tower, this also allowed the west façade to take on less direct solar heat.
For the amenity deck levels, Page designed predominantly horizontal proportioned windows as compared to the typical apartment windows with vertical proportions. "This affords better views to the city skyline and lake beyond. Fortunately, the glazing selection was the same for both tower and amenity deck floors allowing us to maintain aesthetic consistency throughout these key areas," says Coleman.
From the deck levels, occupants are treated to panoramic views of Lady Bird Lake, East Austin and the local Colorado River.
Situated in a dense urban environment, choosing Solarban R100 glass also meant the design team didn't need to be concerned 70 Rainey would cast a glare on neighboring buildings. From the outside, Solarban R100 glass delivers a clean, crisp exterior. In addition, the glass' reflected color harmonized very well with the building's overall material palette.
Assisted by the efforts of the project's glazier, Texas-based Win-Con, the sleek tower earned a gold 2020 Multi-Housing News Excellence Award for the Best Development & Design in the High-Rise category and an Honor award from the Society of American Registered Architects in its 2020 Celebration of Architecture and Design.