Bürkle North America Names Kyle Lindersmith as Sales Manager
May 3, 2021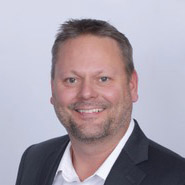 Kurt Palmer, president and CEO of Bürkle North America, announced today the promotion of Kyle Lindersmith to the new position of sales manager of the flat glass lamination and coating product line.
Palmer says, "Lindersmith is a 20-year Bürkle North America veteran highly qualified to bring this new and exciting technology to the glass industry."
Bürkle North America will be exhibiting at the September 2021 Glass Build show in Atlanta Georgia, booth #2141, promoting the new IFL Flat Glass Lamination System.
The Bürkle system replaces the current conventional Autoclave process.The IFL System provides in an in-line serial fashion high quality laminated flat glass used in a host of industry applications and materials from very thin glass, less than 0.7-millimeters, to thicker glass. Depending on the glass thickness, cycle times are on the order of 10 minutes.
Bürkle North America is celebrating 30 years in North America and is a fully owned subsidiary of Robert Bürkle GmbH of Freudenstadt, Germany.