Crystal Pacific Window & Door Systems Marks 10 Years of Growth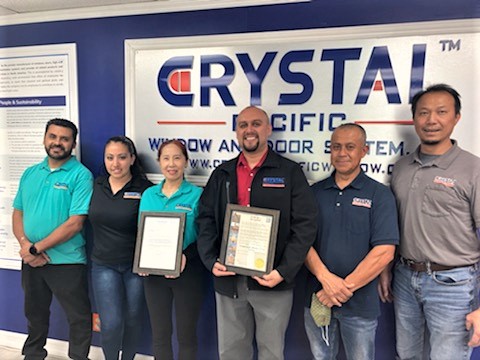 Crystal Pacific Window & Door Systems, the west coast affiliate of national manufacturer Crystal Window & Door Systems, marks its 10th year of operation and growth since opening its doors in May of 2012. Launched by the national company's founder and Chairman Thomas Chen, Crystal Pacific was started to bring quality vinyl energy efficient windows and doors to remodeling and new construction general contractors, builders, and property managers in California and neighboring states.
"The past ten years have been very exciting for Crystal Pacific, as we have grown significantly in terms of sales, job creation, and product lines," says Sergio Garcia, Crystal Pacific's president of operations. "We have expanded from simple residential vinyl windows into manufacturing aluminum and commercial vinyl windows and doors for all types of renovation and new construction projects. We tripled the number of employees working here in Riverside to 90 in the past 10 years. Crystal Pacific now ships products up and down the west coast, and for certain special projects, across the country."
Crystal Pacific is a national leader in the fabrication of commercial uPVC vinyl windows and doors for mid- and high-rise properties with its MAGNUS products. These highly energy efficient products combine the best features of two window frame materials—the strength and durability of aluminum and the superior thermal performance of vinyl.
Crystal Pacific's 116,000-square-foot factory and headquarters are located at 1850 Atlanta Avenue in Riverside. The property was purchased by Chen during the deep economic downturn hitting southern California at the time because he believed the potential of the region was exceptional. By investing in the region and creating jobs, Crystal Pacific was part of the resurgence of the Riverside, California, business community.
The company's steady growth and job creation was noted with certificates of recognition from Riverside Mayor Patricia Lock Dawson and Riverside County Supervisor Chuck Washington, and by a congratulatory letter from U.S. Senator Dianne Feinstein. The company is planning several customer and employee activities to celebrate the anniversary throughout the year.
Crystal Pacific windows are installed at many notable properties in Southern and Northern California, including Avalon Bay Public Market development in Oakland, TownePlace Suites by Marriott at the San Diego airport, the St. Bernardine Radiation Therapy Center in San Bernardino, Hyatt Place Riverside, and Monticello Village luxury residential development in Santa Clara. The company plans to continue its growth with additional product lines, equipment, and customer services in the coming months.