Forman Ford Becomes First Iowa Glazing Contractor to Earn North American Contractor Certification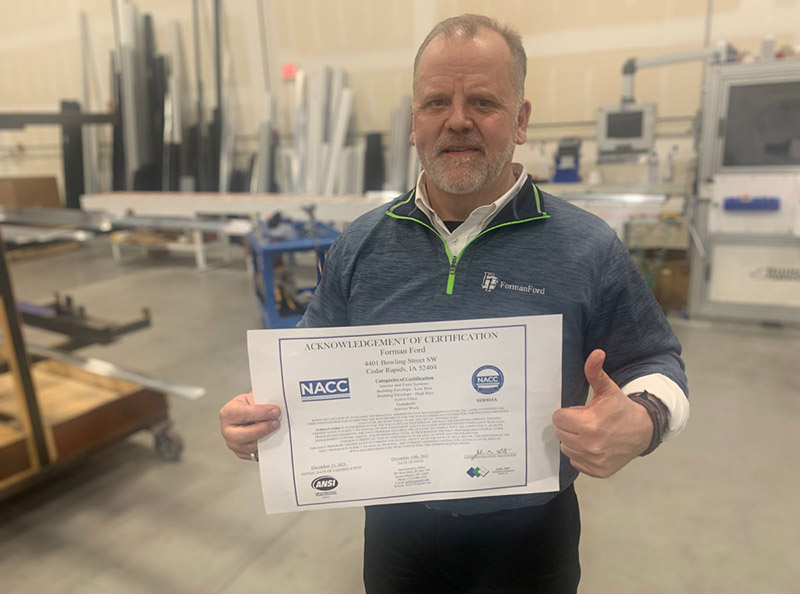 Forman Ford, a Midwest glazing contractor headquartered in Cedar Rapids, Iowa, became the first in the state to earn North American Contractor Certification.
NACC is an ANSI-accredited, award-winning certification that requires architectural glass and metal contractors to adopt standard best practices not only for glazing quality and construction safety but also for business operations. By attaining NACC, Forman Ford demonstrated its commitment to processes and procedures that consistently deliver high quality project results.
"Initially, I was interested in finding a resource that could separate quality contractors from the masses," says Forman Ford Executive Vice President Kurk Rogers. "As I experienced the process, I realized NACC would make us a much better business."
Rogers and Forman Ford Director of Fabrication and Engineering Joe Kalisz partnered with NACC administrators over six months to undergo a series of rigorous assessments and implement standard written documents including a quality management system (QMS). The company's certification became effective Dec. 15, 2021.
"We didn't have any preconceived notions," says Kalisz. "The assessment opened our eyes to where we needed to document, to be better at holding people accountable, and to implement checks and balances. Quality needs to be everybody's mindset. And we're already more quality conscious. There's a tremendous amount of pride throughout our organization after becoming certified."
Forman Ford leadership admit the NACC process encouraged them to implement new quality control methods in both the manufacturing facility and the field. To maintain certification, Forman Ford will be reevaluated annually to confirm its business and glazing practices remain at the high standards NACC requires.
Glazing contractors can earn the NACC credential in one or more of six operational categories based on the company's focus of work. Forman Ford earned NACC in all six categories: interior and entry systems, building envelope low-rise, building envelope high-rise, active glass, guardrails and service work.