Guardian Glass to Construct Second Float Plant in Poland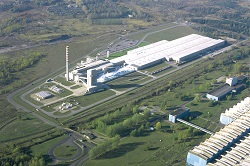 Guardian Industries will open an additional float and coated glass manufacturing plant in Czestochowa, Poland. The new facility location is planned to be adjacent to the company's existing plant, with preparation and execution of the project starting immediately.
The new facility is expected to begin operations in the third quarter of 2019, and will create more than 150 new jobs. It will pull 1,000 metric tons of glass per day and will include a technologically advanced glass coater, the company reports.
"The new facility will be the biggest green field capital investment in Guardian Glass' history," says Kevin Baird, president and CEO, Guardian Glass. "Guardian is excited about the growth we've seen in Poland -- and confident that the Czestochowa location is well positioned to meet our customer's needs. We've enjoyed strong support from the city of Czestochowa, the Katowice Special Economic Zone and the Polish government."
Guardian Glass' existing float line in Czestochowa will go through a repair project at the start of 2018, which will increase its production capacity, according to the company.