Guardian Glass to Launch New Jumbo Coater in 2018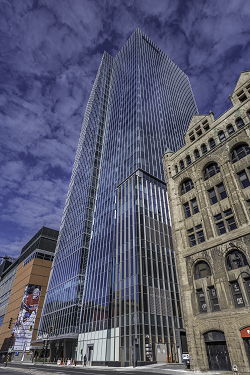 Guardian SunGuard AG 50 and SuperNeutral 68 coated glass in use on Deloitte Tower in Montreal. Photo credit: Stephan Poulin.
Guardian Glass's 12th jumbo coater is under construction at the company's Carleton, Michigan manufacturing complex. The global jumbo coater is on schedule to launch in 2018, according to Kevin Baird, president and CEO, Guardian Glass.
"While the trend of architects designing projects with larger glass sizes continues to grow, we also see architects designing monumental projects with very large volumes of coated glass," says Rick Zoulek, vice president - Americas, Guardian Glass. "By adding the Carleton jumbo coater for our North American customers, we simplify the supply chain."
The new Michigan-based jumbo coater will deliver to North American architects the Guardian SunGuard portfolio of low-emissivity coatings on jumbo glass sizes.
Guardian Glass will be promoting its jumbo capability, along with new products and services, at the 15th annual GlassBuild America, Sept. 12 to 14 at the Georgia World Congress Center in Atlanta.