As IYOG Closes, the Glass Industry Looks to the Future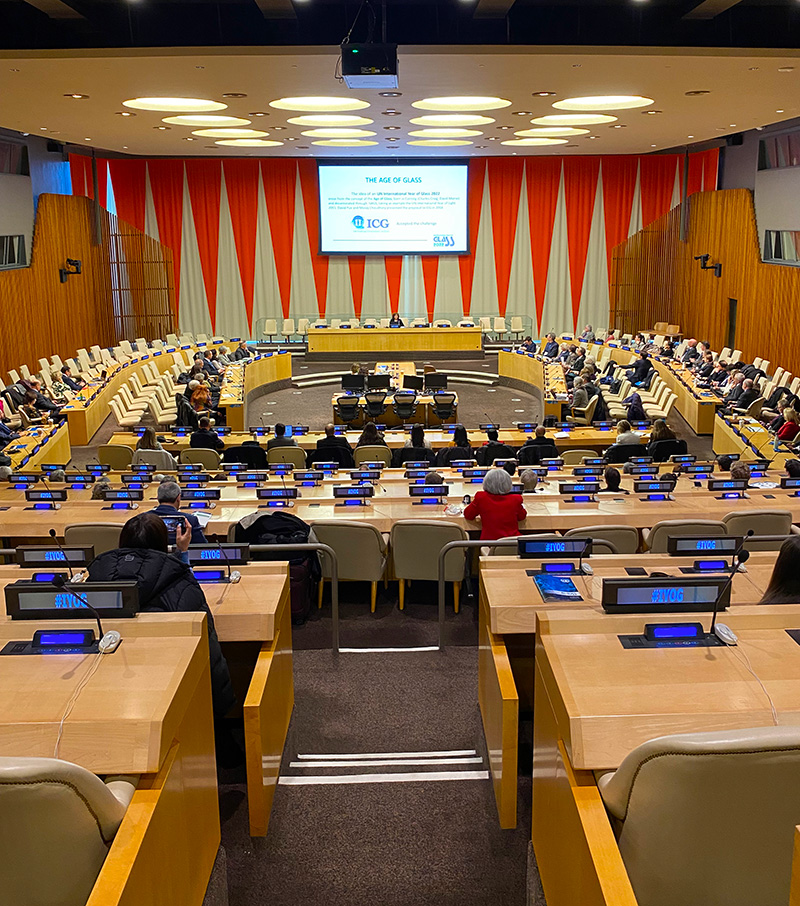 "Glass can save the world." That was a sentiment repeated throughout the closing ceremony of the International Year of Glass, held at the United Nations Headquarters in New York. Looking at the year in review, the ceremony recognized the international collaboration that made this year extraordinary for the glass industry.
The National Glass Association has been central to that collaboration throughout the year, through its education and advocacy efforts. In April of 2022, NGA hosted Glass & Glazing Advocacy Day, facilitating conversations between glass industry leaders and their policymakers, which resulted in a win for bird-friendly glazing.
The Association also facilitated the rapid development of the ASTM International Standard for forced-entry by a shooter. NGA continues to be on the forefront of educating those inside and outside the industry, releasing the Glossary of Architectural Glass and Glazing this year.
Making glass part of a sustainable future
Green building was a major topic of the ceremony, with glass industry experts demonstrating how architectural glass not only fits into, but will help define, a sustainable future. "Glass is not, and is never, a waste," said Bertrand Cazes, secretary general of Glass for Europe.
Erik Muijsenberg, vice president, Glass Service, outlined exciting possibilities for greener glass melting, including using clean hydrogen, as well as all-electric funrnaces or hybrid furnaces. While these are proven methods, sustainability will depend on the larger infrastructure, and is not something the glass industry can do alone. "To go green, we need green electricity," he said.  "It will take time to build this infrastructure."
Glass for Europe's Cazes emphasized the infinite recyclability of glass, emphasizing its part in a circular economy. "It's good for the environment and the economy," he said. He urged industry members to underline those properties in discussion with policymakers, such as the Advocacy Day hosted by NGA in April.
How glass shapes wellness and creates livable spaces
In addition to the health of the planet, architectural glass can help improve the lives and health of people living and working in the built environment. NGA's Urmilla Sowell outlined how glass can positively impact well-being.
She cited research that shows how important daylighting is for occupant wellness, made possible by building with glass. The benefits are many; 5-14 percent higher test scores for children, and 18 percent more productivity for workers. Even hospital patients experience a 22 percent decrease in pain medication when they have access to daylight and a view.
Sowell also emphasized the increasing importance of biophilic design, a design principle that connects those inside with nature outside. "Glass is often featured in biophilic design allowing occupants to maintain a connection to nature while indoors. Glass facilitates views of nature outside and allows light to enter to support plants or trees growing inside the building."
What are next steps for the global glass industry?
International Year of Glass Chair Alicia Duran traced a history of where glass has been to where it's going. She praised the 2,500 endorsing institutions from 96 countries that allowed IYOG to happen, and highlighted a few of the thousands of activities and events that took place this year in honor of glass.
She underlined the many ways that glass has and continues to shape our lives. "We have a wonderful material with which we can change the planet," she said. "But that's not enough. We're here in the United Nations because we need the help of the United Nations to help the planet."
To ensure that glass is used as part of innovation in the future, she called on the industry around the world to push for more legislation around the world to ensure that glass can be used to its full potential. "It's now or never," she said.