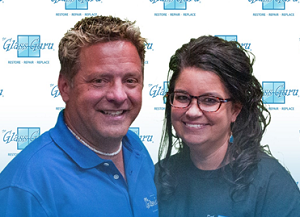 The Glass Guru organization announced the opening of the company's newest franchise, located in Clarksville, Tennessee. Franchise owners Todd and Kristi King completed their initial franchise training at the company's headquarters in Roseville, California, on Nov. 15, 2019. Upon their return, the Kings have been busy completing the final details to open their franchise location.
Todd's professional background includes many entrepreneurial efforts, and he currently helms the Kings' home inspection business. Kristi has spent her career as an educator in both the regular and special education arenas. While her career in education was rewarding to Kristi, the two began to look at various business opportunities that could provide Kristi with more flexibility in her schedule and provide the couple a greater opportunity to control their financial future.
When asked what led them to consider The Glass Guru as a business opportunity, and what ultimately drove their decision to move forward...
"We looked at The Glass Guru as a great business opportunity because our community is growing and we saw a need for the different services that The Glass Guru can provide," says Kristi. "The corporate team and the business model is the reason we ultimately chose this franchise.
What excites me the most is the opportunity to serve the community with a cost effective solution (to replacing foggy dual-pane windows)"

When asked about the The Glass Guru's training process for its franchise owners, Kristi expressed great satisfaction with the proactive communications from the Franchisor team during the pre-launch process. Kristi was pretty clear about what she liked the most about the on-site training at The Glass Guru headquarters. "Going to the Roseville store, and the hands-on experience was what I liked the most about the training process.''
Although the couple will both be involved in the business, Kristi will be the primary driver for The Glass Guru franchise, and Todd will continue to lead their home inspection business. When asked where she sees herself and her role in the business in say, two years, Kristi plans on "overseeing the finance, operations and marketing." Kristi and Todd have a very optimistic view of the future of their new business venture. They envision growing a great team, allowing them to possibly transition to a completely staff-run model within the first few years.