New Seattle Retail Complex Features Vitro Solarban 60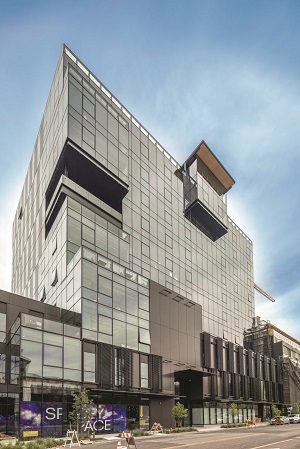 Solarban 60 solar control low-emissivity glass by Vitro Architectural Glass is featured in 9th and Thomas, a 12-story, 230,000-square-foot office-retail complex in downtown Seattle.

Glazed with Solarban 60 glass, floor-to-ceiling windows on the eight levels of office space are intended to foster inspiration and innovation, as well as provide clear views of the iconic Space Needle.

LEED certified at the Gold level, the building features an ultra-low-energy HVAC design, chilled beams that heat and cool with minimal airflow, a heat recovery chiller that "pumps" heat from hot to cold spaces, and a dedicated outdoor air system that provides increased fresh air ventilation to all spaces.

Northwestern Industries of Seattle, a member of the Vitro Certified Network, fabricated the glass, and Goldfinch Brothers was the glazing contractor.

Designed by Olson Kundig Architects, 9th and Thomas also includes 12,000 square feet of flexible, interconnected retail spaces.
With a solar heat gain coefficient of 0.39, Solarban 60 glass blocks 66 percent of total solar energy while allowing 70 percent of visible light to pass through. This combination produces a light to solar gain ratio of 1.79.