NSG Group Installs New Solar Array at Rossford, Ohio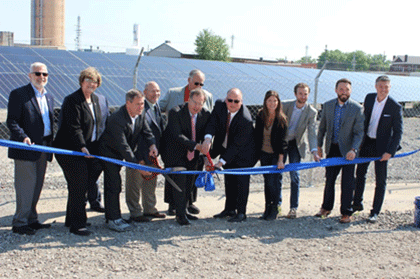 NSG Group completed installation of a 1.4-megawatt photovoltaic solar array at its Rossford, Ohio, facility; the array is now fully operational and will supply about 2.5 million kilowatt hours of renewable energy annually.
The new array, owned and operated by AEP OnSite Partners, a subsidiary of American Electric Power, will provide energy to the facility for the next 20-plus years under a power purchase agreement.
"This solar project adds to our portfolio of solar and energy savings projects across the globe and is part of the NSG Group's commitment to reducing carbon emissions by at least 30 percent by 2030," says Greg Chastain, NSG Group's regional sustainability director, North America.
"AEP OnSite Partners is focused on delivering energy solutions that best fit the unique needs of our customers and help them reach their sustainability goals," says Greg Hall, executive vice president, energy supply, AEP. "We look forward to our continued partnership with the NSG Group."
The build, on a repurposed brownfield site, is powered by over 4,300 advanced thin film solar panels manufactured by First Solar using NSG Group's solar energy glass products.