NSG Group Invests in Laurinburg Plant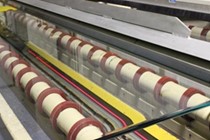 NSG Group is rebuilding one of its furnaces at its float glass plant in Laurinburg, North Carolina. The project started on March 10, 2021, and is expected to be completed in late June 2021.
"The investment is part of our ongoing commitment to our customers and the Laurinburg community," says Chris Miller, manufacturing operations director.
The Laurinburg plant manufactures float glass for the commercial architectural and export markets. It is located approximately 100 miles southwest of Raleigh, North Carolina, and currently employs around 400 people.