Quaker Windows and Doors Starts Phase 3 of Expansion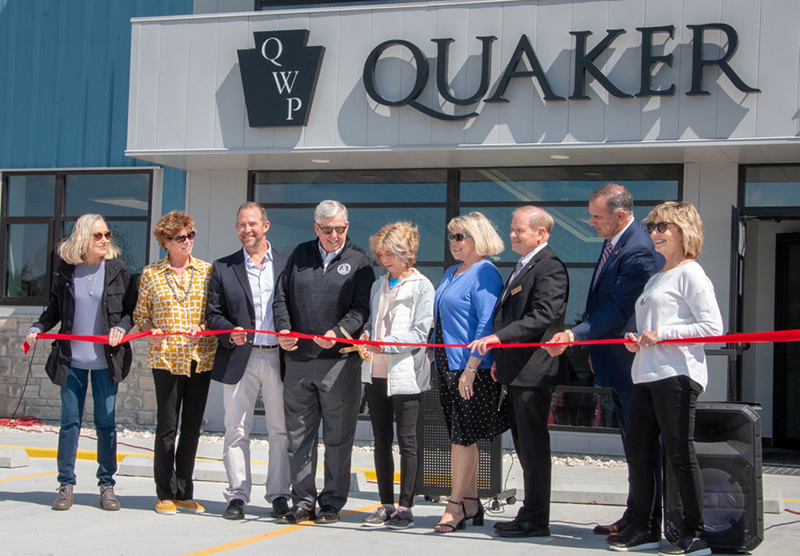 May marks the one-year anniversary of Quaker Windows and Doors opening of their Eldon, Missouri, manufacturing facility and offices. The manufacturing plant and office build-out in Eldon were phases 1 and 2 of Quaker's multi-phase Eldon expansion plan for the 130-acre campus.
Missouri Governor Mike Parson visited Quaker's Eldon campus and took a tour of the new state-of-the-art, 200,000-square-foot commercial window manufacturing facility and offices. Following the tour, Gov. Parson, along with the Lt. Gov. Mike Kehoe, and members of Quaker's ownership team, took part in a ribbon-cutting ceremony to celebrate the one-year Anniversary of the plant opening and the 160 jobs that the new Eldon facility has created in one incredibly challenging year.
Prior to the ribbon-cutting, Governor Parsons joined Quaker Owners, CEO Kevin Blansett and invited guests to officially announce the start of construction on Eldon Phase III.  
This new 250,000-square-foot commercial window and door facility will be built adjacent to the existing plant and will manufacture a variety of commercial window and door products for the architectural and commercial construction markets. It is estimated that an additional 150-plus jobs will be created in 2022 once the new building is in full operation. The expected opening date of the facility is late spring of 2022.
"This next phase and expansion in Eldon is exciting for Quaker. Not only does it continue our strategic growth plan but will also be the home of our new window wall division, as well as some exciting new technology that exemplifies the 'Quaker Difference' and our ongoing commitment to meet the ever-evolving needs of the commercial construction industry," says Kevin Blansett, Quaker CEO.
In addition, Quaker is expanding both first and second shift career opportunities at both the Eldon and Freeburg/Maries campuses.