Salt Lake City's Net-Zero-Energy Fire Station Earns LEED Gold with Tubelite's Curtain Wall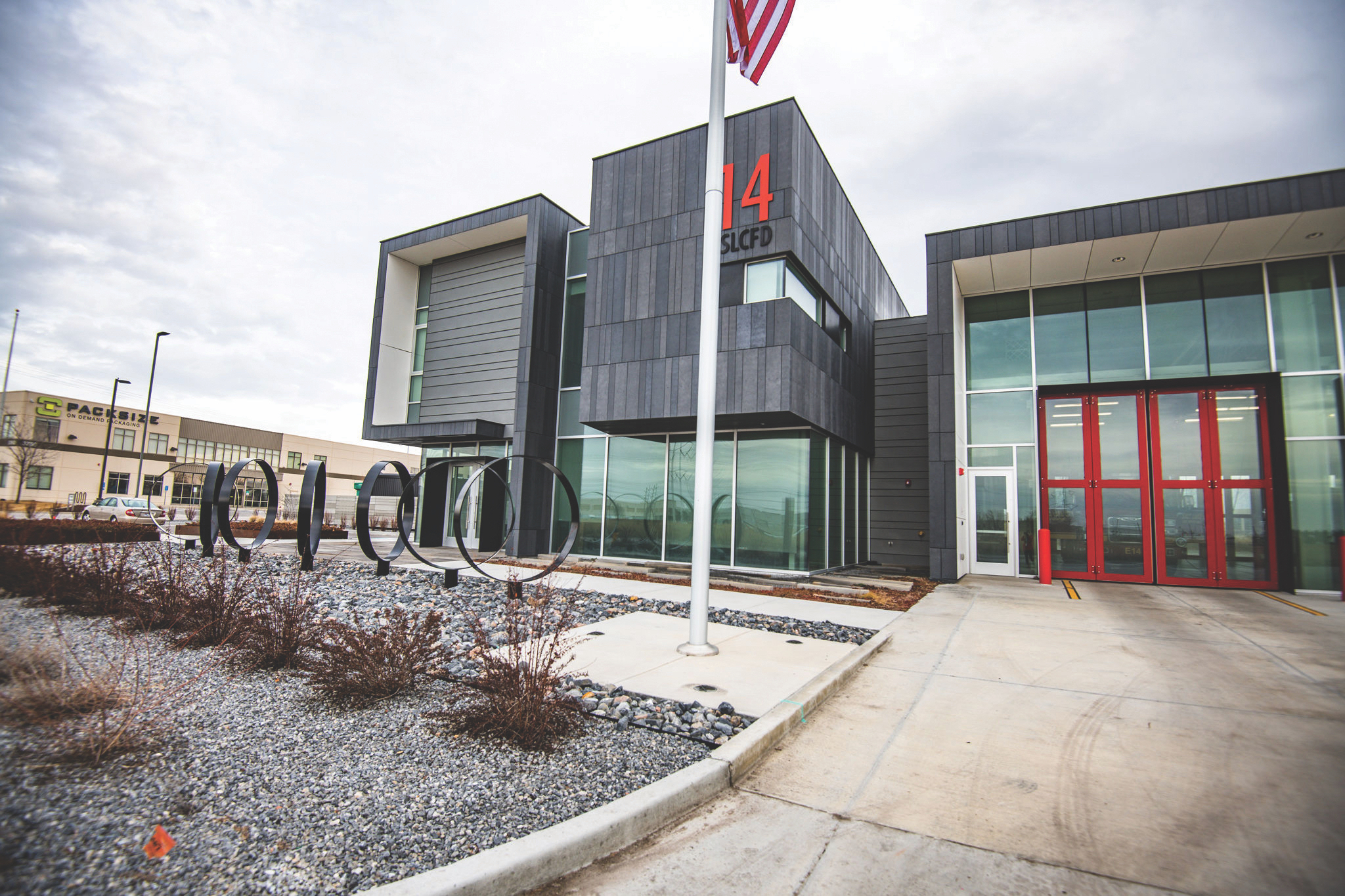 Photo by Cache Valley Photographers
In April 2020, Salt Lake City's Fire Station No. 14 earned LEED Gold certification through the U.S. Green Building Council for its energy-efficient, environmentally responsible design and construction. When it opened in 2018, it was one of the first net-zero-energy fire stations in the country, meaning it generates more energy than it consumes. Helping achieve the building's performance goals, Tubelite Inc.'s triple-glazed thermal curtainwall, multi-pane storefront and interior framing systems were installed by Mollerup Glass Co.

Nestled between the Wasatch and Oquirrh Mountains, Salt Lake City's valley winter temperature inversions can act as a lid, trapping cold air and pollution for several days or weeks. The State of Utah and Salt Lake City have invested in strategies and resources to improve the air quality and reduce potential health risks.

Salt Lake City's NZE facilities mandate and "Climate Positive 2040" plan seeks to achieve net-100 percent renewable electricity by 2030 and to reduce carbon pollution by 80 percent by 2040. Exemplifying this directive, Station 14 features a solar panel roof array, geothermal heating and cooling, and high-performance building envelope. Creating the station's high-performance façade, Tubelite Inc. provided its triple-glazed 400TU Series Therml=Block curtainwall, as well as its T1400 I/O Series multi-pane storefront, operable windows, side entrance doors and INT45 interior framing systems.
"Our Therml=Block curtainwall offers a fully, thermally broken system engineered to meet or exceed today's stringent energy codes and NZE designs," says Tom Mifflin, Tubelite's director of marketing. "Even in extreme cold climates, Therml=Block products provide superior energy and condensation resistance performance using multiple thermal barriers, while providing structural integrity and aesthetic flexibility."

Energy-efficient thermal performance and condensation resistance, indoor air quality and natural ventilation, daylight and views support projects seeking LEED certification. These attributes also contribute to the physical and mental health and readiness of the firefighters who both live and work in the building. Further contributing to the community's environmental and economic goals, the building was designed for a lifespan of at least 50 years.

Blalock & Partners Architectural Design Studio worked with fire station specialist TCA Architecture + Planning to meet all of the project's objectives. Zwick Construction led the project's nearly two-year construction, staying on schedule for the May 2018 opening. The two-story, 17,100-square-foot building includes a four-bay garage, dormitory rooms for 12 firefighters, a multipurpose room, a dayroom, an exercise room, a commercial kitchen and a second-floor deck.
Enclosing the two-story Fire Station No. 14, Tubelite's triple-glazed 400TU Series incorporates dual, thermal polyamide insulating strut between the interior and exterior aluminum framing members to achieve industry-leading U-Factors of 0.21 for thermal transmittance and a frame condensation resistance factor of 84. The curtain wall's enhanced thermal break is located in the tongue area of the back member.

The triple-glazed insulated glass is positioned to the system's exterior for enhanced resistance to rainwater. The glass units also were specified with a low-emissivity coating and custom ceramic frit to manage solar heat gain. Reducing unwanted solar heat and condensation, improves comfort, sanitation and air quality inside the station.

Minimizing both interior and exterior maintenance, all of Tubelite's aluminum framing on this project was finished by Linetec in a durable, Class I clear anodize. Linetec's no-VOC, eco-friendly anodize produces a frosty, matte finish that helps hide small imperfections sometimes seen in recycled aluminum. These qualities have helped Linetec's anodize earn a Declare Label as Living Building Challenge Red List Free, which is recognized by LEED and other sustainable building programs.
With its suite of sustainable, renewable and energy-efficient features, Fire Station 14 is estimated to contribute to a carbon emission reduction of nearly 902,000 pounds of carbon per year. In addition to this significant accomplishment, the project has been honored with numerous awards. These include design awards from the American Institute of Architects (AIA) Western Mountain Region and AIA Utah, green building award from the Associated General Contractors (AGC) Utah, Gold design award from Firehouse Station magazine's, Most Outstanding Green/Sustainable Project from Utah Construction and Design, and Engineering News Record (ENR)'s national "Best of the Best" Government/Public Building design award for 2020.

"We are honored to receive this national recognition," says Fire Chief Karl Lieb. "Salt Lake City's Fire Department takes our responsibility to protect the community seriously. This is what we do every day in responding to incidents and emergencies, and it's what we're doing at a systems-level in how we construct and manage buildings, source renewable energy, and support cleaner-fueled vehicles."

"Salt Lake City is committed to building green, and these... prime opportunities for us to show that commitment," says Erin Mendenhall, Salt Lake City Mayor. "Particularly with Station No. 14 being on our City's Westside, which has historically endured worse air quality than the rest of the City, we felt it was important that we get this right. I'm grateful to Chief Lieb for his vision and creativity in making this happen. These certifications are a tremendous accomplishment."