SDC Doubles Campus Capacity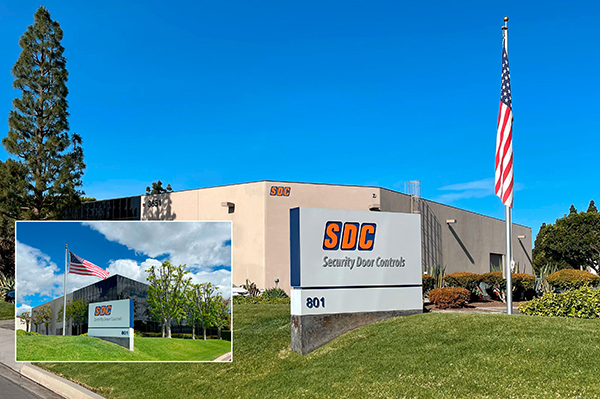 After a multi-year search for suitable factory space to meet its growth needs, Security Door Controls was able to close escrow on a facility at the end of 2022, across the parking lot from its current headquarters. The new SDC Campus Building No. 2 has been undergoing site improvements and is now ready to accommodate the first phase of a planned expansion of manufacturing, research and development, product and service training, and inventory control/warehouse capabilities.
What SDC says
"It's always been about increasing our self-reliance and becoming an even more sustainable enterprise," says Shane Geringer, SDC's CEO and president. "We are incredibly fortunate to have the opportunity open up right under our noses. Although it's a big investment, history has shown that when we make strategic moves to boost our operations we have more than recouped the investment through increased efficiency and throughputs."
Benefits of the new campus
The expanded campus aims to make SDC less vulnerable to supply chain challenges and inflation pressures, benefiting its customer base of security products wholesale distributors, systems integrators, and contract and wholesale door hardware distributors.
"The pandemic exposed the inherent weakness of lean manufacturing processes when materials and components were in short supply. Now we can warehouse more inventory parts and sub-assemblies at favorable costs and increase factory production capabilities to further reduce reliance on outside vendors," Geringer continues. "Years ago, we made capital investments in sophisticated machinery to produce more finished components in-house to reduce delays and to provide greater quality control. The expanded campus will allow us to do more of the same."
The additional space has already allowed SDC to expand its engineering and R&D lab and testing, and to re-locate its specialized machine shop prototyping equipment into its own purpose-built area. More factory assembly and expanded product lines are also planned to continue SDC's commitment to "Designed, Engineered & Built In America." Product and system training capabilities have also improved by virtue of leaving SDC's trade show booths set up and available for in-house sessions.
"Our larger booth has several working door installations to easily demonstrate proper product applications and code compliance for virtually any door opening we provide a solution for," Geringer says. "Having our booths available allows us to provide more learning opportunities that go beyond our existing SDC Academy PowerPoint presentations. Plus, class attendees also benefit from an on-site factory tour when visiting us."
Additionally, SDC is using its newly available space to expand its training classroom to accommodate more products, people and more hands-on training tools and exercises.