SDC Hires Les Neal as New Central Region Business Development Manager
February 13, 2020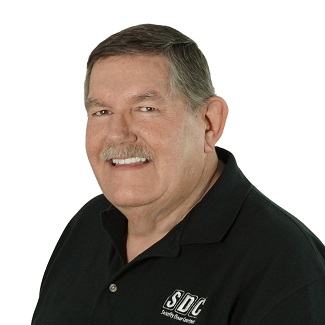 SDC hired Les Neal as its business development manager, Central Region, responsible for all major accounts, distributors and security and hardware representatives.

Neal is responsible for all major accounts, distributors and security and hardware representatives in the Central territory encompassing Minnesota, North Dakota, South Dakota, Wisconsin, Iowa, Nebraska, Kansas, Missouri, Illinois, Indiana, Oklahoma, Arkansas, Texas—excluding El Paso—Louisiana, Mississippi, western Tennessee, Ohio, Kentucky, West Virginia and western Pennsylvania.

"We're very excited about the knowledge base and interdisciplinary expertise Les brings to our sales channels," says Shane Geringer, SDC's CEO and president. "We think it's virtually impossible to replicate the product familiarity and real-world industry experience Les brings to share with our reps and distributors in both the door hardware industry and the alarm/electronic security industry."
Neal brings more than 35 years of locksmith, door, frame, hardware and architectural sales experience on behalf of manufacturers, distributors and rep firms. In addition, he brings a wealth of installation, facilities management, project bid, teaching, institutional locksmith, alarm company and rep management experience, say company officials.
Because of his scope of experience, Neal will also provide additional inside sales support when he is not traveling to serve and support SDC's hardware and security sales reps, distributors and dealers in the Central Region.
"During my career, I've had the good fortune to recommend, sell, install and use SDC's products as a field tech, facilities manager, instructor, institutional locksmith and alarm company owner. I've also represented the brand as an outside sales rep and territory manager for several wholesaler distributors in the industry," Neal says. "I slept very well at night knowing that my association with SDC only enhanced my industry reputation. I believe my unique SDC experience can be used with reps, distributors, dealers and integrators to show them how to better connect with the end-user customer and their requirements."
"I think that Les brings a unique understanding of the whole door opening and professionalism that will benefit all our stakeholders," Geringer says. "And, he's actually been one of the many sales prospects we target with our access and egress hardware control solutions—so it's easy for him to help us all relate to their needs."