Sustainability takes center stage at glasstec 2022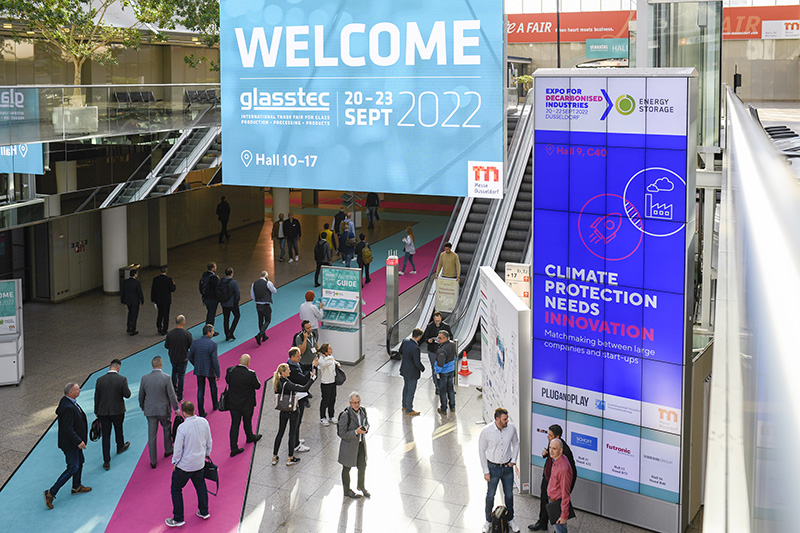 Last week, glasstec, the International Trade Show for Glass Production, Processing and Products, returned to an in-person event, welcoming 30,000 visitors and 936 exhibitors. Seventy-five percent of visitors this year came from abroad, say show organizers.
"glasstec 2022 came at precisely the right point in time to provide the glass industry with orientation again after the pandemic-induced changes and in a difficult economic climate," says Erhard Wienkamp, managing director of Messe Düsseldorf GmbH.
"The participants' feedback has been unambiguous here: as a face-to-face trade fair glasstec allows in-depth exchange of experience and knowledge transfer on a global level in a uniquely concentrated form as well as offering an unparalleled, packed line-up of innovations and solutions."
Many exhibitors expressed the relief of being back in person after glasstec's 2020 edition was cancelled due to COVID. "This is really allowing people to reengage with each other," says Stephen Weidner, president and head of architectural glass North America for NSG/Pilkington, in a way that virtual meetings don't always allow.  
Exhibitors innovate sustainable solutions amid energy shortage
This year's glasstec spotlighted issues of sustainability, energy efficiency and the circular economy. The increased push towards green building was thrown into relief by the "power crunch" happening globally, as described by Sasu Koivumaki, COO and deputy CEO of Glaston.
Saint-Gobain formally announced the release of its new Oraé float glass, which represents a 40 percent reduction in the product's carbon footprint. Officials plan to have the glass EPD verified and cradle to cradle certified by early 2023.
Oraé is produced using 70 percent cullet, with the potential for an even higher percentage, if aesthetic standards change, say officials. "We need architectural leadership to show what that new glass is. What should it look like?" asked a Saint-Gobain representative at the company's press conference.
While low-carbon glass from Saint-Gobain and carbon-neutral silicone from Dow addressed embedded carbon, other building solutions offered reductions in operational carbon on the building façade.  
Vacuum Insulating Glass technology, and the products' thermal efficiency, were on display from both Vitro Architectural Glass and LandGlass. Paul Bush, vice president, quality and technical services at Vitro, emphasized the products' potential in the retrofit market. "We can replace older insulating glass units to meet climate goals and address operational carbon, making net-zero more possible," he says.
Grenzebach presented its solar technology, which follows its founding of Grenzebach Envelon in 2021, designed to develop photovoltaic building envelopes. The company focused on visual design in developing its new BIPV, which integrates more seamlessly on the façade, and is available in several different colors. "Aesthetics have been a barrier to using solar tech," says Grenzebach's Andrea Steigerwald, head of corporate marketing and communications. "The new panel offers aesthetic opportunities to architects."
Drive to automation continues, as labor remains scarce
Companies continue to expand automation on the factory floor, exhibitors agreed. "We're past objections to automation from commercial suppliers," says Hegla's Tom Bechill. "If companies want to grow and remain competitive when the current market fades, they need automation."
As automation reduces the amount of labor needed, it is also changing the types of skillsets needed from operators. "The more complex the glass, the more specific the training for the operator," says Pete de Gorter, vice president of DeGorter Inc.
"We're moving toward the silent factory in the future," says Joe Gates, vice president, Lattuada North America. "That means more automation, more customization and finding people with different skillsets."
Given the need to streamline production, and to preserve as much raw material as possible, machinery manufacturers need to continue to make machines easy to use, says Glaston's Koivumaki. "Glass is now more expensive. Making machines easier to use means getting the most yield possible," he says.