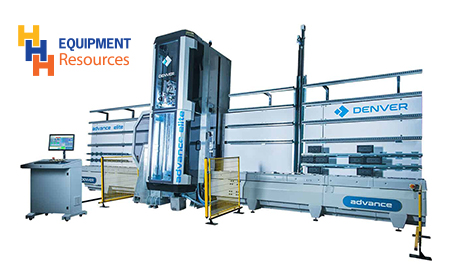 Maximize productivity from the cutting table to the final product with state-of-the-art CNC machining centers by Denver. Discover the premium selection offered by HHH Equipment Resources, including many configurations to fit any size operation. Both vertical and horizontal options are designed to transform your facility's productivity and efficiency. Benefit from machines that offer fast execution, expansive tool positions and automatic capabilities.
Instantly upgrade your lineup's results with zero setup and round-the-clock performance. Slash downtime with ultra-durable construction built to endure the toughest demands. Lifetime efficiency is paired with convenient, space-saving footprints better than competitor options. Easily accommodate cutting, edging, notching, polishing and other needs with equipment that handles various glass sizes, thicknesses and weights for your unique needs.
Premium Denver CNC machining centers are backed by 24/7, U.S.-based technical expertise from HHH Equipment Resources. Explore how our CNC offerings can transform your operation at hhhglassequipment.com.