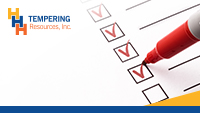 NEW MAINTENANCE Plans
ADVERTISEMENT Take control and protect your largest investment with HHH Tempering Resources new maintenance plans.
Choose from the "Tune-Up", "Stand-by Support" or "Peak Performance" plan based on your team's tempering furnace needs. The graduated service plans provide increasing levels of:
Remote troubleshooting

Service days

Parts and labor days

Quarterly to annual furnace inspections
Old furnace, new furnace, multi-furnace, no maintenance tech or a complete maintenance team; HHH designed technical maintenance plans to fit your specific needs. Find your best-fit plan at hhhtempering.com/planned-maintenance-agreements  or give us a call at 878-302-0082.