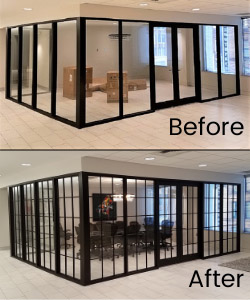 ADVERTISEMENT Achieve historic renovation or create an exciting new vision with our custom aluminum applied muntin grids.  Enduring and maintenance-free, Bacon's Architectural Muntins are designed to elevate otherwise ordinary aluminum storefront and curtainwall into something distinguished.
BAM grids create the look of true divided lites without the hassle or expense. Each BAM grid is custom fabricated to project specifications including daylight opening size, lite pattern, and finish requirement. BAM can even be fabricated to accommodate most custom designs such as custom muntin layout or arch tops. 
Application options range from storefront to curtain wall, and can even be used in operable units such as door lites. To achieve this range, we offer three installation methods: Screw-In, Glaze-In, and Tape-On. Installation method is determined by the BAM perimeter which keeps the muntins in alignment and provides the means of attachment.
BAM grids ship fully assembled for quick and easy installation.  Simply unpack each unit, prepare the opening for installation as per provided instructions, and install. BAM, you're done! 
Phone: (877) 315-1624
Website: www.bamuntins.com