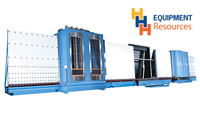 ADVERTISEMENT 
Automatic Insulating Glass Production Line
When it comes to production, your top priorities are space, time and quality. With the automatic insulating glass production line from HHH, you get just that.
This fully automated line optimizes your production: it loads, prepares, insulates and unloads your glass panels without the help of technicians, avoiding human error.
Learn more at hhhglassequipment.com/IGline or call an HHH technical expert at 724-409-4679.