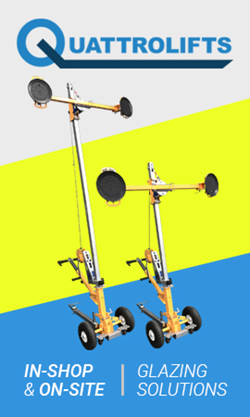 ADVERTISEMENT The Quattrolifts Express 330T allows glaziers to fit and remove glass weighing up to 220lbs above doorways and entrances with greater safety and efficiency. The Express 330T is lightweight and can easily be transported to site by one person. The machine assembles in minutes which allows for much greater cost and time savings so that glaziers can take on additional jobs without compromising on safety. 
The main feature of the Express 330T is the removable mast extension that allows for the installation or removal of glass above entrances or doorways, eliminating unsafe manual handling. 
When the mast extension is removed, the lifting capacity increases to 330lbs making the Express 330T a very versatile tool for the most basic glazing jobs. Some additional features that come standard include extendable wheelbase for better stability, the ability to pivot glass 90° to the side for doorways and rotating glass 360°. Call Chip for a quote on (301) 748-7127.