Great Glazing | PrairieCare Medical Group Rochester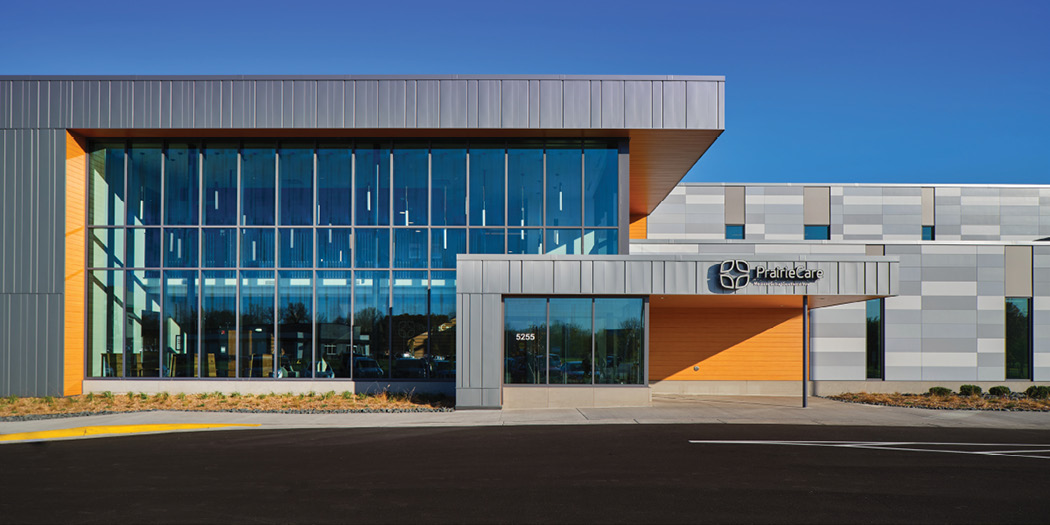 PrairieCare Medical Group 

Location: Rochester, Minnesota
Metal Supplier: PAC-CLAD | Petersen
Architect: HGA
Photo: magnoski.com
The basics
PrairieCare Medical Group specializes in behavioral and mental health services, with an emphasis on children and adolescents. A primary focus of the design of PrairieCare's new building in Rochester, Minnesota, is providing plentiful natural daylight, made evident from the front façade's extensive glazing. 
To frame the glazing and add a calming counterpoint to that elevation's pattern and color, designers opted for neutral-toned metal flush and relief wall panels installed in a vertical arrangement that echoes the curtain wall's mullions. A combination of lightness and solidity reflects the need for the space to be warm and welcoming, while also safe and secure. 
The players
Architect, HGA, Minneapolis (Seth Behrends, AIA, senior associate with HGA, was the project architect); general contractor, Knutson Construction, Rochester, Minnesota; installation contractor, Innovative Building Concepts, Burnsville, Minnesota (Pat Sweeney, co-owner, was the field superintendent for the project); metal wall panel supplier, PAC-CLAD | Petersen, Elk Grove Village, Illinois; material distributor, ABC Supply, Savage, Minnesota. 
The glass and systems
The vertical metal panels are .032-gauge aluminum PAC-CLAD Flush and Reveal Wall Panels in 7-inch and 11-inch widths. The finish is Weathered Zinc. Panels were installed in a double-height arrangement to add visual depth and eliminate any feeling of flatness or thinness. Architect Seth Behrends adds, "We ran through a series of studies looking at different ways to deploy the different widths and how those patterns would transfer from the top portion and bottom portion. Ultimately we landed on a repeat that appeared to be random but could be communicated to the installers."
Behrends explains his team worked through some of the design details in-house, then reached out to Petersen's experts and the installation pros with installation firm Innovative Building Concepts. "We had a couple rounds of shop drawing reviews to be comfortable with the width and edges of the two profiles. Throughout, all parties involved were on a very tight timeframe. It was a very positive, collaborative process, with the contractors and subs and companies like Petersen."
The building also features horizontal aluminum panels in a woodgrain finish and fiber cement panels in neutral grays and creams, neither of which are PAC-CLAD products. Despite extreme winter weather, panels were able to be installed on schedule.