Great Glazing | SAFTI FIRST | The University of California Merced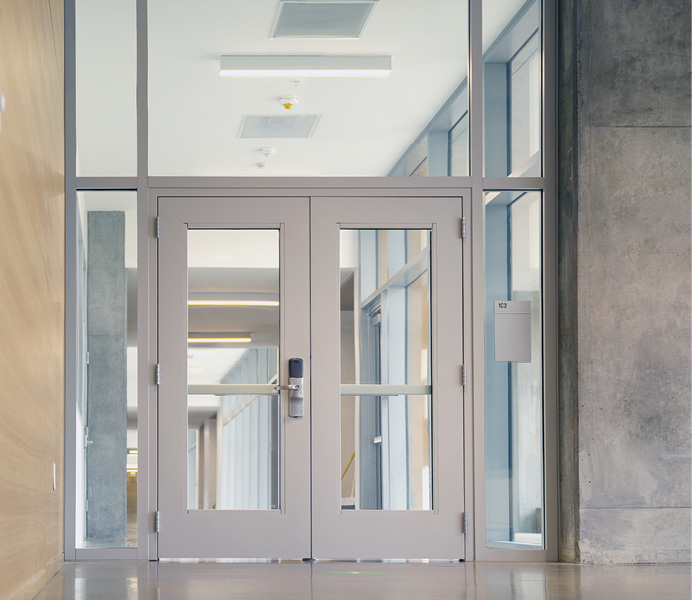 Above: 1-hour Fire Resistive Wall with SuperLite II-XL 60 in GPX Architectural Series

Framing and Full-vision 60 Minute Pair Doors with SuperLite II-XL 60 in GPX Builders Series Temperature Rise Doors. Photo by SAFTI FIRST. 
The basics
Merced 2020 is an ambitious, $1.2 billion extensive expansion of the University of California Merced campus. According to UC Merced's website, this project is "the largest public-private partnership social infrastructure project completed in U.S. history." This includes new facilities used for academic, administration, laboratories, housing and recreation. According to architect SOM, "It is the first public research university in the U.S. to be certified carbon-neutral and the only academic campus to have every building LEED certified." 
The players
SAFTI FIRST supplied the fire-rated glass and framing to eight buildings within the expansion, including three lab buildings, four residences and an administration building. The company collaborated with general contractor Webcor, architects Mahlum Architects, Page Southerland Page, SOM and WRNS Studio, and with glazing contractors Architectural Glass and Aluminum, Ranker AMG and Royal Glass. 
The glass and systems
SAFTI FIRST supplied interior and exterior 1- and 2-hour fire-resistive, ASTM E-119 rated walls using SuperLite II-XL in GPX Architectural Series Framing, as well as 60-90 minute full vision GPX Builders Series Temperature Rise Doors. Because sustainability and LEED were important for the project, the exterior fire resistive glazing systems included high performance energy efficient glazing to bring vision, daylighting and a connection to the outdoors while maintaining occupant comfort.
The transparency that the interior fire resistive glazing systems provides extends natural light into the building, promotes shared artificial lighting between spaces, and promotes wayfinding. Additionally, having all the fire rated glass and framing systems manufactured within 10 miles of the job site helped in reducing impacts from transportation emissions and fuel costs.
"This project is near and dear to SAFTI FIRST, because Merced is home to our manufacturing facilities," says Diana San Diego, vice president of marketing for SAFTI FIRST. "When this ambitious project was first announced, Mike Augustine, our director of architectural promotion, made sure that the University and building team knew that we are here to support them in all their fire rated glass and framing needs. This included an educational presentation and plant tour of our fire rated glass, framing and door facilities for the UC Merced Fire Marshals. Our territory manager Rafael Valencia and architectural sales representative Mike Vizcarra attended job site meetings with Webcor to ensure that we address all their design, performance, schedule and budget needs."
San Diego continues, "The sheer size and scope of this project, with multiple buildings, architects and glazing contractors, meant that coordination was of utmost importance. Our project manager Paolo Mercado worked with all the players involved to ensure that our delivery is on time and within budget."