Wearing Tech on the Jobsite
Construction may be going bionic.
Sarcos Robotics, a global technology firm that designs robotic systems, announced in November 2018 that the company developed a" full-body, powered industrial exoskeleton robotic system," the Guardian XO Max, according to a company release. The technology, the product of a nearly two-decade R&D process, allows the user to lift up to 200 pounds and is slated to be available in 2020.

"The potential for full-body, powered exoskeleton technology is immense—from giving our workers super-human strength without putting added strain on their bodies, to improving productivity and efficiency," says John Santagate, research director, IDC, a market intelligence firm.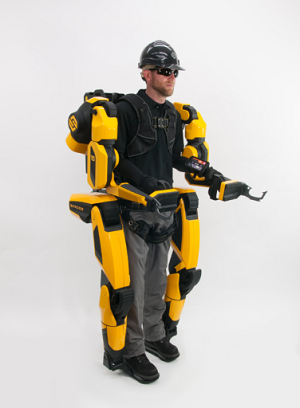 The new Guardian XO Max is a full-body exoskeleton
designed for industrial, public safety and military sectors,
according to Sarcos Robotics, the manufacturer.
Sarcos Robotics' innovation, designed for the industrial market, has clear implications for all construction and building industries, and specifically for workers on the jobsite. And survey responses from the Commercial Construction Index, compiled by the USG Corp. and the U.S. Chamber of Commerce, suggest that construction contractors are ready to invest in these new technologies. The Q4 2018 report of the CCI, released in December 2018, showed that 74 percent of construction contractors surveyed expect to adopt new technologies, including wearable technology, over the next three years.

Current wearable technologies include a range of some automated equipment and robotics, but also wearable sensors connected to the BIM model that may denote what training and permissions employees have, says Donna Laquidara-Carr, Industry Insights Research Director at Dodge Data & Analytics. "These kinds of tags are designed to make workers' abilities and movements transparent to a supervisor," she says. "For example, workers moving into a section of a worksite that is beyond their training level might be flagged as a danger to prevent injury."
According to the CCI, most contractors—83 percent—see wearable technology as a way to improve worker safety. Improved workforce management and productivity were other perceived advantages.
Increased affordability is also a likely variable in the adoption of these technologies. "Cost is always a major factor," says Laquidara-Carr. "Costs for those technologies are coming down, contributing to contractors' interest in using them."
Another factor in the anticipated adoption of these technologies is the growing tech literacy of workers. While the construction industry can be slow to change, says Laquidara-Carr, most workers at construction companies have become familiar with different forms of tech through regular use. "Workers no longer have this huge barrier to learn fancy new tech," she says. "Normal consumers, including people in construction, have gotten much more tech savvy."