Building the Future: Students Explore the Diverse World of Construction Trades
The annual Trades Night event shatters preconceptions and stereotypes, creates interest in a wide array of skilled trades, and gives students a look at the careers and options available to them.
It's no secret: the construction industry is hungry for young, diverse talent. One way to bring fresh faces into construction is to invest in getting in front of students at younger ages.
That includes big-scale solutions such as introducing skilled trades to students in elementary, middle and high school. The Associated Builders and Contractors—Inland Pacific Chapter (ABC—IPC) Trades Night event, held Oct. 12, 2023, at Ferris High School in Spokane, Washington, brought together more than 40 employers, educators and training partners to offer students and parents a first-hand look at construction trades-related jobs and opportunities.
An alliance of ABC—IPC, the local business community and the Spokane School District are working hard to show children of all ages—and their parents—that manufacturing and construction industries have many fulfilling, stable and high-paying jobs, and to shatter any preconceived notions they might hold about trades careers while creating a newfound fascination for the industry.
The distinctive sounds of excited chatter, laughter and cheering could be heard when approaching the high school. Over 500 students from seven high schools, six middle schools and 34 elementary schools in Spokane County and surrounding counties eagerly engaged in interactive booth displays and hands-on activities that demonstrated trades—from welding, framing, HVAC and glazing to heavy equipment operation and more—to talk with industry professionals and find out why they chose a career in construction and the trades and connect for internships, career opportunities and scholarships.
As I stepped into the event venue, I was greeted with a wave of enthusiasm, innovation and excitement. Here are some illuminating takeaways from my first eye-opening experience at a construction trades event and how it transformed my perspective.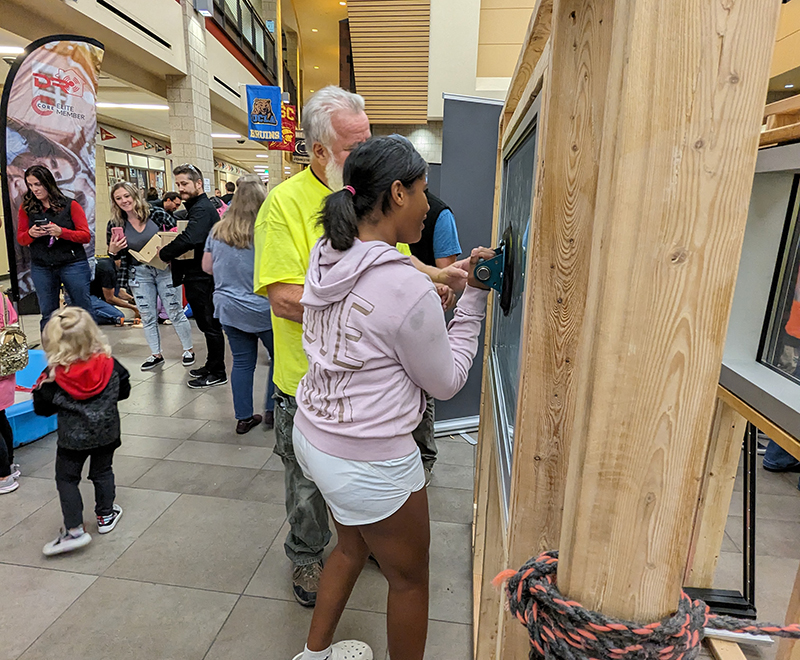 1. Overcoming preconceptions
As I walked into the event, I was struck by the impressive exhibits and machinery displays that surrounded me. I was equally surprised to see that the usual stereotypical "blue-collar" beliefs about the construction trades—all brute force and heavy machinery—has morphed into a fusion of art and science, an engaging balance between skill, knowledge and teamwork. It's not all about manual labor, and numerous roles, from project management and design to sustainability and safety are stressed and embraced.
2. Increasing diversity
The event was a microcosm of the shifting construction industry, not only showcasing a wide array of trades but attracting a varied range of students. Elementary-school-aged girls riding in scissor lifts, bending pipe and lifting panes of glass with suction vacuum lifters. Middle-school boys trying out VR wear, casting concrete, and operating mini excavators and boom lifts. The diversity of careers available is astounding, and it's inspiring to see how the industry is embracing different skill sets and backgrounds.
3. Collaborating power
Each trade stressed the importance of working together and communicating seamlessly to complete complex projects. And the palpable passion exuded by everyone around, tradespeople and experts from various backgrounds were busy sharing stories, demonstrating their work and answering loads of questions. They made it clear to the kids that every individual plays a crucial role in the construction process and thrives on a culture of collaboration and learning.
4. Innovative technology
A shift toward technology was evident. Vendors showed off 3D modeling and virtual/augmented reality gear to students and stressed how this "fun" tech not only improves efficiency and safety but also reduces environmental impacts. While it's exhilarating to feel the power of heavy machinery, it's equally thrilling to use dynamic technology to revolutionize construction and make it more efficient, sustainable and safer.
5. Commitment to safety
 It was evident that safety was a top priority for everyone involved. Outside vendor attendees donned hardhats and safety harnesses, inside PPE (personal protective equipment) was required for many of the displays and booth demos. Kids learned that it's all essential for the well-being of everyone on a construction site. Personally, I appreciated how they took the time to teach me proper procedures and ensure I didn't hurt myself.
6. Environmental responsibility
As someone concerned about the environment, I was pleased to see the construction industry's growing commitment to sustainability. The use of eco-friendly materials, energy-efficient construction methods and the recycling of waste materials were all highlighted. It was inspiring to see trades professionals committed to reducing their environmental footprint and making our world a better place.
A rollercoaster ride of learning, unlearning and relearning, one of the most valuable aspects of attending the Trades Night event was discovering the appeal and complexity of the trades. The event opened my eyes to the vast and ever-evolving world of construction and instilled in me a newfound appreciation for the craftsmanship, technology and sustainability initiatives that drive the industry forward.
Additionally, I left the event with a newfound respect for the tradespeople who are shaping our world, one building at a time. People like Dan and Jodi Martinez and their dedicated team from NGA member AllStar Glass, who spend countless hours at such events, working to educate young people on the opportunities and exciting possibilities of a trades career. For them, it's not just an obvious solution to the workforce issue plaguing the industry, but an opportunity to learn, connect and be inspired by a community of dynamic and passionate individuals.