Outlook from FGIA: Industry is Strong Despite Fears of Recession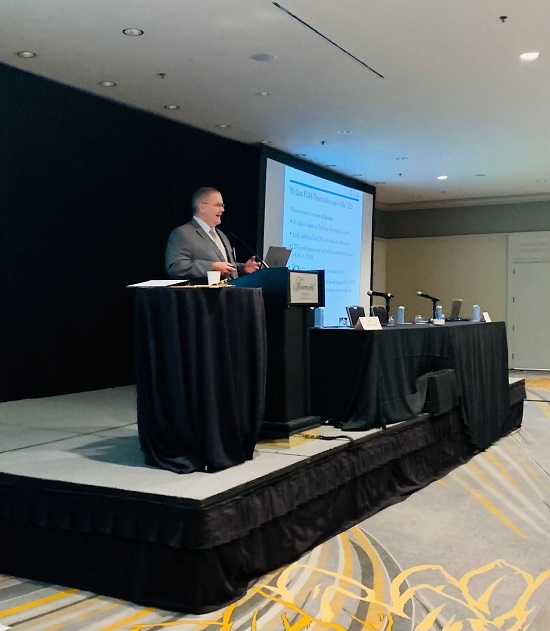 Even in the face of ongoing economic uncertainty, the glass and fenestration industries are "in a great spot," according to Michael Collins, managing principal, of EquiNova Capital Partners, who delivered a keynote presentation Sept. 27 at the Fenestration & Glazing Industry Alliance 2022 Fall Conference, taking place in Chicago.  
Industry companies are busy. However, supply chain issues, continuing labor shortages and inflation have stoked fears of recession. "The economy is continuing to do well. But we're starting to see cracks of recession," Collins said.  
If the economy enters recession, Collins predicts it will be brief and less severe. "There is the possibility of a short-term recession … one of those recessions where, by the time economists say we're in it, we'll be halfway out of it," he said. "We continue to be in the path for tremendous changes that are happening in the economy. We're right where we want to be. … I'm optimistic for the outlook for the next few years."  
'Everyone is so busy' 
A key reason for Collins' optimism is that "everyone is so busy," he said.  
In the first few months following the emergence of COVID in 2020, the industry, and the overall economy, witnessed a dramatic pullback. However, since the economy began to rebound in 2021, many industry companies "have been running full out," Collins said.  
He continued: "When we've had things as hot and as strong as we've had the last 18 months, and now maybe there is a general soft patch for the economy that lets us all breathe and catch our breath, maybe that makes this one of the goldilocks times where companies in our industry segment can explore new ideas and new products more than they did in the past."  
'Recessions can present opportunities' 
If the economy does enter a recessionary period, companies should look to take advantage of the opportunities a slower period can present, particularly since "most companies are facing the possibility of this one with a stronger balance sheet than ever," Collins said. "We're all still busy and everyone is selling a lot of products. … Companies have a lot of liquidity, strong balance sheets. Profits are high. Backlogs are high."  
Collins recommended the following: 
Invest in equipment, as long as the equipment is state of the art. "And do it even if you don't need the equipment now," Collins said.  
Make key strategic hires of experienced sales professionals.  
Explore new geographic regions and product segments.  
Acquire complementary companies.  
'Essentially full employment' 
One continuing challenge for industry companies will be finding labor. In August 2022, the unemployment rate for the U.S. was down to 3.7 percent, marking a return to "normal levels," he said. "That's essentially full employment."  
The low unemployment rate means "everyone that wants a job has one," Collins said, which means that challenges finding labor will likely continue.  
Collins said some companies are over-hiring in anticipation of higher turnover. Additionally, other companies are looking to hire full- or part-time recruiters to help ease the strains of recruitment and hiring.