Top Takeaways from NGA Glass Conference: Chicago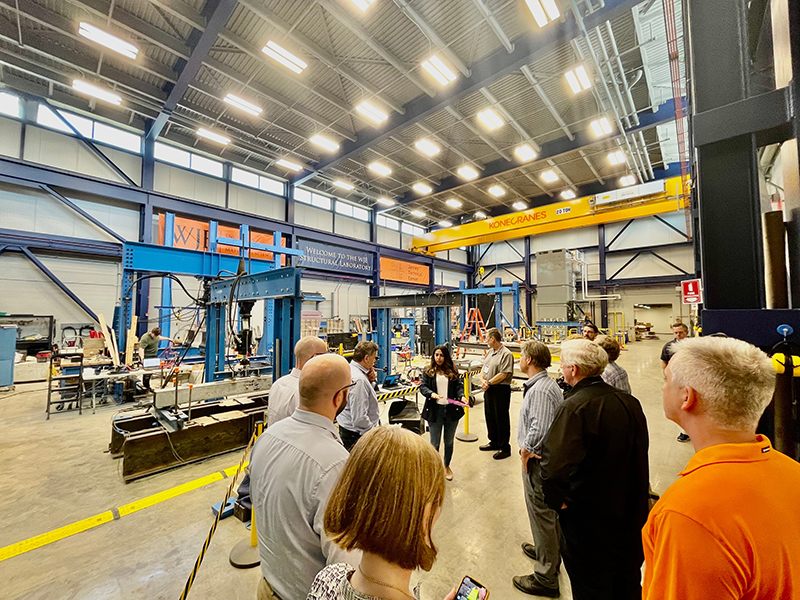 About 100 glass industry technical leaders gathered July 18-20 for the National Glass Association's NGA Glass Conference: Chicago, where the group addressed everything from security glazing to protect against active shooters to updates in test methods of fabricated glass. Several takeaways from the conference:
The industry is a "first responder" for school shootings
The glass industry has an opportunity to become a new type of "first responder" by providing security products that protect children, teachers and staff against school shooters, said Tino Amodei, co-founder of Armoured One, who presented during the conference.
"We always seem to deem fire fighters, police officers, SWAT teams and EMT as first responders. But it's the people that are proactive that are true first responders," Amodei said. "The NGA is going to be a true first responder. The architects who design buildings are first responders. All of us in glass manufacturing and in technology development who are trying to make things better, make things affordable, we are all first responders. We are the only ones who can change the outcome."  
During the conference, the NGA announced a major first step to making the glass industry a proactive leader in building safer schools. The association announced a new ASTM International document has been created through the F12 Security Committee entitled Standard Test Method for Forced-Entry-Resistance of Fenestration Systems After Simulated Active Shooter Attack. The document was created by NGA volunteer leaders in response to an increasing frequency and severity of school shootings. It addresses the need to slow and, if possible, prevent intruders from entering facilities through locked fenestration.
"At a meeting a few years ago, someone said, 'We have standards to protect sea turtles and birds, but we don't have anything to protect our children. It's time that needs to change.' So, we developed a standard," said Julia Schimmelpenningh, global applications manager at Eastman Chemical Co. "Acting [with] the first responder mentality, we took a look at it. We educated ourselves on school shooting occurrences. … We reviewed all existing security test methods out there. … We looked at adapting existing methods."
The standard was initiated on Nov. 21, 2021, and is now pending successful full ASTM International society review prior to publication. The complete and published standard, if no objections are raised, is expected to be cleared for publication from ASTM International by Aug. 1, making the standard available sometime in third quarter 2022.
Read more about the new standard.
Glass advocacy comes to Washington, D.C.
The NGA Advocacy Committee, alongside the NGA Technical and Advocacy team of staff members and code consultants, increased its work to advocate for glass and glazing during 2022. Atop the efforts was the association's first-ever Glass & Glazing Advocacy Day, described Jon Griggs of Guardian Glass, during the Advocacy Committee updates.
For Glass & Glazing Advocacy Day, industry leaders from NGA member companies, Congressional members and agency officials convened in Washington, D.C., on April 4-5 to discuss policy priorities important to the architectural glass and glazing, including high-performance glazing and building resiliency, bird-friendly glazing, recycling and the circular economy, school security, and registered apprenticeship programs.
"This was a highly successful event," Griggs said. "We had audience with key legislators and legislative assistants. [Thirty-two] members were involved, to advocate on behalf of their businesses and the industry. We had people from about a dozen states, from the [Environmental Protection Agency] and the [Department of Energy]. This is boots on the ground advocacy."
Learn more about Advocacy Day. 
Changes to product testing are on the horizon
The conference included updates from numerous industry collaborators, including the Insulating Glass Certification Council and the Safety Glazing Certification Council. New product testing and certification requirements are on the horizon, says John Kent of SGCC. Effective July 1, for a fabricator's tempered and coated products to be SGCC certified, a product sample must be tested at least annually. Testing any coated, tempered product will cover SGCC certification for all such products from a company, Kent says.
From IGCC, Kent says fabricators can get ready for rapid testing of IG units. IGCC has developed a Rapid Assessment Chamber, or RAC, that can test units in two weeks, compared to 5 months. RAC tests will provide quicker results for fabricators while they wait for the longer, existing ASTM tests to run.
Trending products top document development
The NGA technical committees continue to focus on developing informational and best-practice resources for trending and emerging glass products, including large glass and vacuum insulating glass.
According to the Glass Magazine Top 50 Glaziers and Top Glass Fabricator reports, large glass leads industry trends. Fifty-nine percent of Glass Magazine Top 50 Glaziers say they worked on a project with jumbo glass in 2021, while 58 percent of Top Glass Fabricators say they are able to process jumbo-size glass. A task group has been working to develop large glass guidance and information for the industry for several years. These updates were incorporated into the Commercial Fenestration Systems Manual. Learn more about the CFSM.
The NGA has also been active developing documents for VIG. The association has two Glass Technical Papers on VIG, one an introduction to VIG and an introduction on fabricating hybrid VIGUs. The VIG task group is now working to develop a GTP on acoustic performance of VIG.
Next up: Miramar Beach
NGA Glass Conference: Chicago was hosted by the National Glass Association and brings together volunteers for the organizations Advocacy, Fabricating and Forming Committees. The group will gather again at NGA Glass Conference: Miramar Beach, Jan. 24-26, 2023, at the Hotel Effie Sandestin in Miramar Beach, Florida.