Aragon Becomes 45th Contractor to Earn North American Contractor Certification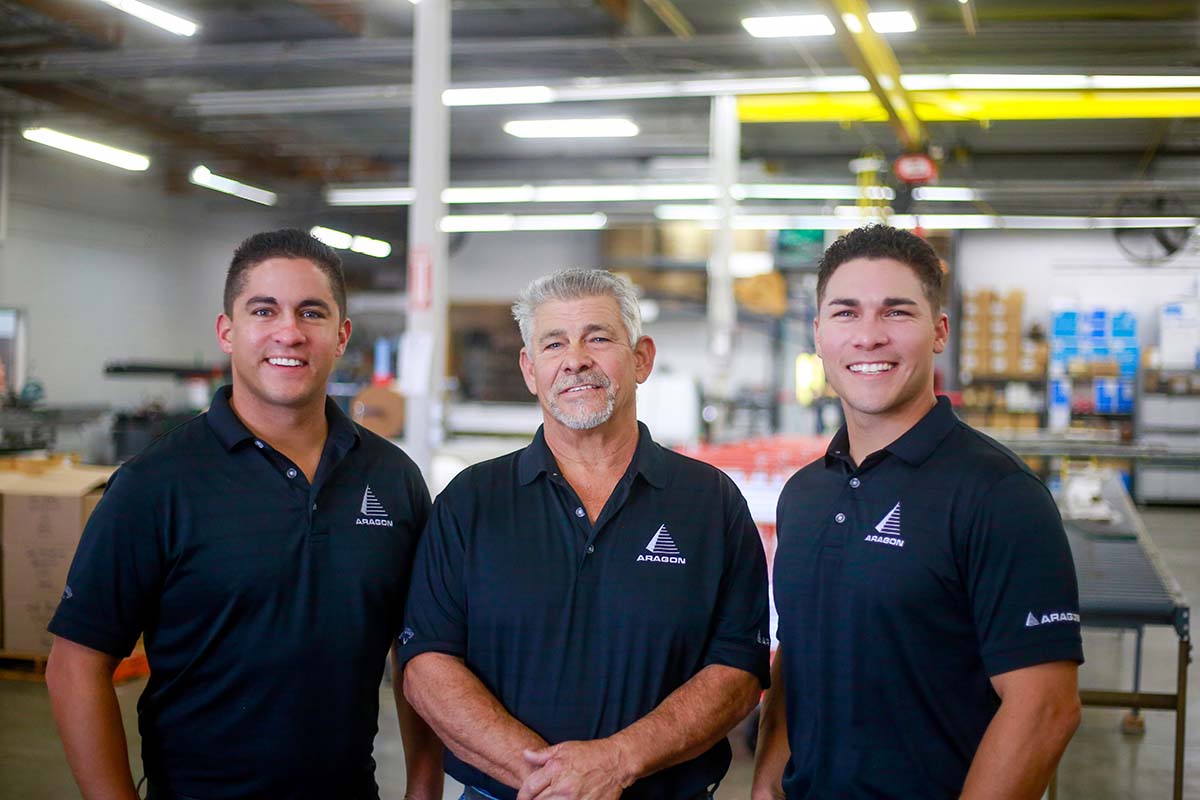 From left: Matt, Joe and Joey Aragon.
Aragon of Montclair, California, earned North American Contractor Certification, becoming the 45th contractor in North America and 10th in California to achieve the credential. NACC is an ANSI-accredited, award-winning certification that empowers architectural glass and metal contractors to adopt standard best practices not only for glazing quality and construction safety but also for business operations.
"The NACC focus on quality, safety, and process resonated perfectly with our company's core values," says Aragon Director of Operations Joey Aragon. "Our BUILD mission and its five acronym components―to be the best, unite partnerships, improve lives, lead boldly, and do what's right―will be supported and accentuated by NACC."
Aragon leadership worked with NACC administrators over six months to undergo a series of rigorous assessments and implement standard written documents including a quality management system. Joey Aragon and Director of Safety Kevin Cork spearheaded the process while Director of Preconstruction Matt Aragon and Owner Joe Aragon contributed additional support. To maintain certification, Aragon will be reevaluated annually to confirm its business and glazing practices remain at the high standards NACC requires.
"Our industry connections on the labor side and trade associations have become more vocal about NACC and establishing best practices," Joey Aragon says. "We wanted to be in the reputed tier of contractors, to be seen as a well-established company with trustworthy processes and to be recognized for doing things the right way."
Glazing contractors can earn the NACC credential in one or more of six operational categories based on the company's focus of work. Aragon earned NACC in four categories: interior and entry systems, building envelope low-rise, building envelope high-rise, and guardrails.
According to NACC Program Administrator Jeff Dalaba, "NACC recognizes contractors that utilize industry best practices for installation, giving peace of mind to building owners, design professionals, general contractors, and insurers. NACC reduces stakeholder risk by providing verified evidence of a contractor's adherence to the highest industry standards and best business practices."
Certified contractors report improved and better controlled processes, reduced waste, fewer mistakes, lower costs, improved training, and more engaged staff because of the NACC program. Since its 2015 launch, NACC has gained industry acceptance for raising the bar of quality, with certified contractors now located in 15 states and Canada.