Arrow Glass and Mirror of Austin Earns NACC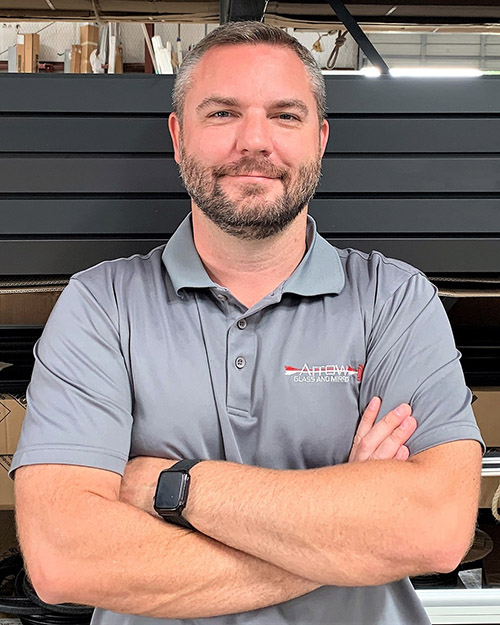 Arrow Glass and Mirror of Austin, Texas, achieved North American Contractor Certification. NACC is the only ANSI-accredited, third-party credential that recognizes architectural glass and metal contractors for competency, business practices, and industry accepted guidelines for quality and safety excellence. By having met NACC requirements, Arrow demonstrated it has the processes and procedures in place to consistently deliver high quality project results.
"We are always looking for ways to improve. NACC allowed us to get outside expert perspective on our processes relative to industry best practices," says Arrow President and CEO Joseph Rynders. "We have seen immediate quality improvements. Having more robust quality processes and procedures allows us to cut down on waste and deliver more consistently. As a result, our customers will see even better products and service."
Rynders and Arrow leadership worked closely with NACC administrators and Arrow employees to undertake the program's rigorous assessment and to implement a quality management system, a hallmark of certification.
"NACC offered a great suite of collaborative sessions that allowed our team to learn the NACC requirements and guided our planning and implementation," Rynders says.
Glazing contractors can earn the NACC credential in one or more of six operational categories based on the company's focus of work. Arrow earned NACC in five categories: interior and entry systems, building envelope low-rise, building envelope high-rise, guardrails, and service work.
According to NACC Program Administrator Jeff Dalaba, "NACC recognizes contractors that utilize industry best practices for installation, giving peace of mind to building owners, design professionals, general contractors, and insurers. NACC reduces stakeholder risk by providing verified evidence of a contractor's adherence to the highest industry standards and best business practices."
Since its 2015 launch, NACC has gained industry acceptance for raising the bar of quality. When it earned certification June 15, 2021, Arrow became the fifth company in Texas and 39th overall in North America to attain the credential. Demonstrating a long-term commitment to NACC, Arrow will be reevaluated annually to maintain certification.