Economic Update: Recovery is underway, but expect a slow return to normal
Leading indicators of the health of the commercial construction market shows it is still struggling amid the coronavirus pandemic and has a long, potentially tumultuous, road to recovery.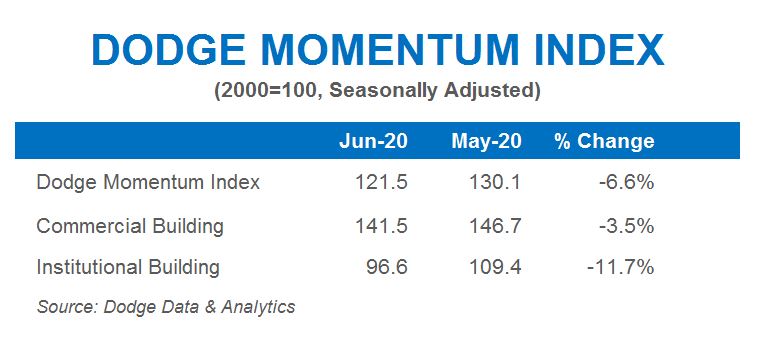 The Dodge Data & Analytics Dodge Momentum Index dropped 6.6 percent in June to 121.5 from the revised May reading of 130.1. Institutional dropped 11.7 percent while the commercial component fell 3.5 percent. The overall index fell 13 percent in the second quarter compared to the first quarter of 2020, with the commercial component posting a 14 percent decline and institutional down 11 percent.
"The recession most likely ended in May as evidenced by the strong job gains in the month as businesses began the re-opening process," says Richard Branch, chief economist. "June's employment gain was further confirmation that the economy had taken real steps forward following the weakness in March and April. This recovery, however, is very tenuous. The acceleration in COVID-19 cases and the new business closures in California and Florida suggests that the economy is at risk of slipping back in the months to come. This could lead to a retrenchment in construction activity."
Architect health
Business conditions in architecture firms remain "extremely poor" for the third consecutive month, according to the May American Institute of Architects' Architecture Billings Index. Despite the ABI score of 32 being higher than the April score, any score below 50 indicates a decline in billings. Most firms also reported a decline in inquiries into new projects. In addition, the value of new signed design contracts remained at a near-record low level, as firms indicated clients are still hesitant to sign for new work at this time.
Firms in the Northeast still report the steepest decline in billings, but as construction projects are permitted to continue in most areas where they'd previously been suspended, June could yield better business conditions. 
Employment rebound
The June jobs report made headlines with its unexpected news of the economy adding 4.8 million jobs, bringing unemployment down to 11.1 percent. "We had a historical drop, so of course we have a historical rebound," said Ali Wolf, chief economist of Meyers Research, on a webinar on July 8. 
States starting to reverse reopening plans and a spike in coronavirus cases all happened after the job report, though, she cautioned. As such, there are "a lot of question marks" about what the July jobs report will look like, though she predicts net gains will continue but not at the level in the June report.
Leisure and hospitality, trade, and education and healthcare jobs represented 75 percent of June's growth. Manufacturing and construction saw gains of 3 percent and 2.3 percent, respectively. 
In terms of COVID-related job losses, however, construction has recovered 56 percent of its lost jobs and manufacturing recovered 44 percent. "Unemployment is moving in the right direction and we're at recession levels of unemployment, not depression levels," concluded Wolf. Despite the positive movement, continued claims are at 19.3 million and initial jobless claims have exceeded 1 million for 15 consecutive weeks, which is still worse than the hardest-hit week during the Great Recession, said Wolf.