GGI Celebrates 120 Years in the Glass Industry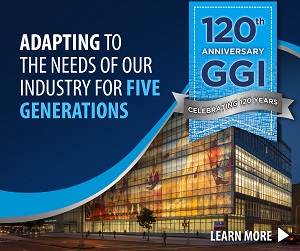 GGI celebrates the company's 120-year anniversary this year. Founded in 1900 by Max Balik, an immigrant from Austria who had grown up in the glass business, GGI has become a global importer, national distributor and custom fabricator of specialty glass solutions. The company has been family owned and operated for five generations.
 
"The company will celebrate this significant milestone throughout the year with events and communications that pay tribute to the history of accomplishments and to the people who have worked to help build the business," says David Balik, GGI president and CEO. "2020 presents even greater opportunity for GGI and our employees as we continue to expand our product offering and fabrication capabilities."
 
The company launched a commemorative logo and social media hashtag, #GGI120, that will be displayed throughout the year in celebration of the 120th anniversary, and to serve as a reminder of how important it is that GGI continue to innovate and adapt to meet the changing needs of our industry, as well as the needs of the architectural and design community.

"As we reflect on how GGI has evolved over the years, we are grateful for the support of our employees, customers and vendors, without whom none of this would have been possible," says Balik. "It is the 'Can Do' spirit of so many people over the years that continues to be the core of GGI's success."