Guardian Glass Honors Customers with Commercial Project Awards
Guardian Glass honored the glaziers and fabricators of six commercial projects at its 5th annual Commercial Project Awards event March 28. More than 50 recently completed projects were nominated.
"Guardian Glass is privileged to recognize these outstanding commercial projects from our glazier and fabricator partners," says Rick Zoulek, Executive Vice president, Guardian Glass. "Glaziers and fabricators play an integral role in taking an architect's glass vision to reality, so we are grateful for the opportunity to partner with them on these amazing projects.
"We look forward to continued collaboration in 2022. Our team is committed to delivering the product solutions that will deliver the next round of exciting new projects."
New Selection Process
Guardian adopted a new process for this year's awards: The projects were grouped based on location, and the six winners were selected by judges who represent the glass industry as leaders of trade publications, conferences and associations:
Katy Devlin, associate publisher and editor in chief, Glass Magazine
Patrick Flannery, editor, Annex Business Media's Light Construction Group (Glass Canada, Fenestration Review, Canadian Contractor and Canadian Rental Service)
Andrew Haring, vice president of business development, National Glass Association
Ellen Rogers, editor, USGlass and Architects' Guide to Glass & Metal
Guardian Glass thanks the judges for lending their expertise to the awards process and for their work as enthusiastic advocates for the glass industry.
The judges selected the following projects to be honored as this year's Guardian Glass Commercial Project Award Winners:
Western U.S.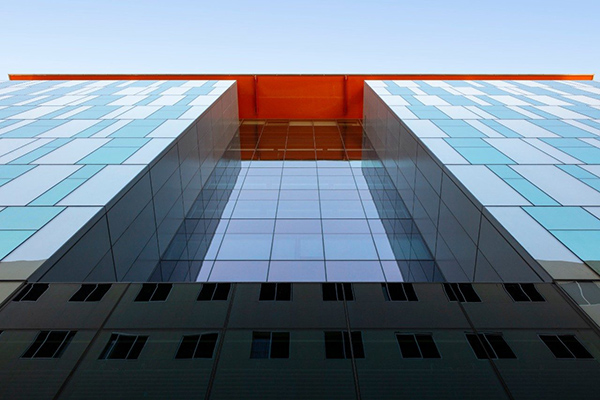 Clifford L. Allenby Building
Sacramento, California
Size: Large (50,000-99,999 square feet)
Products: Guardian SunGuard SNX 51/23 and SNR 43 on clear
Glazier: Walters & Wolf
Fabricator: Garibaldi Glass
Architect: ZGF
Photo Credit: Connie Zhou
The judges described the Clifford L. Allenby Building as a stunning example of advanced energy efficiency design, while the subtle blues of the glass add character. Using glass to amplify daylighting and views helped the architect and owner focus on employee wellness.
Midwestern U.S.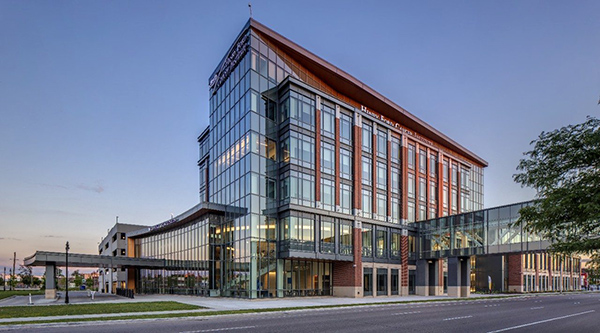 Henry Ford Cancer Institute
Detroit, Michigan
Size: Medium (10,000-49,999 square feet)
Product: Guardian SunGuard SuperNeutral® 68 on clear
Glazier: Contract Glaziers
Fabricator: Oldcastle BuildingEnvelope - Montreal
Architect: SmithGroup
Photo Credit: Justin Maconochie
The judges appreciated the classic industrial look coupled with modern glass elements in the Henry Ford Cancer Institute.
Eastern U.S.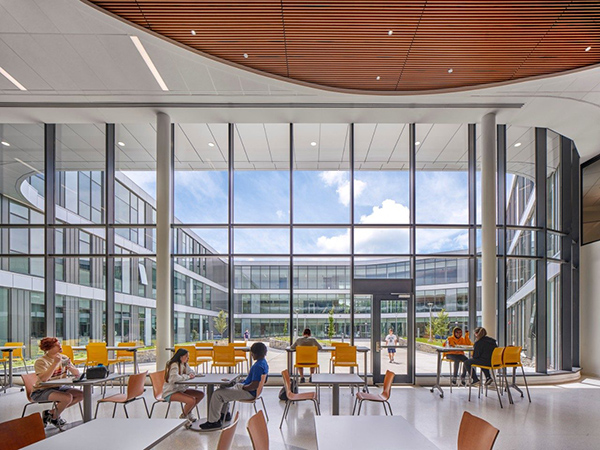 Springfield High School
Springfield, Pennsylvania
Size: Medium (10,000-49,999 square feet)
Products: Guardian SunGuard® SNX 62/27 and SuperNeutral® 54 on clear
Glazier: Entrance Systems Inc.
Fabricator: Trulite Glass & Aluminum Solutions
Architect: Schrader Group Architecture
Photo Credit: Halkin Mason Photography
The judges were particularly impressed by the striking three-story glass entryway that creates openness while meeting performance goals at Springfield High School.
Southeastern U.S.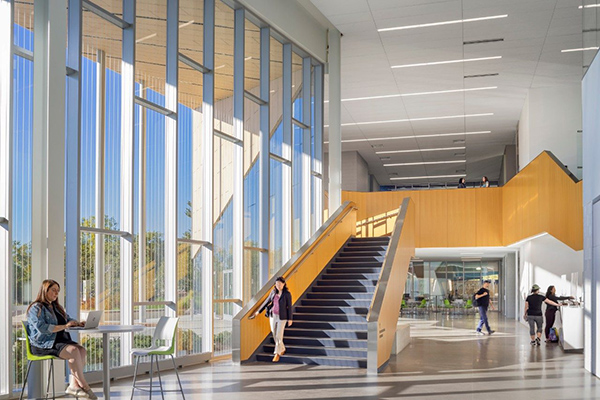 Long Bridge Aquatics & Fitness Center
Arlington, Virginia
Size: Medium (10,000-49,999 square feet)
Product: Guardian SunGuard SNX 62/27 on clear
Glazier: Revolution Window Systems
Fabricator: Press Glass Inc.
Architect: Page
Photo Credit: Albert Vecerka | Esto
The judges called the Long Bridge Aquatics & Fitness Center a great example of bird-friendly design.