Modern Luxury Hotel Features Tubelite Systems, Inside and Out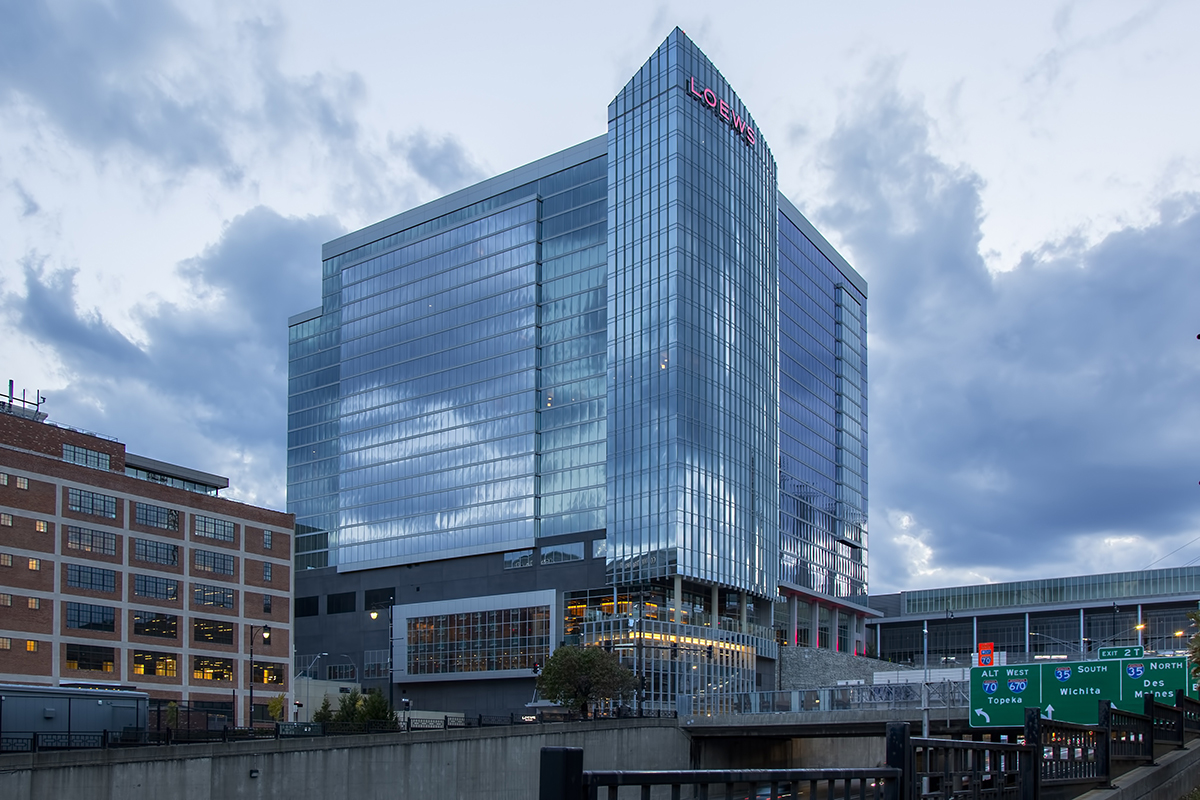 Missouri's Loews Kansas City Hotel is the first full-service luxury hotel to open in downtown Kansas City, Missouri, in more than 30 years. Rising 24 stories and encompassing 800 rooms, its crisp, modern, minimalist look was designed by Cooper Carry and brought to life with Tubelite Inc.'s curtain wall, window wall, entrance and interior aluminum framing systems.
One of Tubelite's largest completed projects to date, Flynn Midwest LP installed approximately 122,000- square-feet of Tubelite's systems. All of Tubelite's aluminum framing was finished by Linetec in an Arcadia Silver color on the exterior with multiple paint and anodize finishes on the interior. The finished aluminum was paired with Viracon's VRE1-38, VRE1-4322 and VNE1-63 high-performance low-emissivity products, all on a clear glass substrate.
Archon Fenestration Technologies LLC served as the local manufacturers' representative assisting with glass and framing product selection, specifications and coordination. "Archon was proud to be part of such a high-profile and much-anticipated project that has not only transformed the Kansas City skyline, but also serves as a catalyst in the growth of downtown KC by attracting conferences, events and visitors to this destination," says Doug Urich, president of Archon Fenestration Technologies LLC.
Changing the skyline
Providing a visual landmark within the Kansas City skyline, the hotel's corner tower displays the red Loews' brand signage against a silver-reflective glass backdrop. The signature "feature wall" tower showcases Tubelite's 400IG Series, Inside Glazed, curtain wall with 7-inch-deep tapered face caps. Engineered as an interior-glazed system, the curtain wall's offset glass pockets, removable glass stops and roll-over horizontal members save time and labor during installation. On the tower, Viracon's 1-inch insulating VRE1-38 glass achieves a 45 percent exterior reflectance and a solar heat gain coefficient of 0.23. In the majority of the hotel rooms and meeting areas, Viracon's VRE1-43 complements the overall aesthetic with a 25 percent exterior reflectance and a 0.22 SHGC.
The glass is utilized in conjunction with Tubelite's 2.25-by-6-inch 900RW Series Therml=Block Window Wall system with split mullions to facilitate pre-glazed panels for expedited installation. Together, the high thermal performance glass and aluminum framing products keep guests comfortable and support the hotel's energy-efficient operations.
Daylighting in the interior
Those who enter through Tubelite's Wide Stile Entrance systems are greeted with natural light during the day and vibrant views at night. The interior scope of the project, installed by AGP Inc., features Tubelite's INT45 Interior Flush Glazed Framing and Medium Stile Entrance systems, which help define the interior retail and restaurant spaces. Whether sipping a drink at the Horse Feather Social, dining at The Stilwell or crossing over to the convention center, the hotel's main lobby, lower levels and skybridge link present the most visible connection to the public. All of these high-traffic areas rely on Tubelite's 400CW Series curtain wall with framing members up to 10 inches deep, supporting Viracon's insulating VNE 1-63 glass, to create a welcoming and lasting impression.
An important finish
Contributing to Loews Kansas City Hotel's high-profile appearance and high-performance attributes, Linetec finished Tubelite's aluminum framing, as well as provided poured-and-debridged ultra-thermal barriers. The thermal break separates and insulates the framing to reduce conduction and condensation, supporting the hotel's energy efficiency and its guests' comfort. On the hotel's exterior, Linetec applied a 70 percent PVDF resin-based Duranar architectural paint coating in Arcadia Silver. On select aluminum interior framing members, Clear, Dark Bronze and Black Class I anodize finishes were specified.
Minimizing both interior and exterior maintenance, the finished metals' durability saves time and labor throughout the building's lifespan. At the end of the aluminum framing systems' long life, it can be recycled and reused as future architectural products and other materials.